Things You'll Need
Vacuum

Dishwashing soap

Water

Low-tack painter's tape

Plastic sheeting

Handheld sander

Diamond polishing pads

Protective eyewear

Gloves
Tip
After polishing, you can easily take the next step and stain your concrete with great results.
Some handheld grinders require a wet application. They need to be used on a wet concrete surface. Follow the manufacturer's instructions for using your handheld sander.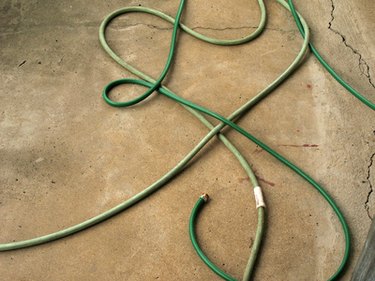 Polished concrete is durable and attractive. Polished concrete is also a terrific way to update your home without a lot of expense. You could hire a contractor to come to your your home, make a big mess and charge you a fortune to bring out the shine in your concrete floors. Or you can get the job done yourself with a lot less hassle and expense. A small section of concrete can be polished with a hand sander.
Step 1
Vacuum the area thoroughly to remove all dust and debris. Wash the concrete with a mild dishwashing soap and water. Rinse away all soap residues. Allow the concrete to dry.
Step 2
Cover any vents and under doorways with plastic sheeting and low-tack painter's tape. Dust will seep through these openings if not properly sealed. Open as many windows as possible to provide ventilation.
Step 3
Attach the appropriate sanding disk to the handheld grinder. A diamond pad is the more common name for a disk that will grind concrete. Every manufacturer will have a different naming system for their sanders. Use a disk that is indicated for grinding concrete. Put on protective eyewear to avoid particles damaging your eyes.
Step 4
Turn on the handheld grinder and lower slowly to the concrete. Grind it in using a back and forth and up and down motion. Polish the entire surface until the shine is visible.
Step 5
Vacuum the area to remove the majority of the sanding dust. Wipe the area with a wet towel to remove any small particles that were missed by the vacuum.
---
Lisa East Hunter is a consultant and freelance writer in Phoenix. Her background in marketing and technology led her to explore all avenues of writing. She is currently dividing her time between freelance writing and her consulting business. Hunter has a Bachelor of Science in management information systems and marketing.