Things You'll Need
Pry bar

Nail remover

Hammer

Tape measure

Starter strip

Circular saw

Level

Chalk line

Nails
Tip
Attach a corner post in each corner of the mobile home where the ends of the siding meet.
Warning
If you do not buy a few extra pieces of siding, you may need more if you make a measuring or cutting mistake.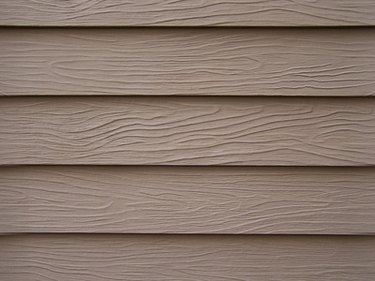 When the siding on your mobile home is getting old, discolored or has fallen off, replace it with new siding. The process is similar to replacing siding on a regular house. Several types of replacement material are available, such as vinyl. Your first task is to determine the type and color of siding you want.
Step 1
Remove the existing siding from the exterior of the mobile home with a pry bar. Insert the pry bar under the siding and pry out to separate the nails from the exterior walls. Start at the bottom and work your way toward the top.
Step 2
Pull out nails that do not come out easily with a nail puller and a hammer.
Step 3
Measure the length of the exterior walls with a tape measure. Transfer the measurements to the vinyl siding and starter strip. Mark where they will be cut with a felt tip marker.
Step 4
Cut the vinyl siding and starter strip on the marks with a circular saw.
Step 5
Measure up from the bottom of the first exterior wall the width of the vinyl siding and subtract ¼ inch. Place a nail into the lower corner of the wall at the measurement.
Step 6
Attach a chalk line to the nail and go to the other end of the wall. Pull the chalk line taut and place a level on the line. Snap the chalk line on the wall where level is indicated. Repeat steps 5 and 6 for the other exterior walls.
Step 7
Set a starter strip along the chalk line of one of the exterior walls. Secure the starter strip to the wall with nails, using a hammer.
Step 8
Set the first piece of vinyl siding on top of the starter strip and insert it into the slots.
Step 9
Drive a nail every 8 to 10 inches along the top of the vinyl siding to secure it to the wall.
Step 10
Set the next row of siding in place and secure it to the wall. Repeat this process for the remaining rows of siding.
---
Cameron Easey has over 15 years customer service experience, with eight of those years in the insurance industry. He has earned various designations from organizations like the Insurance Institute of America and LOMA. Easey earned his Bachelor of Arts degree in political science and history from Western Michigan University.