Things You'll Need
Socket wrench set

Pliers

Angle grinder

Wooden or recycled plastic slats

Table saw

1/2-inch bolts and nuts

Drill with 1/2-inch bit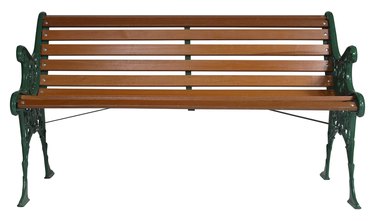 Stylish and sturdy, cast iron benches with wooden slats are long lasting components in the backyard garden or patio. These benches are available for purchase through city auctions because of city renovations or at lawn and garden stores. The type of bench bought second-hand may need repairs to the wooden slats because of chipping, splitting or splintering of the wood. Removal of the cast iron bolts is often complicated if the nuts have rusted, but it is not impossible with some effort.
Step 1
Remove the bolts on the bench slats with a socket wrench. Hold the bottom of the bolt still with pliers to keep the bolt from turning with the wrench. If the bolts will not come undone because of rust or the bolt is stripped, use an angle grinder to cut the bolts off just under the head.
Step 2
Remove the wooden slats and bolts from the cast iron bench frame. Keep one slat from the seat and one slat from the back for measuring. The seat slats may be slightly thicker or wider than the back slats. Check the thickness of the slats carefully for consistency and safety.
Step 3
Cut the new wooden slats to the correct length with a table saw using the measurements of the original slats.
Step 4
Drill 1/2-inch holes into the ends of the wooden slats 1-inch from the end.
Step 5
Set the new slats on the bench, lining up the holes on the ends with the holes in the cast iron frame.
Step 6
Attach the slats to the frame with new 1/2-inch bolts and nuts using the socket wrench. Attach one slat at a time.
Tip
For environmentally friendly and economically enjoyable slat replacements, use recycled plastic slats rather than wooden slats. Plastic will not splinter or need yearly painting and weatherproofing. This type of bench seat will last longer with less maintenance and is found in multiple colors.
Use treated and weatherproof wood for the new bench slats.
Tighten the bolts on the new slats one week after use because of swelling of the wood.
Warning
Wear protective eye gear when using the angle grinder to cut the bolts.
---
Amanda Fetherlin is a writer, mother and former teacher with extensive experience in home remodeling, daycare education and domestic activities. She holds a Bachelor of Arts in English literature from St. Louis University.