Things You'll Need
Soap and water solution

Soft, dry towel

Metal epoxy/compound

Paper plate

Toothpicks

Craft Popsicle stick (optional)

Clamp (optional)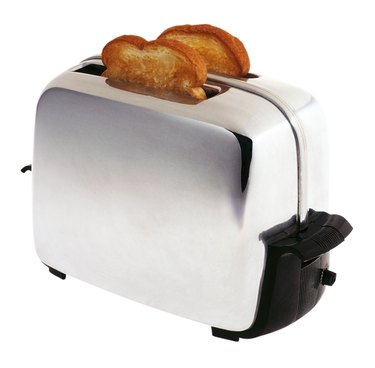 Welding is often an expensive answer to joining stainless steel pieces together. There are not many people with welding tanks readily available for a small project such as fixing appliances. Gluing is a better route to take in adhering two pieces of stainless steel. Dilemmas such as the metal feet falling off of a toaster or an plate on an air conditioner unit coming loose can easily be remedied by applying a metal epoxy. The epoxy is a strong holding compound that is often referred to as a "cold weld" process. Applying a metal epoxy to stainless is a quick and easy fix.
Step 1
Clean and prepare the pieces you wish to glue together with soap and water. Dry thoroughly with a soft, dry towel.
Step 2
Place a paper plate onto a hard work surface. Uncap both tubes of the epoxy compound. The two parts cannot be mixed until you are ready to apply them to the item. The two elements come in two separate tubes.
Step 3
Squeeze equal parts from both tubes onto the paper plate.
Step 4
Use the toothpick or Popsicle stick to thoroughly stir the epoxy.
Step 5
Use toothpick or Popsicle stick to apply the epoxy to the pieces of metal. If the area to glue is larger, use the Popsicle stick for better coverage.
Step 6
Adhere the metal pieces together. Use a clamp to hold the pieces together if necessary.
Step 7
Let the epoxy set per the directions on the packaging before handling the item. Some formulas set in as little as five minutes, while others take four to six hours.
Step 8
Allow the item to dry overnight or 15 hours before putting the item to use.
Tip
If you are using the epoxy in a warm environment, wait for 15 to 20 minutes after you mix the solution before applying it. This will allow it to thicken and not drip. You can sand the area to be glued with sandpaper for the ultimate bond.
Warning
Use the epoxy in a well-ventilated area.
---
Caroline Baldwin, a corporate communications director located in South Carolina, began writing in 1998. Her work has been published in publications across the United States and Canada including Rolling Stone, Boating Life, Waterski and Wakeboarding magazines. She holds a Bachelor of Arts in communication studies from The College of Charleston.