Things You'll Need
Mild soap and water

Sponge

Olive oil

Polishing rag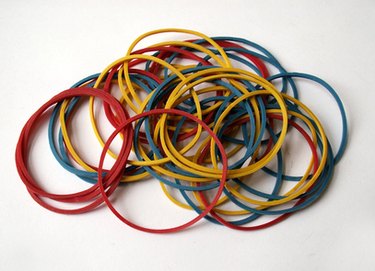 Rubber gaskets are rings commonly placed between the lid and the opening of a jar or bottle to produce an airtight seal. Like many rubber products, rubber gaskets are vulnerable to drying out when exposed to sun, heat and dirt. (See Reference 1) If this happens, your gaskets may become cracked and brittle, and will lose their effectiveness. Keeping your gaskets pliable requires a little bit of maintenance, but it will save the costs of replacing them frequently.
Step 1
Store your gaskets inside whenever possible, out of direct sunlight and away from the heat.
Step 2
Clean your gaskets when they get dirty by washing them with mild soap and hot water, using a sponge.
Step 3
Dry the gaskets by placing them in a dish rack or on a towel. Do not dry them in the dishwasher or place them in the sun to dry.
Step 4
Condition the gaskets with olive oil. Place a little bit of olive oil on a clean polishing rag and rub in a circular motion on the gaskets. (See Reference 2)
---
Christina Sloane has been writing since 1992. Her work has appeared in several national literary magazines.