Things You'll Need
Dishrag

Mild Dish Detergent

Rag or Paper Towels

Window or All-Purpose Cleaner

White Vinegar

Baking Soda

Murphy's Oil Soap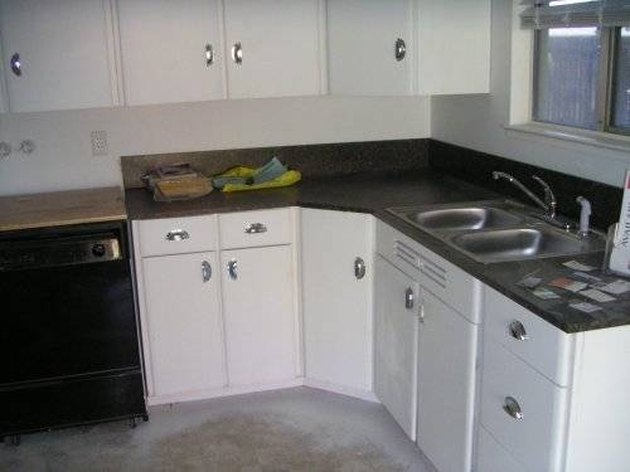 Veneer kitchen cabinets are common since they can be significantly less expensive than real solid wood cabinets. Veneer is a thin sheet of wood or laminate applied to particleboard, plywood or a lesser expensive wood. For kitchen cabinets, particleboard is usually what is under the pieces of veneer. Due to the massive amount of use a kitchen receives and the nature of the work done there, veneer kitchen cabinets, whether wood or laminate, need to be cleaned occasionally.
Step 1
Use a mild dish soap and water for laminate veneer cabinets for daily cleaning. As you wipe down your counters with your soapy dishrag, also wipe down your cabinets.
Step 2
Use window or all-purpose cleaner. For veneer kitchen cabinets that are laminate and not wood, spray some window or all-purpose cleaner on the cabinets and clean with a rag or paper towels.
Step 3
Use homemade cleaning products. You can use white vinegar or a paste of baking soda and water to clean your veneer kitchen cabinets that are laminate, not wood. Use a sponge or rag to rub the dirt and grime away. Rinse with a clean rag.
Step 4
Use a slightly damp rag for wood veneer. If your veneer wood that is sealed (and it should be), you can use a damp wet cloth to clean the cabinets for general cleaning. Do not use dish soap as you would for laminate cabinets and do not saturate your cabinets as it may damage the wood veneer.
Step 5
Use Murphy's Oil Soap. If your veneer is wood, spray some Murphy's Oil Soap on your cabinets and use a soft cloth to wipe to clean. You do not need to rinse away the soap. You may wish to test inconspicuous spot to be sure it won't damage the veneer.
---
Melissa Lewis is a former elementary classroom teacher and media specialist. She has also written for various online publications. Lewis holds a Bachelor of Arts in psychology from the University of Maryland Baltimore County.