Things You'll Need
Vacuum cleaner

Spray bottle

All-purpose cleaner

Small bucket

Scrub brush

Sponge

Bleach

Diatomaceous earth

Dish soap

Soft cloths

Hydrogen peroxide

Old toothbrush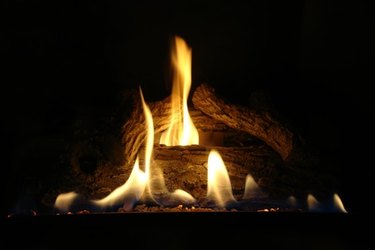 Smoke damage to your fireplace, whether from a fire that got out of hand or accumulation over time, detracts from the appearance of your home. Cleaning the chimney, fireplace insert and hearth is an important safety responsibility, too. A variety of materials, like brick, stone, marble or ceramic tiles, may cover your hearth and the area surrounding your fireplace. You can clean smoke from your fireplace tile and grout with common household cleaners and supplies.
Stone or Other Porous Tile
Step 1
Vacuum any dust and debris from the fireplace tile with a vacuum cleaner.
Step 2
Spray the tile with water so the tile doesn't absorb the cleaner too quickly.
Step 3
Mix 1/4 cup all-purpose cleaner and 1 gallon water in a small bucket.
Step 4
Dip a scrub brush into the cleaning solution, then gently scrub the fireplace tile.
Step 5
Wet a clean sponge in water. Wipe the cleaning solution and any soot or dirt from the fireplace tile.
Step 6
Mix all-purpose cleaner, bleach and diatomaceous earth into a thin paste. Apply the paste to any soot stains that remain on the tile. Leave the paste for 15 to 20 minutes.
Step 7
Remove the paste by wiping it with a damp sponge until no residue remains.
Ceramic or Marble Tile
Step 1
Vacuum any dust and debris from the fireplace tile with a vacuum cleaner.
Step 2
Mix three drops of dish soap into a bucket of water.
Step 3
Wet a soft cloth in the soapy water, then gently clean the ceramic or marble tile.
Step 4
Rinse the cloth in clear water, and wipe away any soap residue from the tile.
Grout
Step 1
Mix 1 part water with 1 part hydrogen peroxide in a bucket.
Step 2
Dip the toothbrush into the hydrogen peroxide and water solution, and apply it to the grout.
Step 3
Scrub the grout lightly with the toothbrush until the stain disappears.
Step 4
Wipe the cleaning mixture and dirt from the grout with a clean, damp cloth.
---
Michelle Skidgel has worked as a writer and editor since 2001. She earned her Bachelor of Arts degree in English at Oklahoma State University and is currently raising and homeschooling five children with her husband. Her articles for various websites specialize in parenting, green living, gardening, cooking and frugal living.