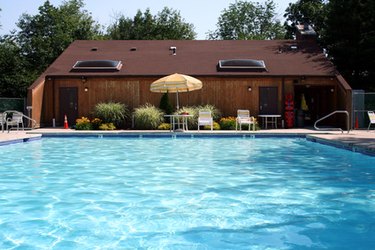 Relaxing by the pool is the perfect way to spend a long, hot summer day, and a pool pillow can make the experience even more enjoyable. But before you can enjoy your pool lounge and pillow, you need to make sure that pillow is properly inflated. Inflating your pool pillow is not difficult, but you do need to use the right techniques to avoid damaging your inflatable.
Step 1
Read the label on the side of the pool pillow. This label contains instructions detailing the proper way to inflate the pillow.
Step 2
Attach the hose of your air compressor to the intake nozzle on the pillow. If the label indicates that air compressors should not be used, attach a hand-crank compressor instead.
Step 3
Run the automatic or hand-crank compressor until the pillow is firm to the touch. Be careful not to over-inflate the pillow. Over-inflating the pillow could cause it to spring a leak.
Step 4
Remove the filler hose from the pillow and immediately seal it with the plug. This will prevent air from leaking back out.
---
Based in Pennsylvania, Bonnie Conrad has been working as a professional freelance writer since 2003. Her work can be seen on Credit Factor, Constant Content and a number of other websites. Conrad also works full-time as a computer technician and loves to write about a number of technician topics. She studied computer technology and business administration at Harrisburg Area Community College.