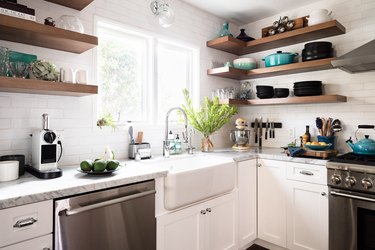 If you've ever lived in a home where storage space is sparse, you know the challenge of keeping clutter at bay — especially in a small kitchen. It's easy to accumulate extra items, like appliances, utensils, and other cooking essentials, no matter the size of your space, but having a few organizational tricks up your sleeve can keep your kitchen spacious and functional.
If you've been feeling like your kitchen walls are caving in on you or that there just isn't enough space for all of your cooking tools, it may be time for a decluttering session. Jen Nash, senior design lead at Magnet, has a few ideas to get you started and recommends that you get rid of these six things to give yourself more room in your kitchen.
1. Large Dining Room Furniture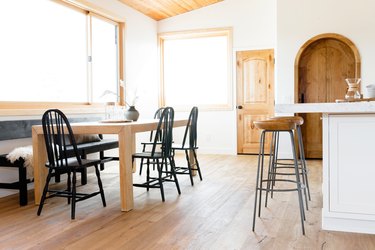 If you have a dining room table that is especially large, it could potentially be taking up more space than is necessary. Fortunately, there are other space-saving small kitchen table ideas that may be a better fit, like a drop-leaf table or a bar setup.
"When not in use, drop-leaf dining tables allow you to preserve precious floor space but still provide comfortable dining with fold-out arms when dinnertime calls," Nash explains. "Or, make the most of empty wall space with a slim floating shelf and some colorful bar stools. This will serve as a great informal dining area with a breakfast-barlike feel."
2. Single-Use Kitchen Tools and Duplicates
When was the last time you went through your kitchen tools? It's very possible you may have multiple spatulas, spoons, and measuring cups, and letting go of any extra items you don't use will free up some storage space. While you're decluttering, also notice if you have any single-use items and consider how often you use them.
"Whilst it's also tempting to invest in the latest kitchen gadgets, such as bagel cutters or egg slicers, it's more efficient to get into the habit of investing in kitchen items that have more than one use," Nash says. "A knife can perform both of these tasks just as well and takes up less storage [space]."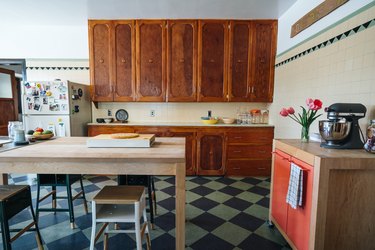 If you have tiny floor tiles in your kitchen, it may make your space feel smaller than it actually is. "Often, people think small floor tiles in a compact kitchen are the best option, as they are in proportion to the room," Nash explains. "But in a small kitchen, the larger the floor tiles and the finer the grout lines, the more seamless and expansive a room will actually look and feel."
4. Cupboards With One Shelf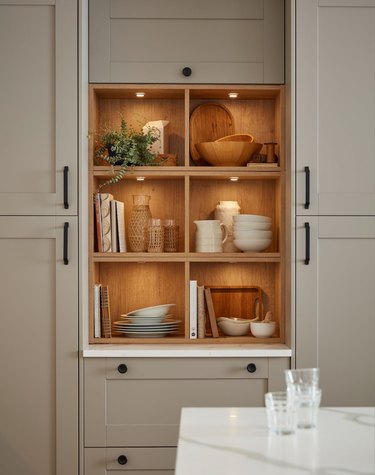 Single-shelf cupboards only give you one surface on which to store items. That's a lot of wasted space, but luckily, that can be easily remedied. "Most cupboards are manufactured with interchangeable shelving," Nash says. "With a little bit of DIY, inserting extra cupboard shelving will enable you to nearly double the amount of storage space you have in a small kitchen."
5. Monotone Color Palettes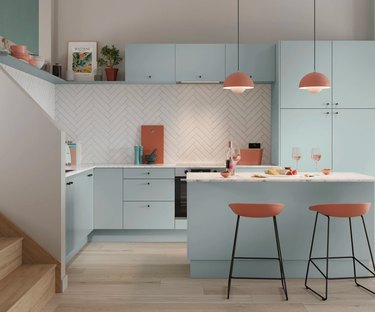 If everything in your kitchen is one color, it can actually make your space feel smaller. Nash recommends balancing your kitchen with different-color and different-texture backsplashes, hardware, and furniture. "Metallic accents and accessories are particularly successful in small kitchens, as they subtly bounce light around the room, making it appear bigger than it actually is,'' Nash explains.
6. Nonintegrated Appliances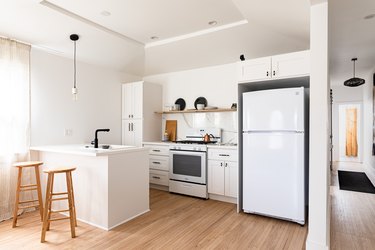 If you're able to swing it, integrated fridges and other appliances can free up lots of space in your kitchen since they are meant to blend in. "Sitting flush against the wall and often able to be disguised as cabinetry, they also offer a more stylish and sleek aesthetic,'' Nash says.