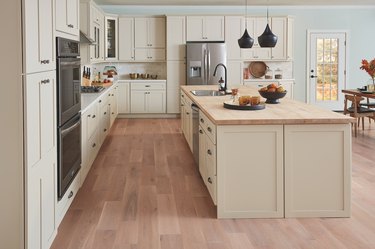 When you're planning a kitchen renovation, the first thing that comes to mind is probably cabinetry in the perfect of-the-moment color (and tons of natural light to play off it). But the real make-or-break is not the color palette of your cabinets, but what goes on inside them.
Gone are the days when the Lazy Susan was the most innovative kitchen storage option out there. And when you think of all the ephemera that now accumulates in modern kitchens (heavy standing mixers, various coffee-related gadgets, small armies of spatulas and spoons...) it's not surprising that interior organization updates have taken a huge leap.
So, how do you nail down the options? "It's smart to think of items that you use frequently and would like to have within reach," says Alex Hughes, director of merchandising for Cabinets To Go. "For example, it's helpful to have spices near the stove in a convenient drawer organizer or pull-out accessory." Think function and location.
To find the right solutions for all your stuff (so, so much stuff), Cabinets To Go offers a wide variety of storage-optimized cabinets that can handle it all, from your everyday utensil drawer to heavy-duty options for bigger appliances.
Keep reading for the top five interior organization solutions for kitchen cabinets.
Rather than having your just-emptied almond milk carton on display for your housemates and guests to see, opt for a pull-out waste basket. Not only can you pause your years-long search for a garbage can that works with your color scheme, but you free up valuable floor real estate.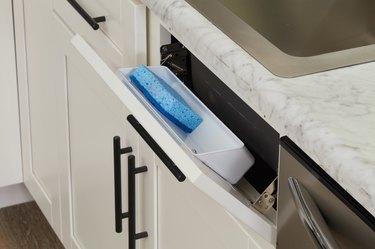 You want your faucet to be the focal point of your sink space — but too often sponges and scrubbers obstruct the view. The solution: a tip-out tray that's mounted onto your sink base for those smaller items. "For less than $40, tip-out trays are a great way to add flair to your kitchen without spending a lot." Not only do they hide the clutter, but they're like a secret compartment, too.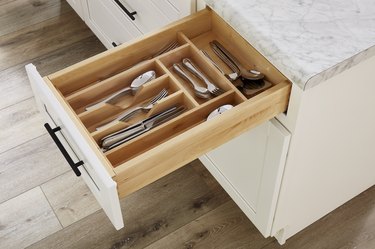 Ever moved into a new space and had to Tetris your utensils and kitchen tools into various drawers and cabinets, only to all have them fall out when you open said storage? There's a better way: Opt for built-in.
"Our drawer utensil dividers are made of solid wood and cut specifically to fit our cabinets," Hughes says. "The pull-out units offer bin storage for spatulas and serving spoons and racks for storing cutting boards." Cue that joyful feeling you get when everything is in its place.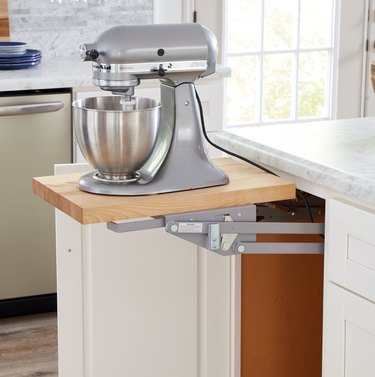 Heavy-Duty Appliance Lift
What's the main thing that stops you from going for that brushed-nickel prestige mixer other than the price tag? Where you're going to store it.
"For those who hate countertop clutter, the heavy-duty lift makes it easy to use your large appliances without keeping them out in the open," says Hughes. "Simply pull out the base of the lift from your lower cabinet, and your mixer, blender, or other appliance is instantly at countertop level, ready to use." By giving your more beloved appliances a forever home, you'll be more likely to use them, too (even if it's only to pop up your cool lift feature).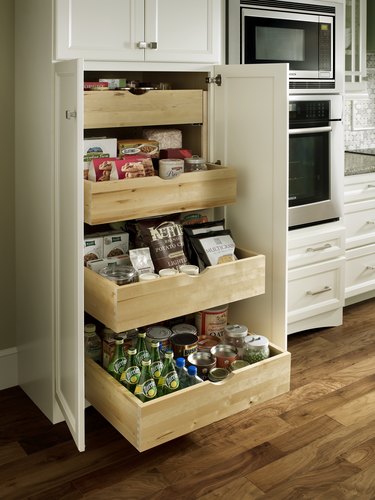 Have you ever thought a cabinet had so much storage potential, if only it had about two more shelves in it? Help it realize that potential with roll-out trays, which maximize the space in pantries and base cabinets to store coffee machines, serving dishes, and any other where-should-I-put these items.
"Roll-out trays make your kitchen much more functional, keeping your important items within reach," says Hughes. Never lose something behind a wall of canned goods again.