They say that April showers bring May flowers, but what about June, July, and August? Though spring is synonymous with a beautiful bouquet filled with fresh blooms — and, yes, those seasonal allergies — summer is also a great time to dress up your space with a gorgeous floral arrangement. But whether you're adding some fresh flowers to your home decor or going above and beyond with a floral centerpiece for your next dinner party, one thing's for sure: Your summer arrangements are going to look a little different from their spring counterparts.
"Summer is all about bold and vibrant colors," says David Cohen, CEO of Love Rose, a flower delivery company in the United Kingdom. "Use flowers like sunflowers, dahlias, and [garden] roses in bright shades like yellow, orange, and pink to create a lively and cheerful arrangement."
In addition to moving away from spring's signature pastel colors, you'll also want to think about which varieties are in season. (We love tulips as much as the next floral fan, but they won't be the go-to bloom once the summer heat kicks in.) Cohen says: "[Look to] daisies, peonies, and lilies for a fresher and more affordable option."
While a basic bouquet from your nearest bodega can give your home a breath of fresh air, you might want to flex your DIY muscles by crafting your own arrangement. (According to Cohen, summer is an excellent time to experiment with texture or accents like seashells and citrus slices.) The good news is that you've come to the right place. And to help you channel your inner florist, we tapped a few experts to share their very best ideas for your summer flower arrangements. From centerpieces to everyday essentials, you're just a few clicks away from beautiful summer blooms.
17 Summer Flower Arrangement Ideas
1. Give your bouquet a textural touch.
As far as we're concerned, there's something about summer that makes us want to let down our hair and channel a laidback luxury. If you want to bring this mindset to your summer flower display, why not experiment with texture? In this colorful setup, Aurora Botanica's Rawan Rihani used a medley of blooms like delphiniums, ranunculus, astilbe, anthurium, roses, phalaenopsis orchids, local sweet peas, and local chamomile. The final product is a dynamic floral design that has an elevated ease — just like summer.
2. Buy some budget-friendly baby's breath.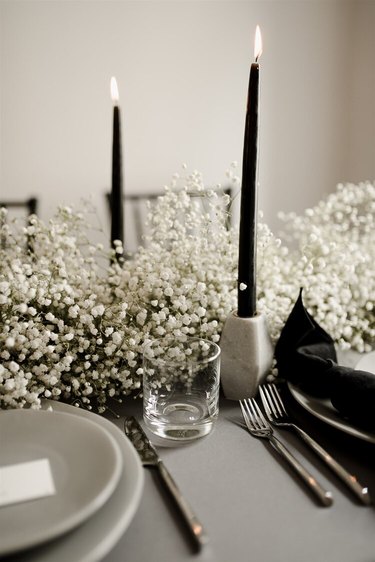 If you're looking to toe the line between simple and statement-making, you can't go wrong with baby's breath. This pick might be typically regarded as "filler flowers;" however, they create a cloud-like texture when bunched together. Lauren Wiebe of Stone House Creative might've used these for a winter wedding, but baby's breath are in full bloom in spring and summer. Oh, and did we mention they're surprisingly affordable, making them a great everyday arrangement?
3. Try the tropical treatment.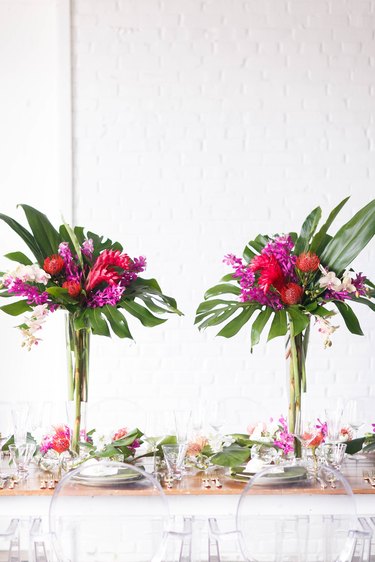 You don't have to jet off to some remote beach to achieve those tropical vacation vibes this summer. As Sarah Jones Boyle of Olivera Floral Design points out, you can get the look in the comfort of your own home. The trick, however, is to focus on your greenery. "I'd suggest playing around with your larger leaves first to get the overall shape and then using a heavier bloom to anchor them in place," she says. "The pink ginger would be considered our anchor bloom in these. Add your phalaenopsis orchids last as they are the most delicate and more prone to bruising."
Speaking of greenery, a few leaves is sometimes all you need for the ultimate summer style. "There's nothing more summery than big palm leaves; sometimes, I use just a few as a billowy nod to [the season]," designer Christina Kim explains. "When I want more of a statement, I'll cut all the palms from an Areca palm tree I purchase from [The] Home Depot or my local garden center and put together a large dramatic arrangement."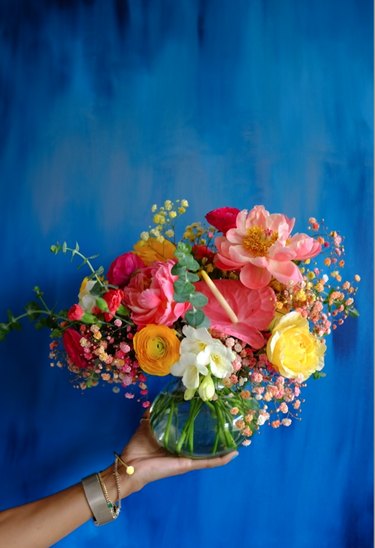 When it comes to your summer floral arrangement, fortune favors the bold. For a vase that's bright and downright smile-inducing, take a note from Bia Blooms founder Tabia Yapp and pack on the pigment. "The colorful, dyed baby's breath has bits of orange, pink, yellow, and white, which are reflected in the other flowers within this arrangement," Yapp explains. "Including a flower or an ingredient that picks up tones of the other flowers is a great way to bridge colors within your palette."
6. Take a tonal approach.
Simply put, there's a very fine line between too much and too little color. But if you're looking to get those pigment proportions ‌just‌ right, this assortment from floral design studio Whit Hazen offers the perfect inspiration. Here, florist Whit McClure found the best of both worlds with various shades of pink and a few purple petals. Summer brights that aren't too boisterous? Yes, please.
7. Wow with wild flowers.
If you're looking for a tablescape that has a touch of whimsy, you can't go wrong by placing a bunch of wild flowers into a sleek vase. "The beauty of wild flowers is that they all work effortlessly together," says Janne Ford, floral stylist and photographer. "A mix of colors and textures work really well for that 'just picked' from the field look. If you are picking flowers for inside, keep [them] somewhere cool and change the water regularly."
8. Play with proportions.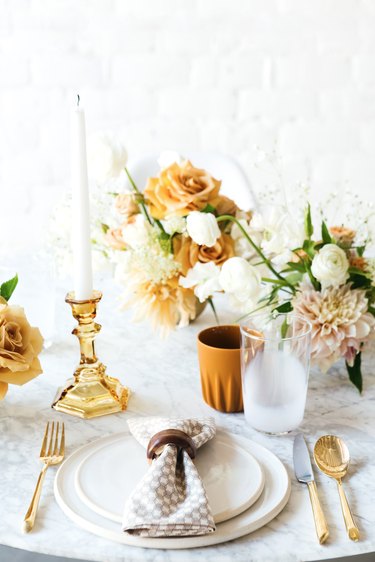 A beautiful bouquet can come in small, medium, or large packages — just ask lifestyle blogger Anne Sage. In fact, she says that a mix of sizes is integral to a stunning summer arrangement. "These florals are a great example of how a simple formula can be used to make an impressive arrangement," she shares. "In this case, the formula is blossoms of three sizes — large garden roses and dahlias, medium ranunculus, and petite, airy baby's breath — that are then distributed evenly amongst three small vases to create a setting that's organic yet balanced and harmonious all at the same time!"
9. Defy gravity with a garland.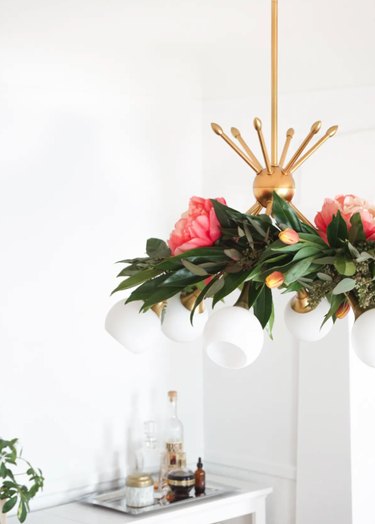 Why limit your summer floral arrangement to your table decorations when the sky (or ceiling) is the limit? We love how Erin Francois of Francois et Moi took her setup to new heights — literally — by affixing a garland on her chandelier. If you want to copy this look, all you need is some floral wires, greenery, and in-season peonies. The next time you have a dinner party, guests won't be able to help but look up.
10. Spruce it up with succulents.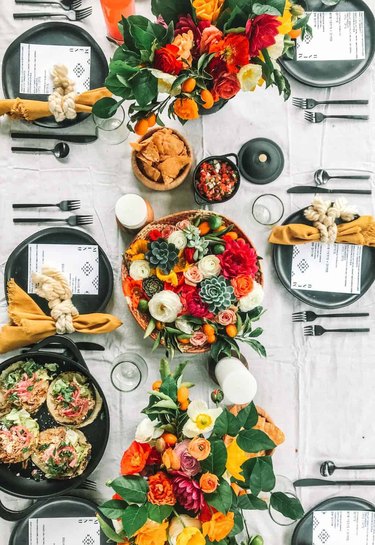 Between the sweltering temperatures and ultra-high humidity levels, summer isn't always the kindest on your foliage. To help, create an arrangement with low-maintenance, easy-to-care-for species including ... yes, succulents. Elizabeth of The College Housewife created the perfect contrast for her Cinco de Mayo part with lush red blooms and no-fuss succulents.
11. Style stand-alone stems.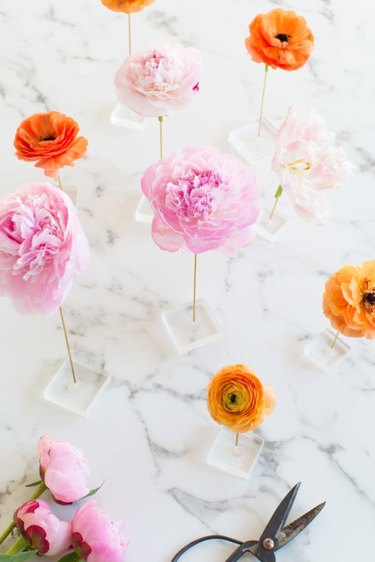 Think of this floral display from Sugar & Cloth as the perfect solution for minimalists who aren't totally sold on the typical lush bouquet. Instead of settling for the standard glass vase, snip each bloom and use a slim brass rod to attach them to a clear acrylic base. The result? A floral display that doubles as an optical illusion.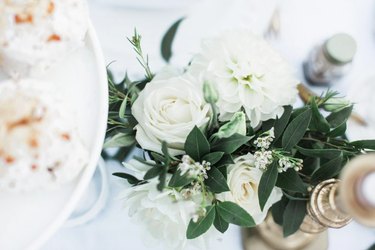 Not a huge fan of color? Don't worry: White flowers are just as acceptable during the warmer months ahead. To keep them from appearing one-note, make a bouquet with a bunch of different species. Need some inspiration? Take a look at this arrangement by Floralista for Monika Hibbs, which features roses, dahlias, and wispier wild flowers.
13. Decorate with dried florals.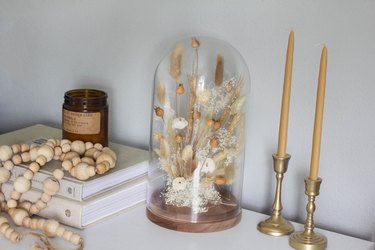 For a summer floral arrangement that will look good all season long, experiment with dried flowers. (Yes, you read that correctly.) Not only are these blooms incredibly low-maintenance — no watering required! — but they also exude a bohemian flair that feels so on-point with summer. If you want to upgrade your arrangement, take note of this DIY project by Hunker contributor Trisha Sprouse and place them in a cloche for a cool terrarium effect.
14. Fashion a fruit-forward setup.
A summer floral arrangement with minimal flowers? It's possible — just take a look at this edible garland from The House That Lars Built. Oranges and grapefruit take center stage, with a small smattering of white wild flowers as the filler. Perfect for meals ‌al fresco‌, this is one summer flower idea that will appeal to all of the senses.
15. Or fill your vase with fruit.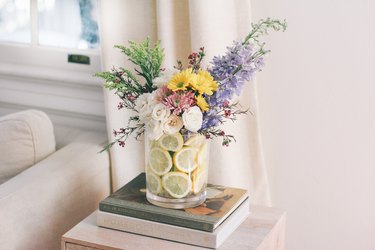 When life gives you lemons, cut them up and place them in your vase. Turns out, this trick has a lot more to offer than summer style. When paired with a sprinkling of sugar, lemon's citric acid can become excellent flower food so your fresh-cut stems can stay stronger for longer.
16. DIY artificial flowers.
We're going to level with you here: Buying bouquets every week or so can really eat up your floral budget. If you want to dress up your space for less, make your own artificial flowers. (It's amazing what some paper and paint can do!) Since you're making these flowers from scratch, you can fashion them however you'd like — consider starting with this garland from The House That Lars Built.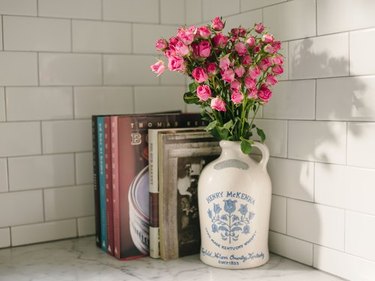 You don't have to work overtime on a gorgeous bouquet whenever you want some blooms in your home. If you're not a budding florist, a simple batch of fresh cut flowers is more than sufficient. (Psst ... for extra style points, place your bouquet in an eye-catching vase like the old-school milk jug seen here.)