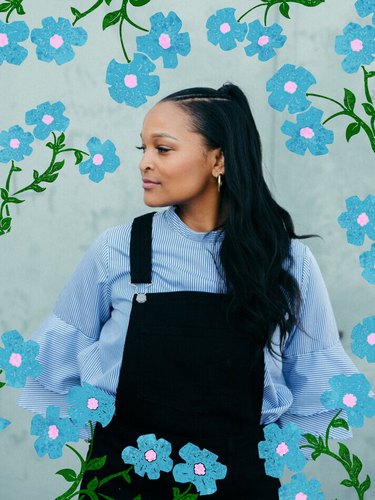 Grabbing a small bouquet to take home from the grocery store, amidst your pantry essentials and dinner ingredients, often feels like a gift. For Tabia Yapp, it became the start of her new creative expression — and a floral arranging business that would soon be selling out of orders in less than 30 minutes.
The Los Angeles-based creative entrepreneur was already running her boutique agency BEOTIS, which represents multi-hyphenate creators of color, when she started exploring her love of colorful blossoms. Just a couple months ago, she officially launched Bia Blooms, a floral boutique that creates limited collections. (Bia Bloom's playful logo was created by Dabito, creative director of Old Brand New, whose interior design style we've loved for a minute now.)
Finding much of her inspiration in the work of Maurice Harris, owner of Bloom & Plume and host of Centerpiece, Yapp started to share her floral pieces on Instagram. Running the business on her own — only recently adding someone to help her with deliveries — Yapp has been capturing the attention of floral lovers. Bia Blooms now has 24K followers. But she doesn't let the pressure of the brand's growth stifle her creativity. When it comes to pairing blooms, she doesn't have any strict rules, either.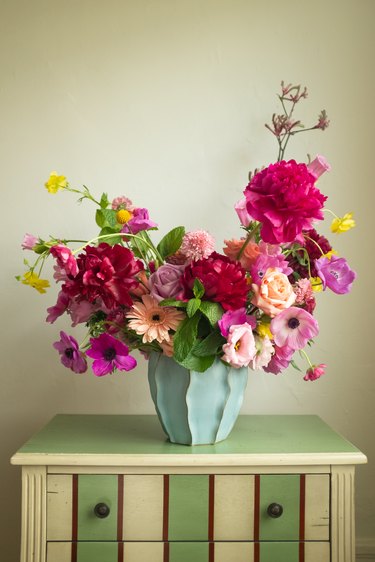 "It's mostly jazz," Yapp tells Hunker. "Some bloom orders request a certain color palette, though most folks want me to just run with it and surprise them! So I usually head to the flower market and buy whatever catches my eye."
On the brand's feed, you can immediately get a sense for her bold and bright aesthetic.
"I am a sucker for colorful blooms and warmer tones," Yapp says. "Peaches and yellows and all shades of pinks are some of my favorite colors to arrange with."
Her sped-up videos of flower arranging are Instagram gold, the type of videos you watch when you need a break or you can't fall asleep just yet. Yapp and her partner only recently moved into the apartment where she carefully puts together each piece. Yapp describes their home decor style as "colorful, organized chaos."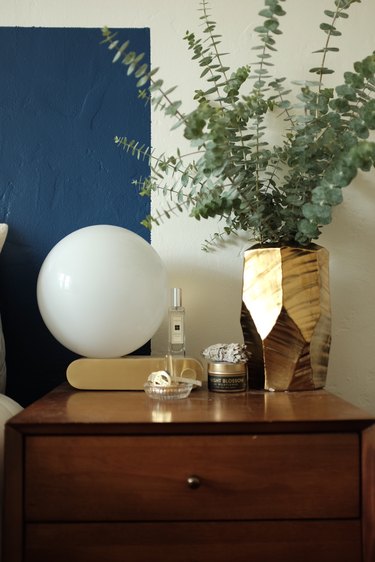 In one video, Yapp concentrates on a white vase with pink blooms. The wall in the background holds three framed posters that gives just a peak into the couple's music taste: Lucy Dacus, Outside Lands, and Mitski. Once the vase is brimming with petals, it's easy to see Yapp's appreciation for vibrant hues both through blooms and in her surroundings.
But her creations go beyond simply aesthetic choices. Recently, she created a "community arrangement" in order to raise funds for BYP100, a national organization "creating justice and freedom for all Black people," according to the group's Instagram. Each person who donated got a stem added to Yapp's creation.
"When I was considering ways I could contribute and tangibly support our movement for Black and Brown lives, I knew I wanted to support youth leaders, work with flowers, and invite other folks to participate in the project," Yapp says. "So the end result was a community arrangement where each stem represented a donation ... For this project, I thought it would be really important to display the community arrangement on the street to parallel and be in conversation with what's happening in our world."
In addition to projects like these, Yapp often posts on the Bia Blooms account offering free bouquets to Black and Brown people.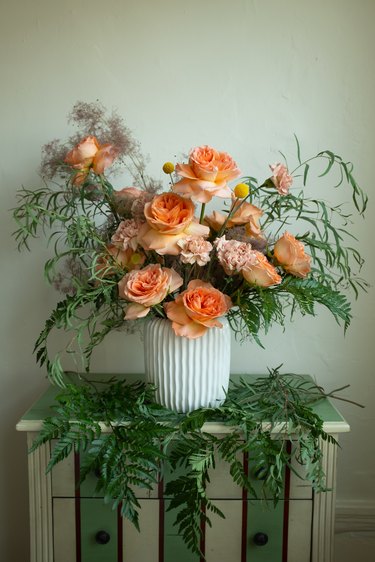 "There's just this super, super joyful exchange that takes place not only when I'm handing over the flowers, but also when they wake up and see them each and every day and know that they came from this sort of communal effort to gift flowers," Yapp says.
For anyone interested in dipping their toes into the world of bold bouquets, Yapp recommends starting with Floret Farm's A Year in Flowers: Designing Gorgeous Arrangements for Every Season, which she says helped spark her own creativity. Of course, Yapp's story proves that anyone who loves flowers can make it about more than just putting together stunning arrangements — you can include and create community, too.