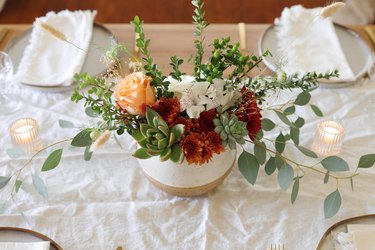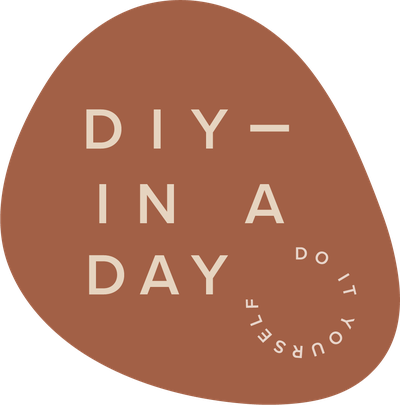 DIY in a Day brings you step-by-step instructions for easy projects that will spruce up your space — within 24 hours (or less!).
Flowers are a classic centerpiece choice, but the addition of succulents lends an unexpected layer of sophistication to your table. There is a trick to incorporating them into your floral arrangements, though, since they don't like to sit in water like regular flowers. We're sharing an easy technique that allows you to mix succulents and flowers together in the same vase with no soil required. We even threw in a few dried florals for another eye-opening pop of prettiness. Whether you're creating a gorgeous tablescape for the holidays, DIYing your own wedding flowers, or planning any other special occasion, your guests will be oohing and aahing over your gorgeous succulent centerpiece.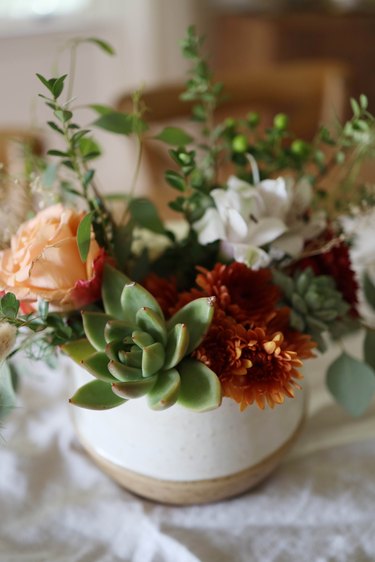 Things You'll Need
Assorted flowers (see tip below)

Assorted greenery
Tip
We picked up a bouquet of assorted florals from Trader Joe's containing a mix of roses, tiger lilies, mums, and ornamental St. John's wort. For greenery, we grabbed some eucalyptus and boxwood also at Trader Joe's. We found the succulent at Lowe's and purchased two types: echeveria and sedeveria. The dried florals are bunny tails and stardust gypsophila, which you can find online or in most craft stores.
Step 1
Take the succulents out of their pots, and remove the soil from the roots. Trim the stem to about 1/2-inch in length, and cut off any loose roots. Here we've used echeveria and sedeveria succulents.
Step 2
Thread a piece of 20-gauge floral wire through the center of the succulent stem.
Step 3
Pull the succulent until it's in the center of the wire.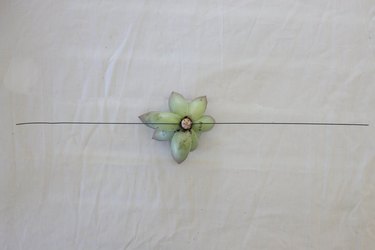 Step 4
Thread another piece of wire through the stem, this time perpendicular to the first wire. The two wires should form a big cross.
Step 5
Now fold all four ends of the wires together and pull them underneath the succulent to form a stem.
Step 6
Pinch all of the wires together and tightly wrap them with floral tape. Your succulent should now have a sturdy stem, which can easily be clipped to the preferred length for your floral arrangement.
Make the Floral Arrangement
Step 1
Fill your vase or bowl with water and add a packet of floral food. Use floral or washi tape to create a grid pattern on the top rim. This will help give your florals some structure.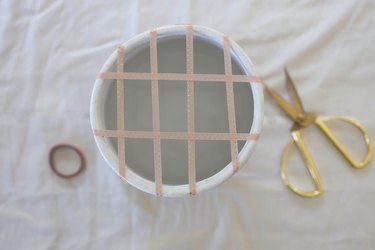 Step 2
Start by placing your greenery to establish a general shape. We used eucalyptus and boxwood. Allow some of the greenery to drape over the sides of the vessel. Be sure to remove any leaves from the bottom of the stems — you don't want any leaves or florals submerged below the water line. (Your arrangement will last longer this way.)
Step 3
Now place your succulents in the desired spots, trimming the stem lengths as needed. We chose three succulents of various sizes because most items tend to look best when grouped in odd numbers.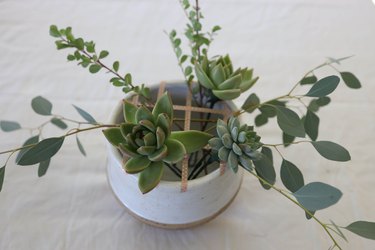 Step 4
Next, place your larger florals to create height. Keeps the floral stems a little longer so that they sit slightly above the succulents. We used a peach-colored rose, a burgundy mum, and white tiger lilies.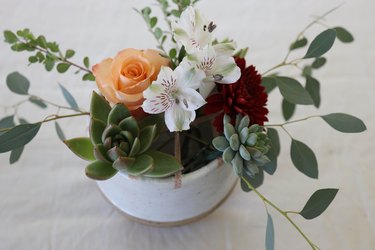 Step 5
Now add all of your filler flowers to create volume. We used roses, mums, and St. John's wort. Keep adding until the arrangement looks nice and full. We tucked a few extra sprigs of boxwood greenery in between some of the flowers to create a bit more height.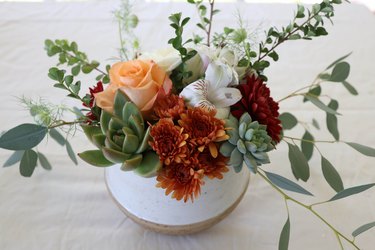 Step 6
Finally, tuck a few stems of dried florals into your arrangement to create an earthy contrast between the fresh succulents and flowers. We used dried bunny tails and stardust gypsophila, and left their stems long so they would stick out above the other florals.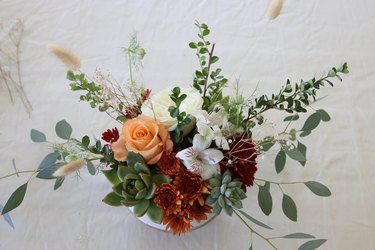 Stand back and see if there are any gaps that need filling and whether the arrangement feels balanced. Once you're happy with the aesthetic, your centerpiece is ready to dazzle your guests and should last for up to a week.