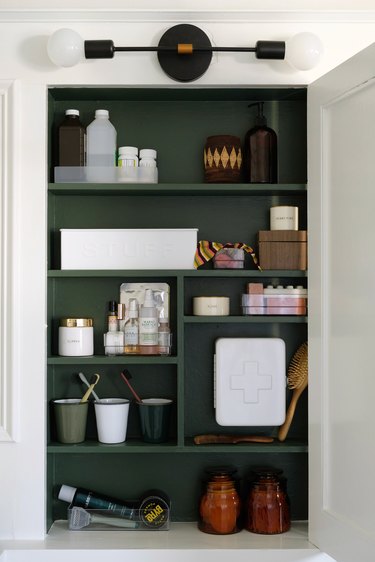 Who doesn't love an organized medicine cabinet? That somewhat magical and small cupboard that usually resides above your bathroom sink and countertop. And inside ... oh what treasures you'll find. Traditionally meant to hold first aid supplies and remedies — hence the name — the space has evolved into the spot for storing beauty products, bobby pins, cotton swabs, and beyond. But how do you regulate it for accessibility and functionality?
1. Consider open shelves.
We love that medicine cabinets hide things we want to keep out of view. But a cupboard with some open shelving will keep your most-used items ready in a snap. This one from Signature Hardware has a long cubby on the bottom and two taller ones on the side to make sure your items remain decluttered.
2. Make sure your shelves are the right size.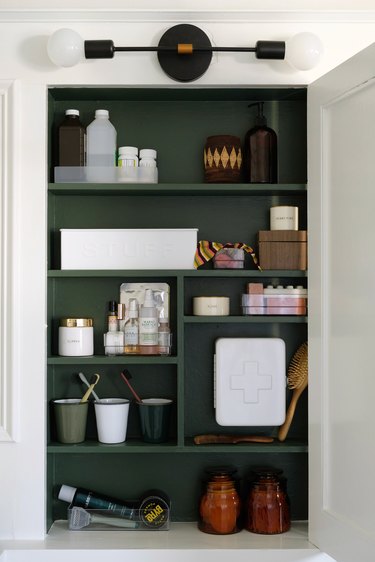 Jeran McConnel from Oleander + Palm gave this reworked medicine cabinet a mini makeover. What we love most (after that gorgeous deep forest green interior) is that shelves were installed in various shapes and sizes to accommodate a variety of needs and tools; even the tweezers have a proper home. Bonus points for the first aid kit mounted inside for super easy access.
3. Keep things in the clear.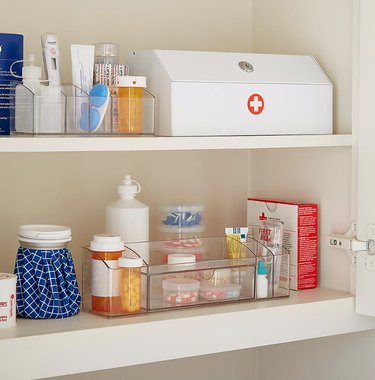 If your bathroom medicine cabinet is used for, well, medicine, grab acrylic canisters from The Container Store to keep things tidy. You'll be able to find Band-Aids, painkillers, or salves in a snap. We recommend storing daily prescriptions on the lower level and just-in-case first aid supplies on the top shelf.
4. Let labels do the work.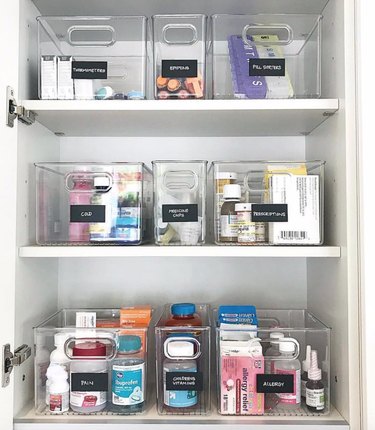 Let's be real — a label maker will change your life. Grab a matching caddy or two (or three or four) from Amazon for your bathroom organization, separate your toiletries from your Q-tips, and go to town with the labels. You'll thank yourself every time you open the medicine cabinet, trust us.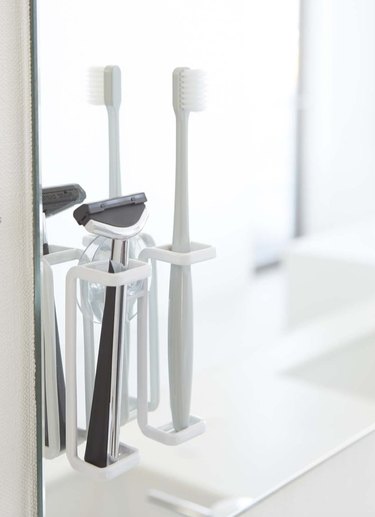 6. Don't be afraid to reuse.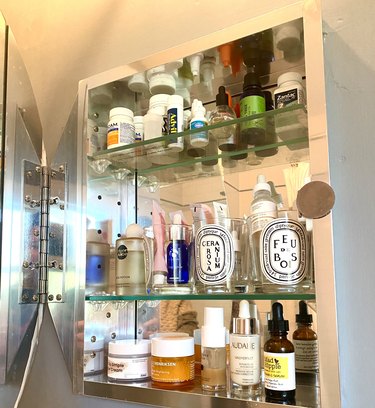 Consider a little DIY project for your medicine cabinet organization. Simply reuse containers like candle holders, jars, or drinking glasses you already have around the house. Go for ones that are aesthetically pleasing to add a little flair to your shelfie!
7. Use your door to store.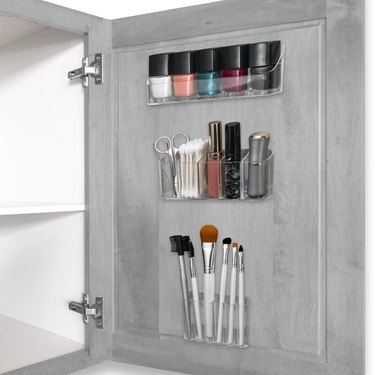 Narrow bins, like these that we found at Wayfair, are perfect for cosmetics, nail polish, and any small items that belong in the medicine cabinet. Stick 'em on the cabinet door using heavy 3M Command Strips and presto — there's still enough storage space on your shelves for bigger products.