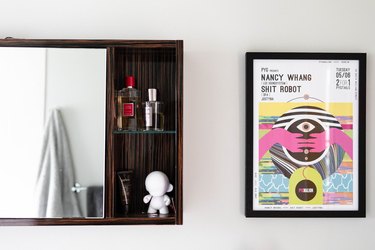 Bathroom medicine cabinets are practical, important additions that hold all sorts of needed items, but who says you can't have style as well as practicality? There are several options in the way of features, materials and designs for medicine cabinets.
What medicine cabinet will work best for your space? Which material is best suited to the bathroom you have? Which features do you need the most, and how can you get them? With a little information, you can make a much better buying decision.
Common Medicine Cabinet Materials
Bathroom medicine cabinets are typically made of plastic, wood or stainless steel. Plastic has come a long way in home design, and it can be made in a huge variety of styles that look like wood, stone and other materials. It's easy to clean and resistant to moisture and heat, which makes it a great choice for bathroom environments.
Wood is always a popular choice in home design and bathroom cabinet styles because it can be stained any color and has a distinct look thanks to the natural grain. Wood is a natural material that looks high end, but it is subject to warping, cracking and splitting in hot, humid bathrooms, according to Clean Home Zone.
Stainless steel is used in kitchens because it looks great and it's durable. It's heat- and rust-resistant and is therefore perfect in the bathroom because it can withstand steam and moisture well. You need a stainless steel cleaner and a soft cloth to maintain the luster of the metal and remove dirt and stains.
This metal will retain its pretty finish for years if it doesn't come in contact with harsh chemicals or abrasives. The finish can be scratched, chipped and damaged, however. You can sand out scratches and apply stainless steel polish to restore the finish.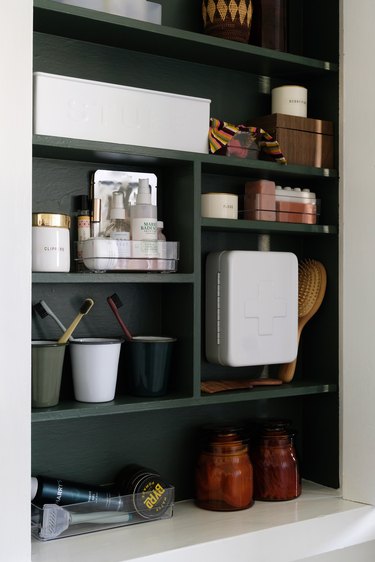 Picking the Right-Size Medicine Cabinet
Size really matters when it comes to buying a recessed cabinet in particular. Decide where you want your cabinet to be located and use a tape measure to determine the size of the area. Use this as a guide to decide how large your medicine cabinet can be.
Pay close attention to where your faucets are in relation to the bottom of the cabinet. You want to have enough clearance for everyone to operate the faucets freely. Don't forget about space you may need for toothbrushes, cups and other items that will be on the bathroom counter beneath the medicine cabinet.
Bathroom Medicine Cabinet Features
On the inside, bathroom medicine cabinets can be just as varied and multistyled as they are on the outside. There are all sorts of extra features that come standard in some medicine cabinet styles and a couple of features that you can add on your own if you like.
Get a cabinet with a mirrored interior if you like. The mirrored interior allows you to see yourself even with the cabinet open. However, this style can be hard to clean because of the shelving that's typically present in medicine cabinets. You can add a mirror yourself to the inside of the cabinet door. A flat, frameless mirror can be secured right on the door with strong glue.
Some bathroom medicine cabinet designs come with interior lighting or built-in outlets, which are highly practical features. However, installing these medicine cabinets can be a little tricky. The easiest designs can be plugged right into a wall outlet. Otherwise, you'll need to enlist the aid of an electrician to get a medicine cabinet with these features installed properly.
If you hate the idea of having people look inside your medicine cabinet, you can even get a design that has a lock. Bathroom medicine cabinets with locks are made in a huge variety of styles, including key locks and combination locks.
Some bathroom cabinets will come with a magnetic strip either on the back of the door or somewhere inside the cabinet. This little strip can hold nail clippers, bobby pins and other small, metallic items. You can always glue a magnetic strip to the interior of your medicine cabinet as an easy DIY project.
Choosing a Medicine Cabinet Style
The most standard, common look for bathroom medicine cabinets is a mirrored door that opens to reveal two or three shelves in a cabinet that sits a few inches off the wall. There are lots of ways to play around with this standard style, and a few styles have their own unique look.
Farmhouse-style medicine cabinets are trendy in modern home design because more people are embracing the rustic look. This style is marked by vintage-style handles and hardware that allows the cabinet doors to slide rather than swing.
Frameless, mirrored medicine cabinets are the top-selling style at Home Depot. This is a sleek, modern look that's popular because it can work with any design, and it doesn't look much like a medicine cabinet. This style is made with shallow cabinets. It simply looks like a large, frameless mirror that sticks about 2 inches off the wall.
Bathroom medicine cabinets don't have to be square or rectangular, though this is the look that's seen most often. Ovals, circles and arched styles are also available if you want to play around a little with your bathroom look.
Surface-Mounted Medicine Cabinets
Surface-mounted bathroom medicine cabinets are among the easiest elements to install in the bathroom. Surface-mount cabinets simply get hung on the wall pretty much the same way you'd hang a picture. Find the studs in the wall and mount your cabinet there to make sure the wall can support the weight. Place screws in the wall to line up with the mounting hardware on the cabinet, which will be included, and you're done. Surface-mounted cabinets are easy to DIY install if you take the time to make sure your screw holes are level and you're mounting the cabinet against drywall with a wall stud behind it.
Wall-mount medicine cabinets are available in a huge array of sizes and styles to accommodate any bathroom design. They're available in double-sized and twin designs for bathrooms with dual sinks, in corner styles and in super-skinny designs to fit small spaces. Mirrored cabinet designs are the most popular, but there are plenty of nonmirrored styles with cabinet doors too. Bathroom medicine cabinets can measure anywhere from 14 inches wide and 22 inches tall to 65 inches wide and 40 inches tall in standard designs.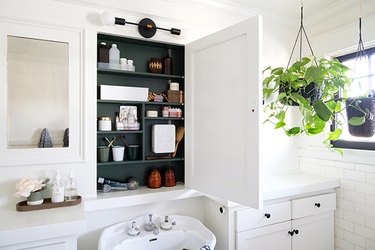 Recessed Medicine Cabinets
Recessed cabinets are some of the best-selling styles at Pottery Barn. Because recessed bathroom medicine cabinets are installed and set into the wall, they look sleek and flat and appear to be ordinary mirrors. They're made to be almost flush against the bathroom wall, so this is truly a hidden cabinet design. Installing a recessed medicine cabinet isn't quite as easy as drilling a couple holes and walking away, however. There are many different styles of recessed cabinets available, but most will be mirrored in either framed or frameless styles. Some have handles or cabinet pulls mounted right on the front, while other designs may have touch-open construction or hidden cabinet pulls behind the mirror.
Before you go shopping for a recessed bathroom medicine cabinet, you want to check the area where you hope to install it. Because there may be pipes, wires or ductwork for your HVAC system behind the wall where you hope to place your recessed cabinet, you should cut a hole in the drywall to see what's going on behind the scenes. If any of this is present where you want your cabinet, you will either need to find a new spot or get into some serious rerouting, which could be extensive and costly—and may be best suited for a professional to install.
Cut a small hole directly in the middle of the area where you hope to put your new bathroom medicine cabinet. Make the hole just large enough to put your smartphone inside. When the drywall is carefully cut and removed, you can turn on the light and camera on your phone and get a view of what is behind that wall. Record a video and watch it to see if you're clear for cabinet installation.