So many home decor trends lean toward minimalism and midcentury modern style, but cozy and lived-in looks are still incredibly popular. And there's no better space to makeover with shabby chic charm than the bathroom. The distressed and antiqued look will add just the right amount of comfy. One of the fastest ways to bring this wonderfully weathered aesthetic to your washroom is with shabby chic bathroom storage.
Here are some of our favorite ways to get the look.
1. Pay attention to finishes.
If you want shabby chic bathroom decor, pay attention to the finishes. Take, for instance, this space from the Chango & Co. team. It's cleverly designed with lots of built-in and countertop storage. But the wood tones don't dominate the space. In fact, the whitewash just makes things feel more serene.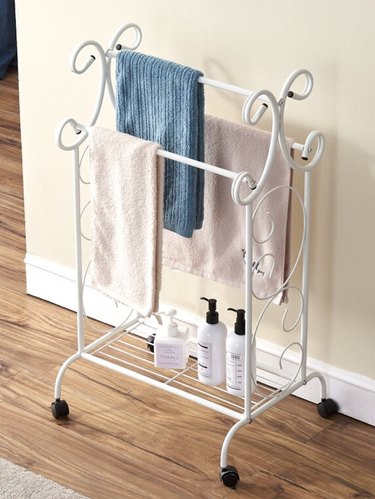 Adding an antique look to your bathroom storage is easy. We spotted this super shabby chic metal towel rack on Wayfair, but drop into a vintage shop or flea market if you want to find something similar. If you don't mind a DIY project, a can of white spray paint can help get the look.
4. Bring in some unexpected furniture.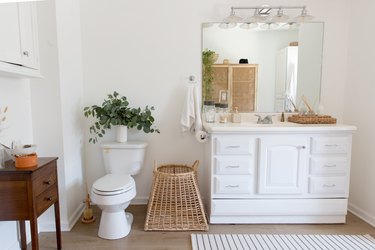 If you want the shabby chic aesthetic, try mixing and matching even when it comes to bathroom storage. Bring in a high-quality or solid wood end table with vintage vibes and drawers to store your toiletries. Take it a shabby step further and do a DIY distress on the wood. Your space will thank you.
5. Put your corners to work.
A corner shelf or bathroom cabinet with a white finish and curved lines? We'll take it. This charmer from Urban Outfitters can be filled with all of your self-care supplies. Plus, it can turn a minimal bathroom into a cozier space instantly.
6. Go for galvanized metal.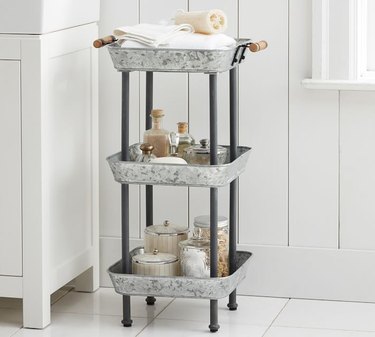 We love the look of galvanized metal in a shabby chic bathroom. Bring in a storage cart (or wall-mounted shelving), but avoid the sleek look and go for an antiqued finish instead. This three-tiered piece from Pottery Barn will add the perfect amount of worn-in charm.