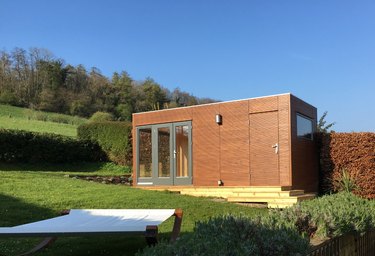 We love contemporary interiors. From the sleek, geometric details to the thoughtful pops of on-trend color, contemporary style always manages to look current. But have you considered bringing those same visuals into your backyard? A contemporary shed can be the way to do just that.
Nowadays, sheds can be used for a myriad of reasons that go way beyond storing garden tools — think she sheds, man caves, offices, studios, and even gyms. When shopping for a contemporary shed (or if you plan to construct one), ponder linear aesthetics, natural, eco-friendly materials, and plenty of windows.
Here are six ideas we're particularly loving at the moment.
Sheds typically have a very classic, no-nonsense appearance. For a contemporary shed, you'll want to challenge that tradition with details that are sleek, smooth, and unexpected. For example, this structure by Studio Shed is the opposite of what people might imagine, with its rectangular siding flaunting metal rivets, shapely roof, and plethora of windows.
2. Embrace asymmetrical details.
Contemporary style exteriors habitually spotlight asymmetrical aspects, usually showcased through the roof. The same can go for a contemporary shed. Here, Scot and Bridgett of This Minimal House embraced slanted details for their shed from the ramp to the roof.
3. Combine black with punches of color.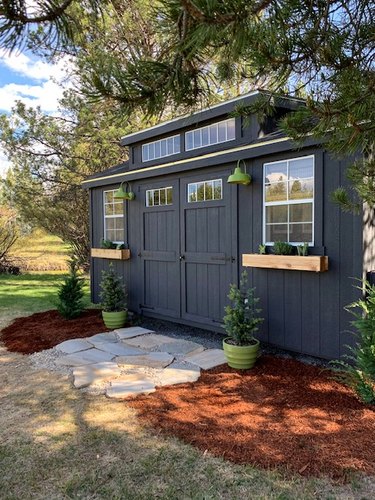 When it comes to color ideas, contemporary style has a way of pairing cool neutrals with eye-catching hues. You can apply this way of thinking to your shed, too. Courtney of Girl & Grey opted for a modern, dramatic shade of black for her cozy retreat, but added a surprising accent with bright green barn lights and planters.
4. Install lots of windows.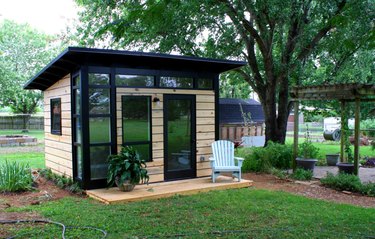 Contemporary homes often show off windows galore, since glass can add to the overall sleek effect. If you're using your shed as a bonus living space, you'll need copious windows to let light in à la this design by Studio Shed.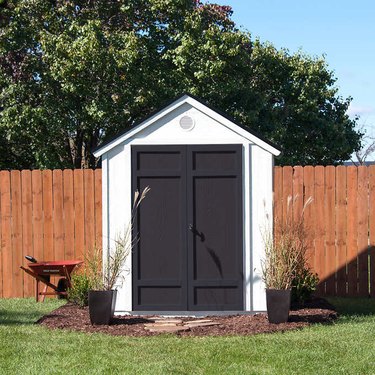 Minimalism and contemporary style always partner well, and this shed by Magnolia is the perfect example. It displays just enough flair thanks to the linear doors, angular roof, black and white color palette, and simple design.
6. Consider narrow wood siding.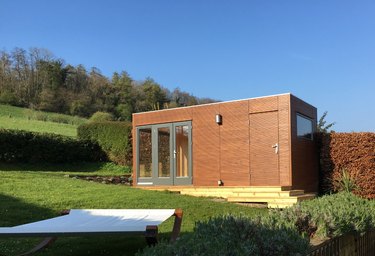 As we mentioned, an au courant aesthetic is all about streamlined visuals, and a contemporary shed is no exception. Think about extra-narrow wood siding to craft a flawlessly linear look, something that the team at Garden Affairs achieved here with this boxy design.