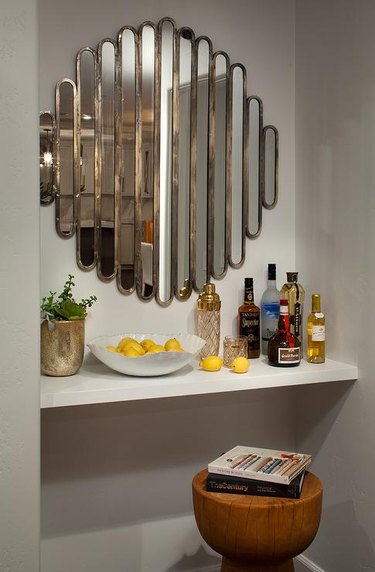 Art deco style is one of the most distinctive ones in architecture and design. The term —coined in 1900s France before the first World War — describes a look that consists of geometric forms, rich colors, and international elements. Additionally, art deco decor is made of high-quality materials, such as gold and velvet. And the craftsmanship is usually impeccable.
Using DIY ideas and inexpensive materials, you can add a little vintage flair to any room your heart desires.
1. Add a geometric design to cabinetry with wood trim.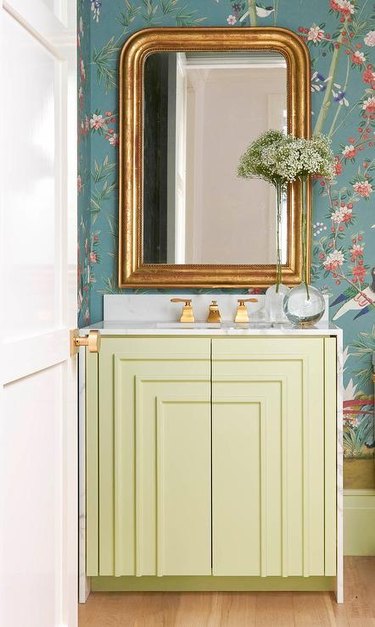 To easily transform a traditional piece of bathroom furniture into an art deco masterpiece, add layered or geometric details. It's easy to do this on a budget, as well. You can find the wood pieces at your local hardware store. Then use small nails to attach the trim to the doors for a low-impact project that even a renter can do.
2. Place an art deco mirror over your home bar.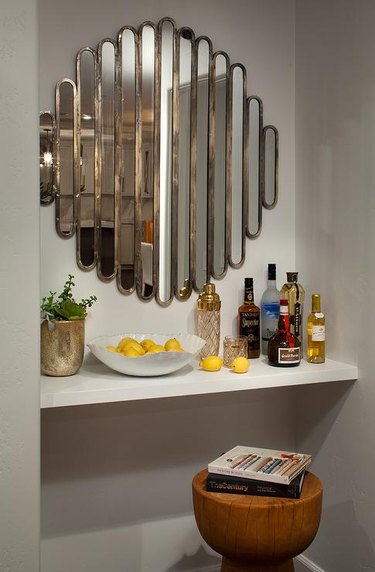 The popularity of art deco coincided with the Prohibition era, but that doesn't mean you can't bring the style to your home bar or liquor shelf. Achieve this look by hanging a glam mirror with art deco details over a floating shelf. It'll make your visitors feel like they stepped back in time while you mix their libations.
3. Use gold hardware and spray paint to add a vintage touch.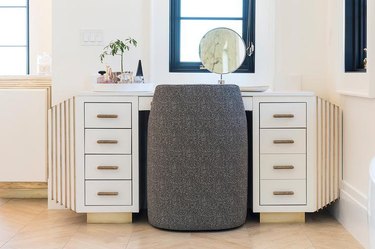 Art deco-inspired design is all about gold. So try adding classic brass hardware to your current desk to give it a more modern look. Create an interesting geometric design on the surface with gold spray paint or even washi tape.
4. Make an art deco backsplash using stick-on tiles.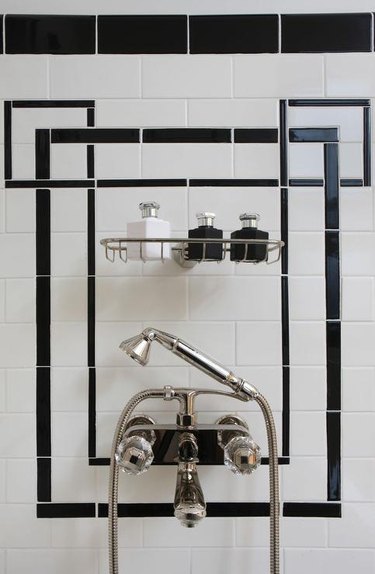 The Jessica LaGrange Interiors team created an elegant art deco tile design inside the shower, but you don't need real ceramic to get this look. You could make a similar backsplash using stick-on tiles in your kitchen or bathroom. They might not hold up well in the shower, but this pattern will look fantastic in any other space.
5. Upholster your bed frame with velvet.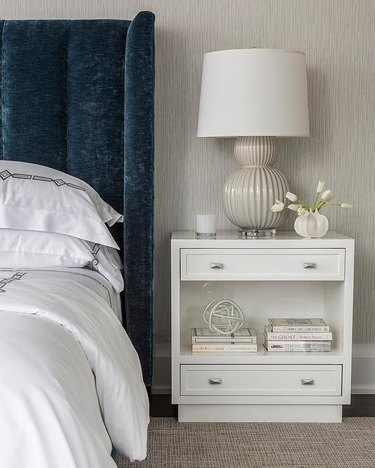 This velvet headboard is reminiscent of the modular patterns and lush fabrics that were everywhere at the height of art deco's popularity. Similar bed designs are available at a number of big-box retailers. But you could also create your own by upholstering your existing bedroom furniture with velvet fabric.
6. Choose striped patio furniture with a vintage flair.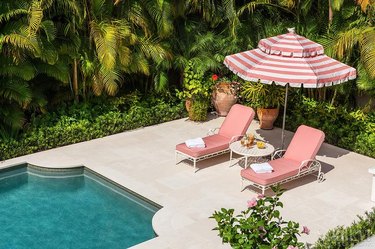 Old Hollywood and art deco go hand in hand, so why not give your patio or poolside the Beverly Hills Hotel treatment with a striped umbrella and pair of lounge chairs? There are some fairly affordable outdoor sets available online and in store!
7. DIY your crown molding and trim.
Molding and ceiling trim are classic aspects of an art deco living room. Although adding these elements to your ceiling may seem like an expensive task, there are affordable ways to hack the look. You can forgo hiring a contractor if you and a DIY partner carefully attach the trim with a ladder and level.
8. Add a statement chandelier to your room.
Statement chandeliers are classic features in art deco design. And buying a large lighting fixture doesn't have to cost an arm and a leg. Many retailers sell imitation crystal chandeliers, or you could purchase a vintage or reclaimed one. You can even try your hand at making a beaded version, too.
---
Bailey Benningfield is a contributing writer for Hunker. Her hobbies include looking at houses she will never be able to buy on Zillow and buying kitschy home decor from her favorite Goodwill. Bailey has two cats and a dog, as well as five pairs of overalls—and counting! It's rumored that Bailey graduated from the University of Florida with a BA in English.
View Work