If you ask us, the traditional dining room often gets a bad rap for being all form, no function. As the background for fancy dinner parties and the occasional holiday feast, dining rooms are often reserved for special occasions and aren't generally where you want to hang out year-round. But just because a dining room serves a practical purpose, that doesn't mean it can't be pretty, too.
One way to add some pizazz to your dining room? Wainscoting. Once upon a time, in the 18th century, wainscoting was defined as the addition of wooden panels to the lower half of the walls. Back in the day, it was a design-savvy way to insulate a room. However, as radiators and thermostats became all the rage, wainscoting transformed into a decorative accent.
But before you zhuzh up your home with some dining room wall decor, think long and hard about whether this is the right decision for you. While wainscoting can be removed, one false move and your drywall can wind up seriously damaged.
Ready to take the plunge? Check out the seven dining room wainscoting ideas below to inspire you and kickstart your next makeover.
1. Subtle Contrast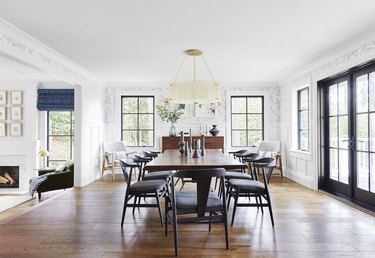 Want to make your dining room wainscoting pop? Take a cue from interior designer Emily Henderson and choose a color palette — and stick with it. In this Portland-based home, Henderson offset white wainscoting with gray and white patterned wallpaper. The white accents in the wallpaper print make the wainscoting pop, emphasizing every line and bevel.
2. Gravity Defying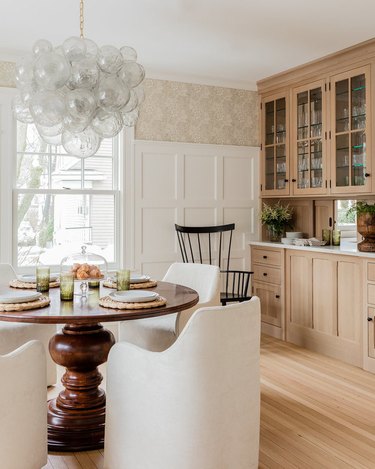 Who said wainscoting could only creep halfway up your walls? As this dining room from Hudson Interior Designs proves, the only way to go is up ... way up. Here, the tall wainscoting gives a subtle nod to the modern farmhouse aesthetic — all without the ever-so-ubiquitous shiplap. The wood built-ins, floral wallpaper, and Windsor style accent chair complete the look.
3. Dramatic Flair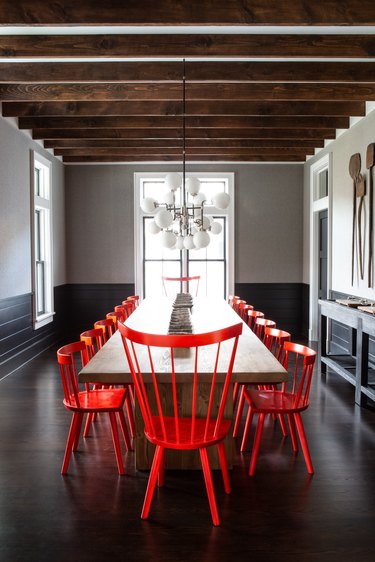 In case you missed it, dining room wainscoting is available in lots of different colors — not just white. This upstate farmhouse from Chango & Co. flips the typical idea of wainscoting on its head by reimagining the classic element in a dark, moody hue. And to keep the dark detailing, gray walls, and exposed beams from looking, well, dreary, this room is peppered with bright red dining room chairs. Now that's what we call a pop of color.
4. Beautiful Beadboard
Beauty is in the eye of the beholder — and your dining room wainscoting is no exception. If you want to bring a modern approach to your space, give beadboard a try. By definition, it's a series of slim wooden panels connected by little grooves (a.k.a beads). As one of the most popular wainscoting ideas around, beadboard can add sleek, modern flair to your dining room wall decor. Let Dichotomy Interiors show you how it's done.
5. A Touch of Wood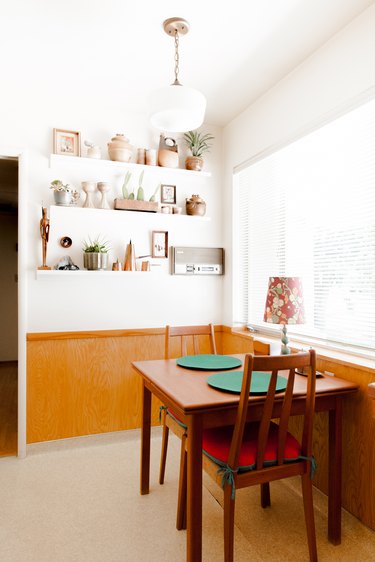 While we love dining room wainscoting as much as the next person, we have to admit that one false move could make your space feel seriously outdated. In this small space, warm wood wainscoting is juxtaposed with simple decor, retro lighting, and a few small plants. Dive into the rest of this creative abode here.
6. Board and Batten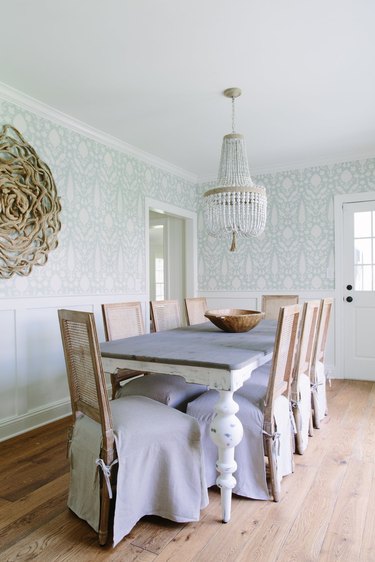 Perhaps one of our favorite things about dining room wainscoting is its versatility. Though it has a very specific look and feel to it, you can pair it with virtually any design style. In this space by Kate Marker Interiors, the board and batten wainscoting has an easy, breezy coastal feel, thanks to the oceanic blue wallpaper above, woven artwork, and beaded chandelier.
7. Nature Inspired
As previously mentioned, your dining room wainscoting doesn't need to be white. So why not let nature inspire you and paint the lower half of your walls green? This eclectic home brings the outdoors in by pairing sage green wainscoting with a floral wallpaper print. The result? A dining room that blends perfectly into a Southern California farmstead. Check out the full tour here.