Who: Adam Kawalek and Damien Navarro
Where: Laurel Canyon, Los Angeles, CA
Style: Urban bohemian farmstead
If you ever find yourself visiting the neighborhood of Laurel Canyon in Los Angeles, you might know Adam Kawalek and Damien Navarro's home by the sounds coming from their goats and chickens. Although this isn't a common sound to hear in an urban locale, the couple's home sits on a private one-way street and surrounded by undeveloped hillside, making it a bucolic piece of property that happens to be ideal for a farmstead.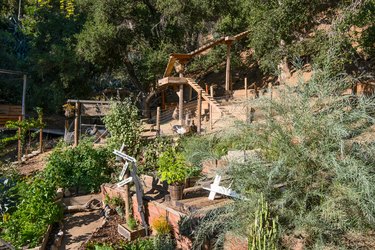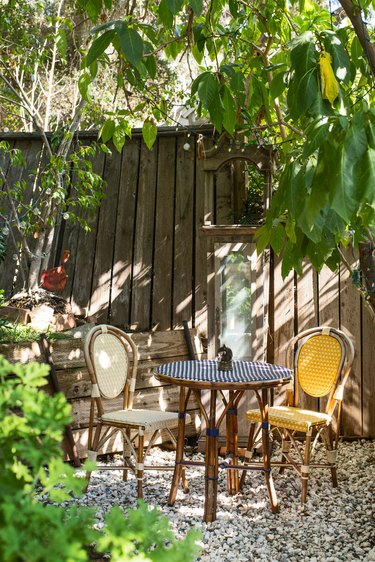 Married for five years, Kawalek and Navarro first spotted the 1947 home while on vacation in Mykonos, Greece. Kawalek reflects on that moment, saying, "One morning while lying in bed, perusing perspective homes, we stumbled across our future home. We immediately scheduled our first walk-through from halfway around the world and were sure it would be gone by the time we got back."
But to their delight, it was still available when they returned. Kawalek works as a doctor, artist, and closet designer, while Navarro serves as the Executive Director of Outfest, an LGBTQ film showcase and festival. The couple desired a peaceful place where they could wind down, fill the spaces with artwork, and provide a home for their three goats and chickens.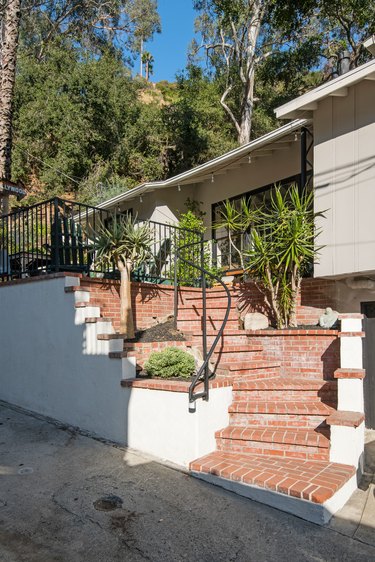 "As we walked up the driveway, all we could think to ourselves was: perfection," Kawalek says.
In addition to the 1,624 square feet of tiered space flanked by copious outdoor decks, Kawalek and Navarro fell in love with the 300-year-old California oak tree on the property, "towering and spreading its beauty in every direction," as Kawalek describes it.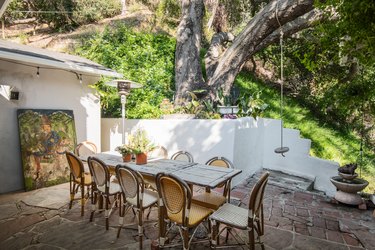 Upon moving in five years ago, the couple was ready to dig into the renovations, which took a total of six months. Inspired by Laurel Canyon's artistic vibe, the two started making the home truly their own.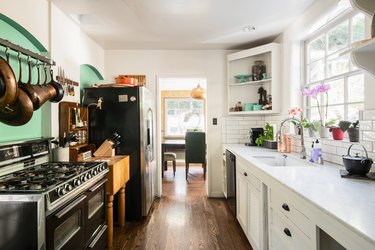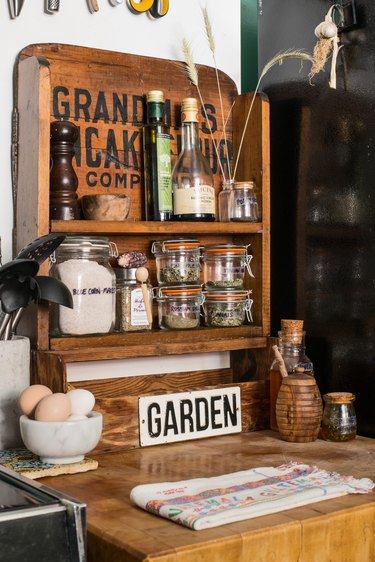 First, they "replaced the hideous Spanish tile flooring in the dining room and kitchen," as Kawalek says, and swapped in vintage oak to match the rest of the home. They also added ceiling lighting to many of the rooms and cut the front door in half to emulate an authentic farmhouse. The kitchen also received a quick makeover by removing decades-old tile that was yellowing and replacing it with a clean marble slab. They also punctuated the space with a subway tile backsplash.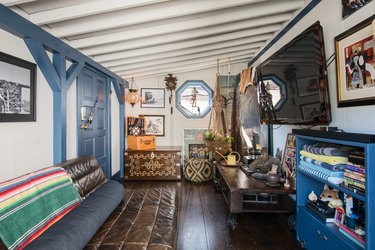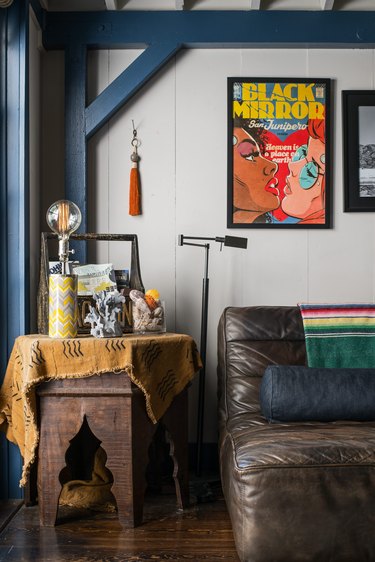 Since they were reluctant to make any big changes to the original design of the home, the couple was choosy when it came to which areas to renovate. One of these spaces was the master bathroom. "It was unsalvageable," Kawalek notes.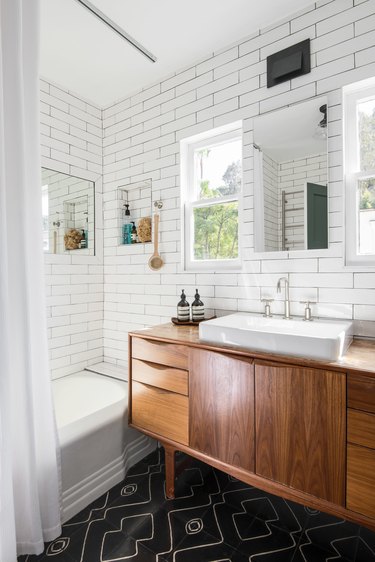 Kawalek went on the hunt for the perfect tile to add to the bath, "in order to find a design that reflected the worldliness of our home aesthetic but would still look appropriate," he says. The two settled on a timeless option made by Commune. Also, in order to cut costs, they salvaged the original bathtub. To match the look of the tub, they hired a midcentury design studio to reproduce a period credenza which they use as the vanity cabinet.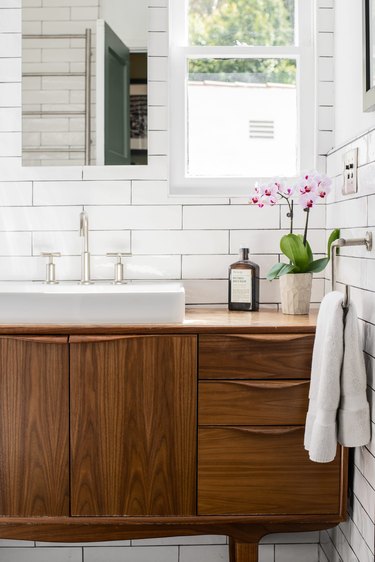 Finally, the couple turned their attention to their property. "The other major change was the piecemeal addition of our nearly half-acre organic garden and farm," Kawalek explains. The couple literally has an open-door policy in their home ("Our door is never locked," Kawalek shares) and that goes for their garden as well. "We always wanted the farm and garden area to feel welcoming and open to the public," Kawalek says. "Therefore, we designed it with that in mind." People tend to be naturally drawn to the property.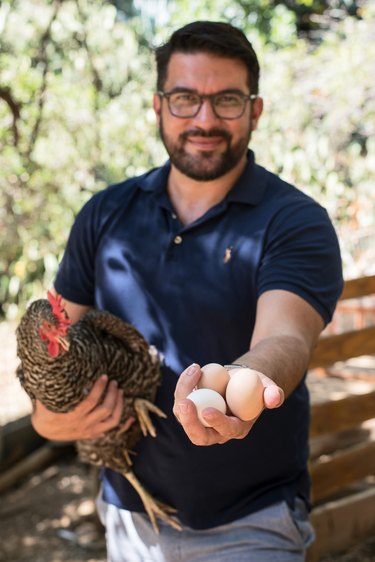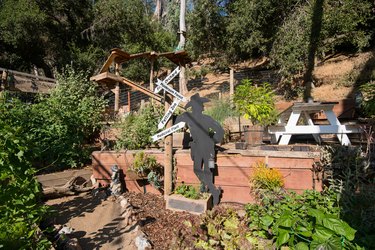 Describing the idyllic feel of the land, Kawalek elaborates, "The unique sculptures and structural elements, medicinal herbs, and exotic chicken breeds can overwhelm the senses. We love to see people drop everything and wander around in complete wonderment."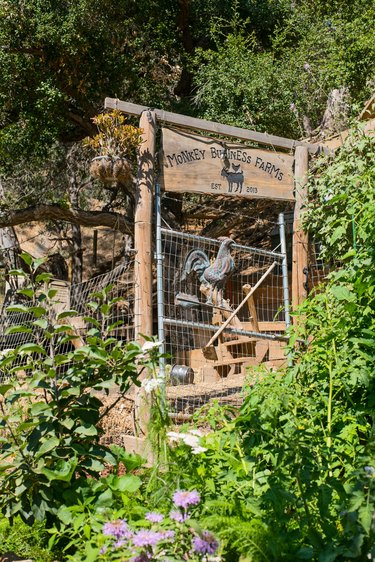 The decor in the home has an artful, bohemian, vintage vibe, communicating a feeling of warmth while juxtaposed with Farrow & Ball paint colors in every room.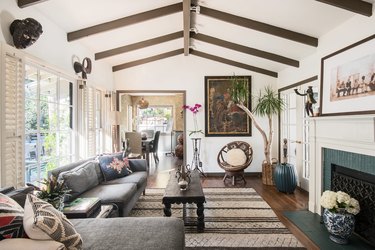 When choosing the decorative elements of the home, Kawalek and Navarro created physical mood boards for each room. "We tacked fabrics, aspirational objects, and images of our own furniture and art to the boards," Kawalek says.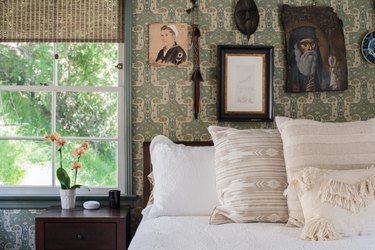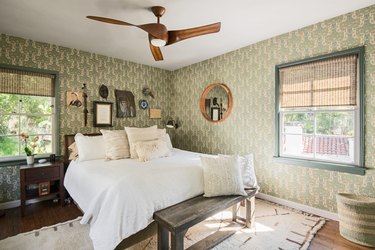 The two discovered unique pieces of inspiration to craft each space. For instance, the master bedroom, drawing from shades of café, sage, and taupe, were directly pulled from the colors found on a tortoise shell. An Alpine Tibetan forest lake stirred the design of the downstairs bedroom and bathroom.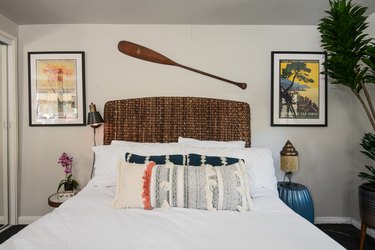 "I have always collected objects of natural history along with weird science and occult art," Kawalek says. "From my medical mission work abroad, I often come home with African masks, sculptures, books, and fabrics that we incorporate into the home. We wanted to share this collection with guests but in a comfortable, welcoming way."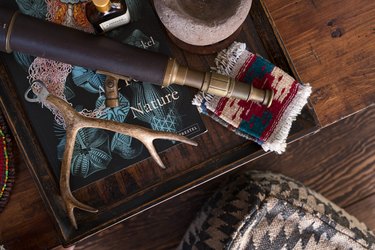 The couple's home frequently sees visitors and houseguests, who no doubt marvel at the treasures displayed throughout. Kawalek imparts their manifesto when it comes to hosting guests.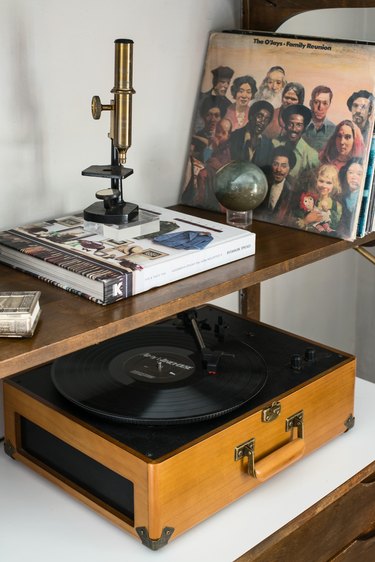 He says, "We both come from strict homes, and it was important for ours to feel open and comfortable. Filled with warmth, comfort, curiosity, and love, our home is the very embodiment of our core values."
Locals Know Best:
Cheap and cheerful restaurant: Paramount Coffee Project
When we have visitors, we take them to: Pace Restaurant ("It feels like an extension of our home and the surrounding community," Kawalek remarks. "There are also a lot of local celebs who sneak in every night.")