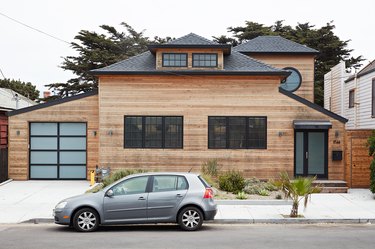 When designer Mason St. Peter was hired to renovate a home on the Great Highway in San Francisco, he was already well acquainted with the house. "The home was once a horse barn, owned by [former San Francisco mayor] Adolph Sutro," he says. "An old friend had lived in it a few years before my client purchased it so I was familiar with its charm, history, and mystery." St. Peter wanted to turn the dark interior into a bright and open space for his client, while respecting the home's history. "Our overall objective for this design was to retain the original integrity of the existing home, while at the same time updating it to function for a 21st century family," he says.
St. Peter focused on bringing in organic materials, such as oak and cedar. "Because the home is adjacent to the ocean, natural materials that could withstand the elements and carry on a dialogue with the sea were chosen," he says. The home's spiral staircase was replaced with a striking live-edge elm stairway that serves as the centerpiece of the house. The pale palette adds to the serene setting and St. Peter worked to open up the interior to the rear yard to take advantage of the beautiful surroundings. A pivot door connects the open-plan kitchen and living area to the redwood patio, and the newly built garage makes the yard feel more private. The end result is a peaceful, private retreat that fits right into the Northern California setting.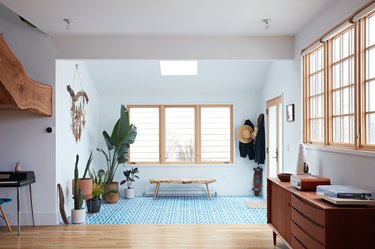 Fez tile from Granada Tile adds a colorful first impression in the entry. The custom bench was made by Luke Bartels.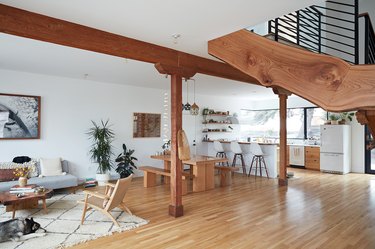 St. Peter brightened the existing open floor plan with natural materials, including oak floors and a pale color palette. The dining area's custom table was built by Repurposed Grain.
In the kitchen, open shelving displays a collection of ceramics. The oak cabinets provide a zen foundation for the white Neolith countertops and vintage-inspired Big Chill appliances.
Luke Bartels crafted the staircase out of live-edge elm.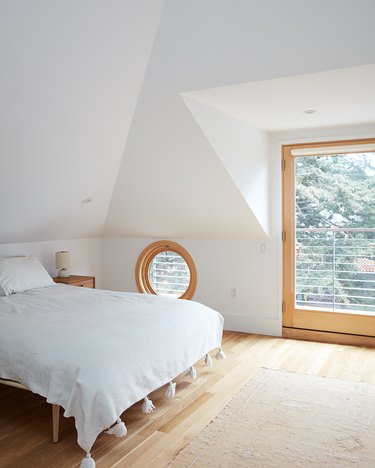 A porthole-like circular window in a bedroom reflects the oceanside setting. This bedroom also leads to a balcony overlooking the backyard.
In the master bath, St. Peter repeated the Fez tile (from the entry), which is brightened by white subway tile and a frosted circular window.
The rear of the house was outfitted with a redwood deck and a balcony on the upper level.