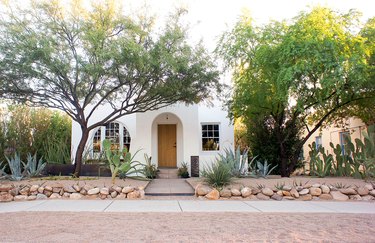 When architects Dale Rush and Darci Hazelbaker started renovating their 1920s Tucson home, they knew they wanted to keep things simple and functional. Part of that was due to their $40,000 budget, as well as the fact that they were their own builders, doing all the work except for the stucco. They also didn't want to lose the historical character of the home.
The house had two bedrooms and one bathroom, but they decided to redo the layout and sacrifice a bedroom in order to have a bigger bathroom, more storage in the bedroom, and more usable space in the living room. The new floor plan also brought in the bright desert light. "Opening up the layout to allow for natural light was also a priority since the house was small," says Hazelbaker.
They made sure to retain some of the original details and reused materials, such as the wood cladding around the entrance to the bathroom from the living room. "Renovations of historic homes are always intriguing to us as we enjoy honoring the sense of past and place of the previous owners who lived there, while making necessary updates that address present day realities," says Rush.