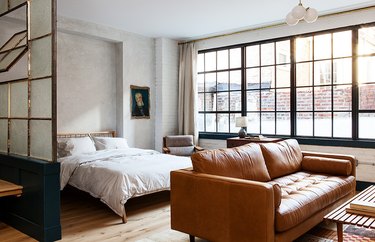 If there's one room in the house that should really reflect your personal style and your portray your individuality, it's the bedroom, a space carved out just for you. However, translating your unique vibe into an aesthetic? Not always easy. That's why we came up with this handy Zodiac-inspired bedroom style guide. What better way to inform your design choices than to look to your astrological sign? After all, people have been basing big decisions on the alignment of the stars for thousands of years, right? Read on to learn how your sign corresponds to the boudoir.
Aries (March 21 - April 19)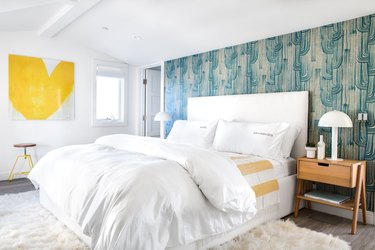 As a spirited fire sign, Aries embraces the unconventional and isn't afraid to take risks. Typical Aries prefer to buck trends and pave their own way, which is why this modern bedroom by Raili Clasen is the perfect match. A turquoise patterned feature wall, pops of yellow, and cheeky personalized pillow cases all work together to make a unique statement, while a (faux) fur area rug adds plenty of warmth and texture.
Taurus (April 20 - May 20)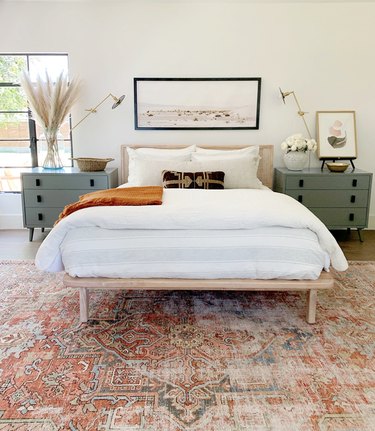 Alternatively, Taurus is grounded and practical. Bulls prioritize comfort without sacrificing style and charm — something we can really get behind. This serene bedroom by Jenny Komenda features texture and pattern in earth tones (a natural match for an earth sign) that come together to create a midcentury space with bohemian undertones — the look is perfectly appointed without being fussy. A pair of metallic wall sconces add shine and make an architectural statement.
Gemini (May 21 - June 20)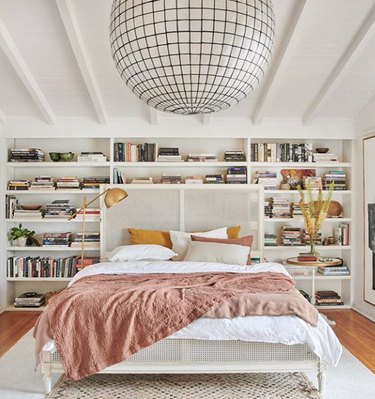 Gemini are known for their creativity and boundless energy. As an air sign, they long for bright, open spaces with plenty of natural light. Leanne Ford uses a soft color palette in this bedroom, which is ideal for the hardworking Gemini, since it won't distract from their constant flow of ideas. Built-in floor-to-ceiling bookcases anchor the room and are an ideal accessory to keep your wide range of tomes within arm's reach.
Cancer (June 21 - July 22)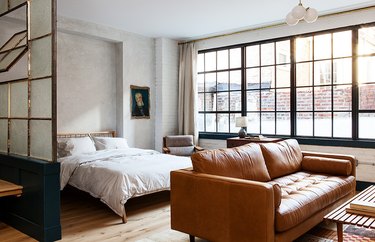 If the design concept "hygge" had a sign it would be Cancer, a Zodiac known for people who relish their alone time and put a premium on comfortable and cozy interiors. This neutral hotel room by Jersey Ice Cream Co. has an old world, rustic sensibility that Cancers find appealing. Limewashed walls add an ethereal quality, while a worn-in leather sofa and accent chair provide additional spots for hunkering down with a good book.
Leo (July 23 - August 22)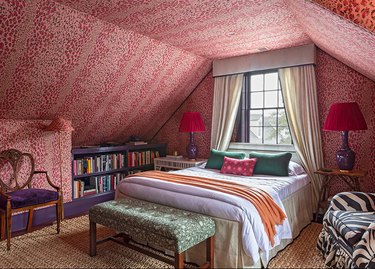 A Leo's larger-than-life personality demands a bedroom that's colorful, unpredictable, and creative — like this one by Angie Hranowsky. Bold leopard print wallpaper (a nod to the honorable lion of the Zodiac), a zebra striped chair, and regal purple accents all add up to a stately refuge that matches Leo's trendsetting ways.
Virgo (August 23 - September 22)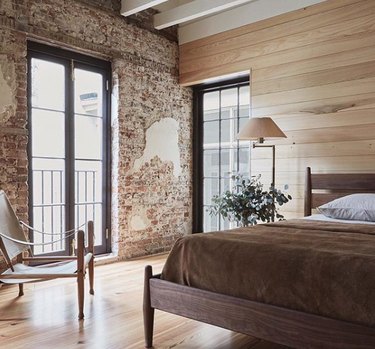 Have you ever met a messy Virgo? Didn't think so. That's because they're perfectionists who need order to thrive. A less-is-more approach to decorating suits the practical personality of a Virgo, who would feel at home in this pared-down suite by the creatives behind Workstead. A combination of brick and wood-paneled walls add warmth and character, while a vase full of fresh foliage is a subtle nod to Virgo's natural green thumb.
Libra (September 23 - October 22)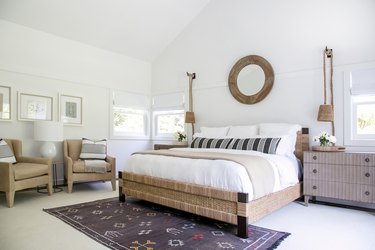 The harmony and symmetry in this boudoir designed by Chango & Co. is a natural match for Libra: a sign that craves balance. Libra are social and enjoy entertaining so they prioritize warm and welcoming spaces throughout the home, especially when it comes to the bedroom. White walls are the perfect backdrop to neutral furniture and woven pieces that infuse texture and personality.
Scorpio (October 23 - November 21)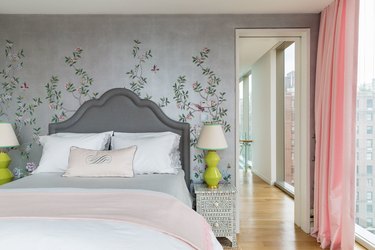 Attention to detail is a hallmark of the meticulous Scorpio, and this refined bedroom by Ariel Okin is full of design details that speak to this sign's creativity and considered choices. De Gournay wallpaper, flowy pink curtains, and monogrammed accents are romantic elements that will appeal to Scorpio's sensual side.
Sagittarius (November 22 - December 21)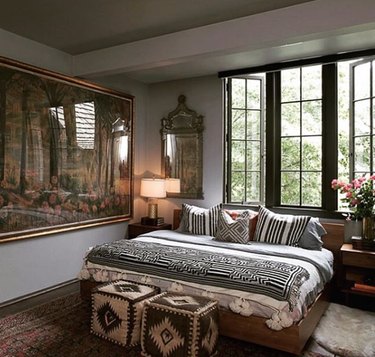 Sags have an undeniable wanderlust. A bedroom reflective of their travels will have ethnic touches and mementos of trips abroad, like the Venetian mirror, Persian rug, and tasseled throw seen in this eclectic refuge by Pierce & Ward. An abundance of natural light and stacks of books (perhaps about upcoming travels) are important details that Sagittarius will want to include in any bedroom escape.
Capricorn (December 22 - January 19)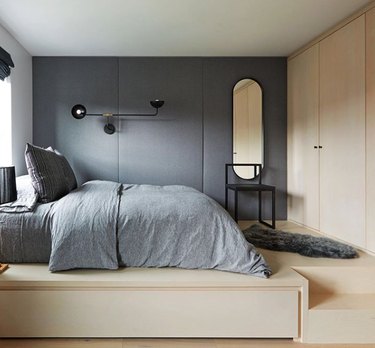 If you've encountered a Capricorn, then you know that their no nonsense (dare we say stubborn?), yet sensible approach to life has its pluses and minuses. Never one to shy away from giving an opinion, Capricorns have an equally direct approach to interiors: classic, beautiful, and practical — just like this bedroom by Elizabeth Roberts Architects.
Aquarius (January 20 - February 18)
If you're a free-spirited, non-conformist, we're betting you're an Aquarius, and this loft-like, industrial space by Leanne Ford is right up your alley. Ruled by Uranus, the planet that governs innovation, a bedroom for an Aquarius needs to be original and contain a few surprises — like this unconventional pendant light. A vintage leather sofa, hair on hide rug, and tree stump accent table are all unique details befitting of the most quintessential Aquarian.
Pisces (February 19 - March 20)
To tap into their spiritual side, Pisces need serene sleeping quarters with soft, soothing colors inspired by the sea. This sensitive water sign is easily overwhelmed and needs to balance color with plenty of neutrals and warm earth tones. Heidi Caillier layers pattern and integrates many finishes — burl wood, shagreen, ceramic — to create a timeless space that's both elegant and accessible.