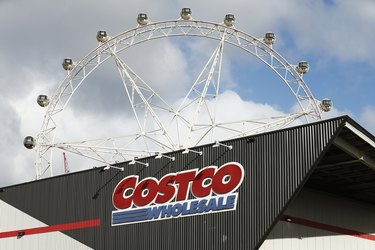 Attention, bubble tea fans: Costco is now selling ready-to-drink jelly popping boba cups, just in time for summer.
The item is by O's Bubble, a company that specializes in boba products. According to Costco Hot Finds on Instagram, each box contains eight 16-ounce drinks in two flavors: strawberry peach green tea and lychee mango green tea.
If you're unfamiliar with popping boba, they're basically fruit-juice filled balls that burst (or "pop") in your mouth. This is different than traditional boba, which is only made with tapioca and has no tasty fillings.
"The cups are huge!" said Costco Hot Finds on Instagram, adding that the drinks are not overly sweet. However, as the product is shelf-stable, they'll be warm right out of the box — so you'll want to pop them in the fridge (pun intended) to chill them first.
Where else can you buy the jelly popping boba drinks?
If you're unable to find the beverage in stores, you can still try popping boba. On Amazon, O's Bubbles offers canned jelly popping boba drink in peach and lychee flavors. These versions are made with oolong tea and aloe vera, making them perfect for hot summer days.
Other Costco items to try:
While we're on the topic of fruity treats, you'll want to try the new raspberry lemon rose Bundt cake at Costco. The product is by Bakery Street and features a delicious raspberry lemon marble swirl.
The warehouse is also offering durian ice cream, which may or may not be your thing. According to people who enjoyed the dessert, it's more palatable than fresh durian.