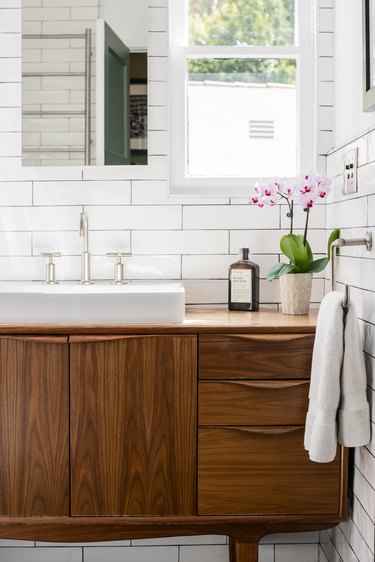 So you want to remodel your bathroom vanity. Are you dreaming of adding a spacious double sink to replace a single freestanding porcelain pedestal? How about manifesting a beautifully retro basin? We don't blame you. The washroom should be your sanctuary, and having a midcentury modern bathroom sink, in particular, can help make things feel stylish and cozy at the same time.
Like many pieces that emerged in the midcentury modern era, MCM sinks were above all else, functional. They also tended to blend traditional features and materials with new ones in addition to having sleek, organic lines and feeling built-in. Additionally, there was a lot of wood and floating consoles. The midcentury vessels and vanities we see now follow the same principles, and they look just as good as ever.
Here are six ways to incorporate a midcentury basin in a modern design.
1. Add a midcentury modern style vessel to an all-white bathroom remodel.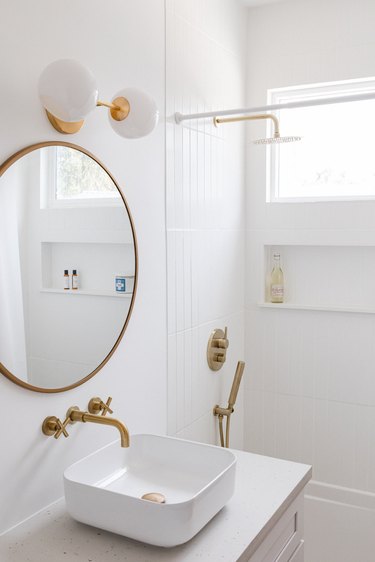 If you love the idea of an all-white bathroom like this one, adding a vessel sink with midcentury modern lines will elevate the space with ease. In this washroom, in particular, the brass faucets, light fixtures, and mirror frame create the perfect combo of subtle and chic.
2. Invest in a sink vanity with a rich wood grain and a stainless steel basin.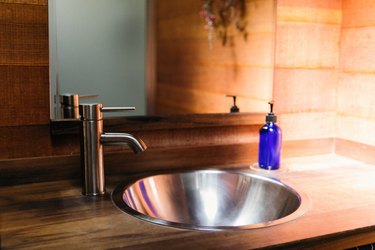 3. Turn a retro credenza with tapered legs into a modern bathroom vanity cabinet with tons of storage.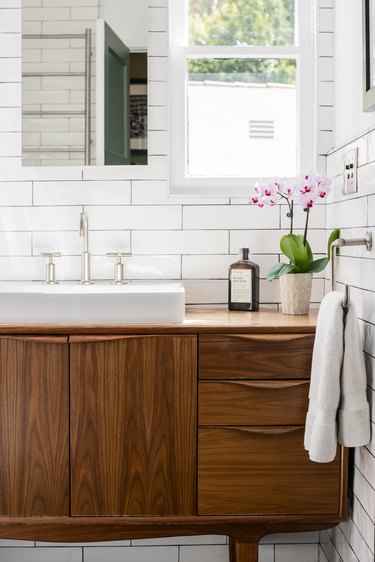 Classic midcentury modern accents (think: tapered legs and a high-quality wood grain) can be brought right into your bathroom. Try adding sturdy furniture, like a vintage credenza with clean lines, to your powder room to get the look. A rectangular vessel sink installed right on top of the vanity will create a strikingly modern centerpiece.
4. Use bathroom tile to create an integrated effect.
We love how retro tile is used in a completely unexpected way in this bathroom. The porcelain turquoise squares not only make for a striking vanity, but they are also used to create an integrated sink for the best kind of midcentury modern aesthetic.
5. Combine contemporary and midcentury modern.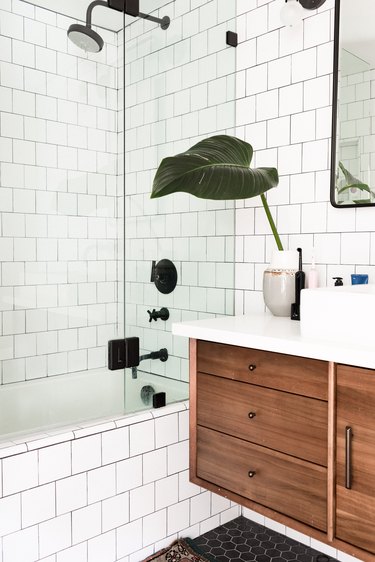 This bathroom combines contemporary and midcentury modern styling in the best way; everything feels organic and simple. And with just a floating vanity, gorgeous white subway tile, and greenery, the space looks perfect. Matte black shower fixtures complete the look
6. Go for double the impact with undermount sinks and wall-mounted faucets.