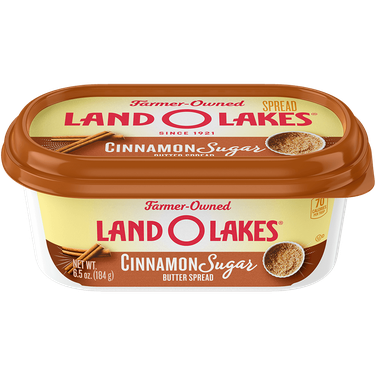 On any given day, the internet is freaking out over at least one food recipe or product. Earlier this year, at the start of quarantine, it was banana bread. In April, it was all about hyperrealistic cakes, spawning the "everything is cake" meme. In May, we had Emily Blunt's five-ingredient potatoes, which crashed celeb cook Ina Garten's website. And now? We have the following five foods that the internet can't get enough of.
1. Land O Lakes Cinnamon Sugar Butter Spread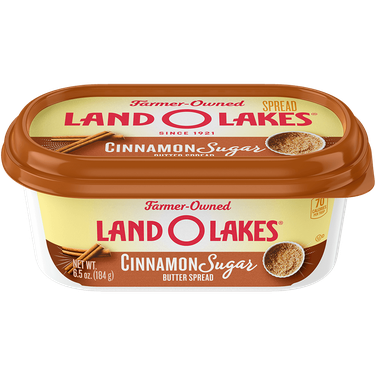 According to multiple Twitter users, this cinnamon sugar butter is "everything." Land O Lakes describes it as being the perfect balance between sweet and savory, and says that it's delicious on plain toast, French toast, or slathered on an English muffin.
Twitter user @_DollMeUp also discovered that when you pair this butter with Pillsbury's Honey Butter Biscuits, it tastes like Texas Roadhouse's cinnamon butter on a fresh, warm roll. Excuse us while we add these items to our grocery list.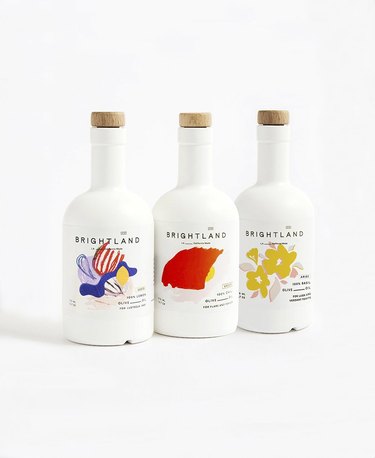 If you haven't seen a bottle of Brightland's olive oil on Instagram, are you really on Instagram? Though the internet certainly loves the taste of this olive oil, we have a feeling that the artist-designed packaging doesn't hurt its popularity.
Kit Kat has released a new flavor for Halloween and they certainly didn't disappoint. In fact, people on social media are saying that if you see the Witch's Brew Kit Kats at the store, you should buy them up ASAP. Hershey's describes them as "crisp wafers covered in marshmallow-flavored creme," so we can see why these would be quick to sell out.
Writer's note: This Kit Kat flavor is spooktacular. They taste exactly like Rice Krispies Treats and I will truly miss these limited-edition delights once the Halloween season is over.
4. Trader Joe's Pumpkin Brioche Twist
It wouldn't be a trending food list without Trader Joe's — especially during the fall. While the internet is freaking out over several of Trader Joe's pumpkin products, their Pumpkin Brioche Twist definitely stands out. It's even an employee favorite, according to Chowhound.
"Pumpkin-y, slightly sweet, and lightly spicy," reads the bread's packaging. "Great for French toast, sandwiches, and toast with nut butter."
5. Ghia Non-Alcoholic Apéritif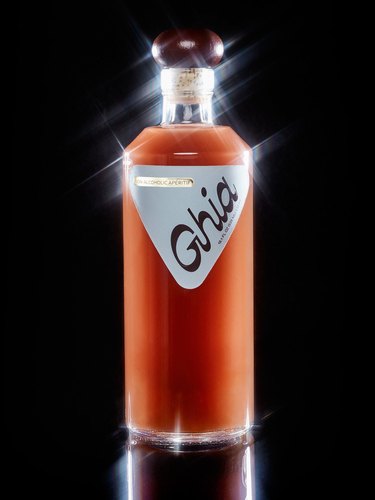 Speaking of Instagram-worthy packaging, we've been seeing this Ghia non-alcoholic apéritif everywhere. According to the company, "Ghia is a collection of social tonics inspired by Mediterranean aperitivo culture." Our Senior Director has tried it and affirms that it's a pretty brilliant combo of fruity and earthy tastes. We're sold — pour us a glass, please!
6. Reese's Big Cups With Pretzels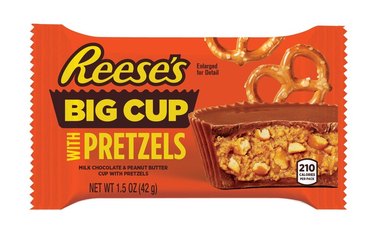 Love Reese's Peanut Butter Cups? Love pretzels? We have amazing news. Late last month, Hershey announced that they'd be releasing the Peanut Butter Cups you know and love, but bigger, saltier, and chock-full of tasty pretzel bits. Though this product won't be released until November 2020, the internet is already ready to wait in line for these cups.