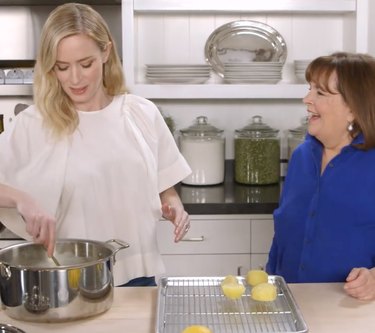 Ina Garten of Barefoot Contessa fame is no stranger to sharing recipes with her followers. It's pretty much what she does for a living. However, on March 6th, she shared a single recipe that caused her entire website to crash — surprisingly, it was actress Emily Blunt's family recipe for English roasted potatoes.
Back in 2018, Garten hosted Mary Poppins Returns stars Emily Blunt and Lin-Manuel Miranda on her Food Network show. It was then that Blunt showed Garten how to cook her family's potatoes, which she calls "a staple in the Blunt household." The recipe was so popular that Garten decided to include it in her forthcoming cookbook, Modern Comfort Food, which will be released on October 6.
To get her followers excited for her twelfth cookbook (yes, twelfth!), Garten decided to offer fans a tease in the form of Blunt's recipe. That's when mayhem ensued. "Sneak peek recipe from Modern Comfort Food — Emily's English Roasted Potatoes," the chef wrote on Instagram. "Emily Blunt shared her family's favorite roasted potatoes with me and you're going to LOVE them!! Recipe on BarefootContessa.com."
So many of Garten's 2.6 million Instagram followers tried to view the recipe, according to Garten in a comment reply, that her site then crashed. "So sorry!!" she wrote. "So many people wanted the recipe that the site crashed. We're fixing it now! Try again soon. They're worth it! xxxx." Fortunately, the site is now up and running once more, so you can easily get your hands on that in-demand Blunt recipe here.
Blunt's recipe only requires five ingredients: kosher salt, Yukon Gold potatoes, vegetable oil, course sea salt, and minced parsley. You can even watch the actress herself make them here. While on the show, she describes them as crispy on the outside, but soft on the inside. Our mouths are watering.