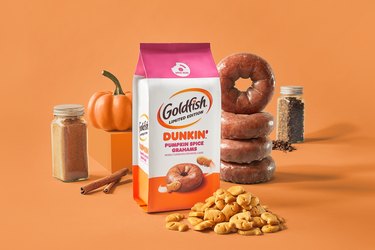 Pumpkin spice is often overdone in the fall — not that we're complaining — but occasionally a truly great pumpkin spice product rolls around. This year, we are being blessed with pumpkin spice Goldfish.
Now before you freak out, no, the Goldfish aren't the standard savory cheese flavor with some sweet autumnal spices tossed on top. They're graham crackers with "notes of pumpkin, donut glaze, and warm spices — including cinnamon, cloves, and nutmeg," according to a press release.
Sounds pretty delicious, right?
This product is a special collaboration between Goldfish and Dunkin' (formerly known as Dunkin' Donuts) and is officially called "Goldfish Dunkin' Pumpkin Spice Grahams."
"This is the first time Goldfish is tapping into the pumpkin spice season and we couldn't be more excited to partner with the brand that knows pumpkin spice the best," said Janda Lukin, chief marketing officer of Campbell Snacks, which produces Goldfish.
However, it's not the first time Goldfish has partnered with other companies to develop new flavors — Goldfish has also developed Frank's RedHot Crackers and OLD BAY Seasoned Crackers, both of which were limited-edition batches.
The Goldfish Dunkin' Pumpkin Spice Grahams will also be a limited-edition product. The soft launch of the product will occur on TikTok at @goldfishsmiles on August 18 at 12 p.m. ET, with the broader release starting on September 1, wherever Goldfish products are sold.
"We're confident this will be a real treat for all the pumpkin spice aficionados out there," said Brian Gilbert, vice president of retail business development at Dunkin'. And so are we.