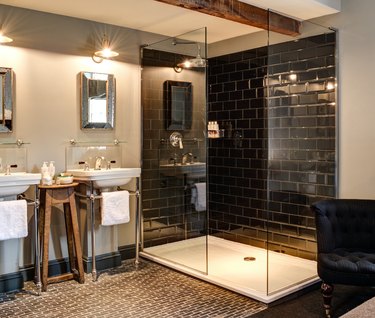 In fact, some of the chicest city bathrooms feature rustic accents, and they don't sacrifice modernity for texture and character. Here are some of our favorite ways to incorporate the tile in your space.
If light and bright is your thing, you can still have a rustic shower. Take this fresh bathroom from Purity Designs — the rectangular tiles and wood panels are quite tonal. But all the texture keeps things from veering too plain. And while the wall-mounted sink is a bit modern, it's not sterile.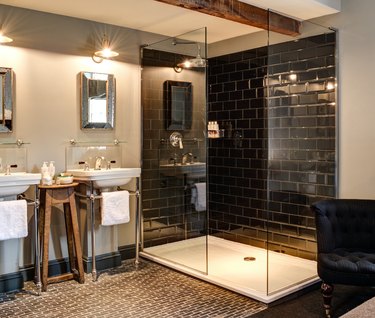 Who says a rustic bathroom can't be a little glam? The shower tiles are glossy and sleek, but the reclaimed wood accents (we're looking at the ceiling beams and the weathered stool) keep this Wheatsheaf Inn washroom feeling like a quaint retreat.
3. Combine rustic and minimal.
Hotel bathrooms get it right every time, and this one from the Ett Hem in Stockholm is lovely. The rustic shower tiles are on the larger side, and they seem to have a lot of texture, but their coloring is completely calming. To top things off, the miniature bench inside the stall would be perfect for when you just need to sit awhile.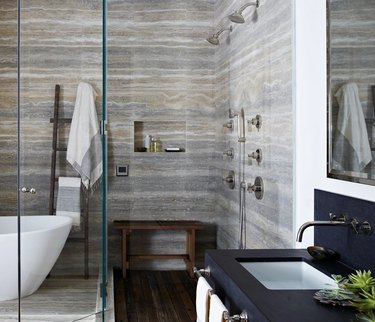 Jenny Wolf Interiors took the tile all the way to the drop-in sink in this New York loft. And the wrap-around choice paid off in a major way. The tub area is in conversation with the shower, the rustic blue tones can be found throughout the room, and the dark wood floor gives the whole space a healthy dose of warmth.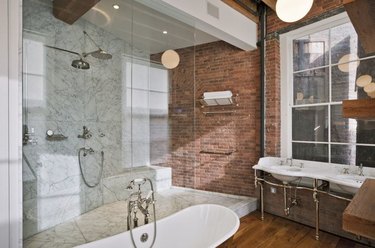 Here's another loft that makes city living feel inviting. This one, from Jane Kim Design, mixes materials. And the result is rustic and industrial. The marble shower tiles somehow work with the brick in a way that we might not have deemed possible. And is it just us, or does that open vanity just inspire you to declutter?
6. Incorporate full-on cabin vibes.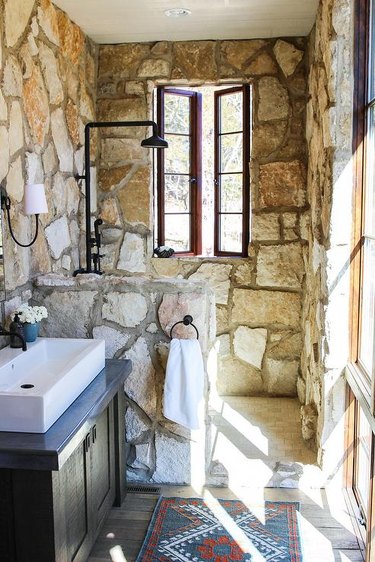 Bonus idea if you want cabin vibes but prefer not to use traditional tile: Go all out with stone. Lindsay Todd Design used rugged rocks for this rustic shower. But instead of looking dated, the multi-colored surface feels perfectly fresh. The lack of a shower door or curtain contributes to the modern effect, and the matte black shower fixtures help, too.