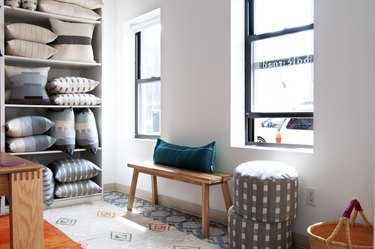 We began this week with a renewed commitment to amplifying Black creators, entrepreneurs, and professionals in the home and design space — and to highlighting the ways systemic racism impacts the spaces in which these communities reside.
In addition to organizing, rallying, protesting and spreading awareness, it's important in this moment to take stock of what creators make up your Instagram feed and whose work graces your shelves, walls, and tabletops at home. These might seem like small actions but it's important to support and amplify the work of Black creators in the design community today and always.
Black designers and creators unfortunately don't often receive the attention and spotlight that they deserve. And many people have tried to bring up this issue before. In 2018, for example, designer and ceramic artist Malene Barnett questioned when the New York Design Center failed to include any Black panelists in its "What's New, What's Next" symposium. Barnett also founded the Black Artists + Designers Guild. Just recently, Brother Vellies founder and creative director Aurora James launched the 15 Percent Pledge, urging retailers to "pledge 15% of their shelf space to Black-owned businesses." The Black Interior Designers Network has also shared actionable items for allies in the design world to stand up for racial inequalities within the industry.
We've gathered a list of just a few of our favorite Black creators in the design community as a starting place if you haven't heard of their work already. We'll be continuing to share additional lists and resources spotlighting Black excellence.
Hardcore flower lovers should absolutely know the work of Maurice Harris, floral artist extraordinaire and founder of Los Angeles coffee shop Bloom and Plume. His semi-yearly project Shades of Blackness focuses on "how we as people of color find our beauty and agency." Harris' art direction, plant knowledge, and creative vision are obvious in these artful images. You can also watch Harris's talents and get to know more about him on the Quibi show Centerpiece, in which he hosts conversations with pop culture stars like Maya Rudolph, Tessa Thompson, and Rashida Jones before creating some stunning floral artworks.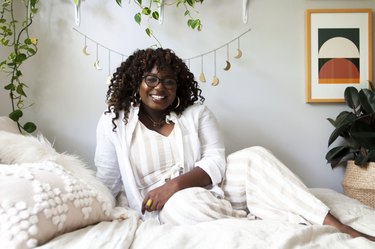 "My whole M.O. is that I don't have a design background. You don't have to have that. You can take the time to curate what you like," Janea Brown told Hunker's Laura Lambert in her home tour. Brown's joyful approach to design and sense of humor are obvious in every video she posts. She recently moved to Los Angeles, taking her YouTube and Instagram audience along for the ride of designing her new space. Follow along for decor inspo, recipes, shopping, and much more.
Interior design blogger and home furnishings designer Colette Shelton has been running Cococozy since 2008. Shelton shares trend info, budget shopping finds, and fashion inspo on her blog. You can also catch her show CoCoCozy Design House on Amazon Prime. Shelton has an eye for timeless design and keeps followers on their toes both through her own work and that of other designers she admires. It's easy to fall down a rabbit hole while scrolling through her Insta and we can't wait to see what she does next.
Nastazsa Colletti does interior design and DIY in an ultra-chic way. We're big fans of her spaces with minimal color palettes, modern patterns, and pops of greenery. She shares her creative room makeovers on her YouTube channel, along with product recommendations and IKEA hacks. We predict you'll feel motivated to do some decluttering and re-arranging after seeing her relaxing, stylish spaces.
"No matter how my career has evolved, my underlying mission to help people create beautiful spaces has always been constant." Shifting from working as an interior designer to being the founder of paint company Clare — a direct-to-consumer brand — Nicole Gibbons wanted to make paint more accessible and fun. With names like Lemonade and Avocado Toast, the company uses a two-minute quiz to match decor lovers with their perfect hue. In an interview with writer Allison Conner, Gibbons told Hunker about her journey, particularly her focus on "continuing to improve the paint shopping experience."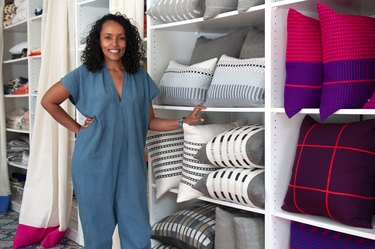 "It's important to have spaces that nourish and restore you, and this space does that for me," Hana Getachew told Alexandria Misch in a Hunker tour. Her Brooklyn-based studio for her brand Bolé Road Textiles also incorporates aesthetics from Addis Ababa, Ethiopia, her birthplace (the company gets its name from her family's neighborhood). Bolé Road Textiles carries everything from pillows to curtains to wall hangings, all showcasing Getachew's eye for patterns — and all handwoven in Ethiopia.
YayDay Paper Co. founder and craftivist Amber Kemp-Gerstel makes fun and bright DIY projects, stationery, and planner accessories. You might've seen her on Making It — where she was a finalist — or perhaps Disney Family Sundays. Scroll through her Instagram for tutorials on everything from DIY placemats to customized cooking utensils. Perfect for finding your next weekend project or keeping the kiddos entertained during summer breaks.
Rayo & Honey's pennants draw inspiration from Roachele Negron's childhood as well as literature and Black and Latinx popular culture. The hand-cut and hand-sewn pieces are great to hang in any space of the home that needs a little more positivity or wisdom. We've seen them as part of gallery walls, home offices, and entryways. Negron also designs tote bags, pins, and mirrors that reflect the power of words.
Floral designer Whit McClure started her design studio, Whit Hazen, after years of knowing she wanted to do something creative. Previously working in non-profits, McClure creates gorgeous floral works while staying committed to social justice work. Whether it's editorial work, a floral installation, or a post on Instagram, McClure infuses her process with a deep appreciation for color and seasonal blooms. We're especially fans of her styling on tablescapes (if only we could recreate them at home).
Literary advocate and social justice activist Christine Platt describes her home decor style as "minimalism infused with the beauty and rich history of the African diaspora." Platt started her design journey with the challenge of seeing what would happen if she lived with less. Now, she shares her expertise on decorating purposefully via Instagram, along with images of her home. Her account also looks at her work as a historian, including her upcoming children's book The Story of Martin Luther King Jr.