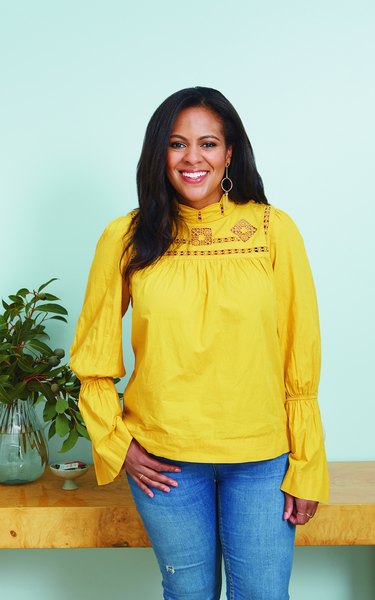 For Black History Month, we are highlighting the people and projects you should know about all year long.
Color can be a fun way to spruce up your space. But shopping for paint can be a grueling process. Designer and entrepreneur Nicole Gibbons wanted to simplify the process — while also making it more inspiring and interactive. Enter Clare, her direct-to-consumer paint brand that has been revamping an antiquated industry since its launch in 2018. Clare offers a tightly curated selection of 55 colors. And if you're feeling indecisive, you can take the Clare Color Genius quiz, which provides three options based on your current living situation, style, and other details.
An interior designer known for her fashion-forward approach to home decor, Gibbons always knew she wanted to share her expertise beyond the limits of her firm. Before Clare, she starred in the Emmy Award-winning show Home Made Simple for three seasons, where she shared cost-effective, DIY tips to families updating their homes. Her media appearances kept building — her home improvement advice has been featured on HGTV, TLC, The Rachael Ray Show, and more. No matter the project, Gibbons's mission remains the same: inspire people to see their home as an extension of their personal style and energy.
Below, she shares a few design inspirations and discusses Clare.
Hunker: You launched Clare in 2018. How have your ideas about design and accessibility changed in your transition from operating a design business to building a paint brand?
Nicole Gibbons: No matter how my career has evolved, my underlying mission to help people create beautiful spaces has always been constant. Now, instead of working with a select few private clients as an interior designer, I'm able to help people transform their homes on a much more mass scale through Clare. We've made the paint buying experience easier, more approachable, and more inspiring. It's incredibly rewarding to read our customer reviews and hear people validate how we improved the paint shopping experience for them and made the process so seamless.
Struggle is not a word I would apply to my experience as it relates to being a black woman in design. But there's lots of room for improvement in the design industry. You definitely see the same type of people get recognized in the publications, and generally they are not people of color.
Hunker: Have you experienced any struggles as a black woman in this field?
NG: Struggle is not a word I would apply to my experience as it relates to being a black woman in design. But there's lots of room for improvement in the design industry. You definitely see the same type of people get recognized in the publications, and generally they are not people of color. The people in the magazines all look one way, the subjects whose homes they're shooting all look one way, the interior designers they're covering all look one way. So I do think there is an apparent lack of diversity, but I also think there's a lack of black designers who get the recognition. Even when they do celebrate black designers, it can be very tokenizing.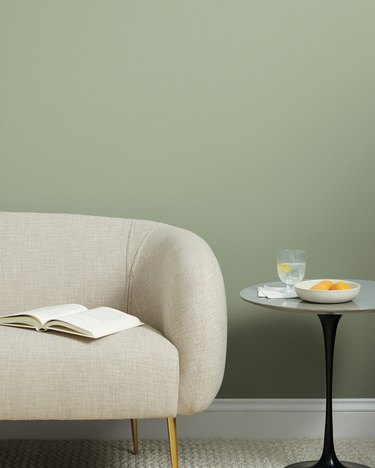 Hunker: Who are some of your favorite black designers working today?
NG: I have a handful of people that I love to support. My friend Danielle Colding is super talented. Another designer I'd recommend is Rayman Boozer. And I think Ishka Clarke would be of interest to Hunker readers.
Also, I love Brigette Romanek's work. She's someone who I think is super inspiring. She's self-made and didn't come from the design world, but figured it out — which is similar to me. I didn't go to design school. Another person who's great is Dani Arps. What's super cool about Dani is that she's carved out such an interesting niche for herself. She designs a lot of start up spaces. She just did The Daily Harvest's new office. In design, referrals are everything, so she's become the go-to designer within startup circles. I really respect the way she's built her business and carved out that niche.
Hunker: Are there any designers you've always admired whose work isn't as well known?
NG: Billy Baldwin. I'm such a fan of his work. I find it fresh, classic, and approachable. And his designs are still very relevant today. He continues to be a source of inspiration for me! When it comes to more contemporary designers, I really love Windsor Smith's work. Once again, it's an approachable style, and they always do a flawless job of mixing pieces from different periods and styles, and making it feel fresh. And DC designer Darryl Carter. His book The New Traditional has been a favorite for many years! His work is beautiful and remains one of my favorites.
Hunker: Could you recommend design books you find to be essential?
NG: I love vintage design books and have been collecting them for years. These are a couple of my favorites!
Billy Baldwin Decorates (1972): I've always loved the work of Billy Baldwin. He was the original mix master of combining old and new, and believed that good taste has no price tag. The one decorating rule he lived by is that it's okay to break the rules in decorating. He counted style icons like Diana Vreeland and Jacqueline Kennedy Onassis as clients! This book is his ultimate handbook to decorating, filled with how-to information and lots of practical design advice and tips. Billy Baldwin's work has been a huge personal influence for me and this book is like my decorating bible.
Mark Hampton on Decorating (1989): The late Mark Hampton was a design legend in the '70s and '80s and is counted as one of America's most esteemed decorators. This book is a collection of his columns for House & Garden that share his philosophies on design including the use of color and accessories, furniture layouts, the essential elements of a room, and so much more. He also shares how you can incorporate his design principles into your own homes. And all of the text is accompanied by beautiful watercolor renderings of his work.
Hunker: Did any style icons influence the paint names for Clare?
NG: I wanted our paint names to not be boring and to evoke emotion. We came up with fun names inspired by pop culture that feel so much more fresh and relevant than what you're used to hearing from paint companies. A few of my favorite names include Lemonade, inspired by Beyoncé, Money Moves, an homage to Cardi B, Avocado Toast, and Fresh Kicks, our top selling white paint.
Hunker: What colors should people try in 2020?
NG: While neutrals will always be universally appealing, in 2020 I'd like to see more people embrace deeper, bolder hues. Bolder, more dramatic colors can have such an incredible impact on a room. Current Mood is a moody shade of green that also happens to be one of our bestsellers. And Goodnight Moon, a strong midnight blue hue, is another deep, rich color that's really popular. If the idea of a dark paint color seems intimidating, try using a deeper shade of blue or green paint to bring a dash of drama to a small space, such as a powder room or guest bedroom. Deep Dive is another favorite.
Hunker: What's next for the company?
NG: We are continuing to innovate and have some very exciting new products and partnerships launching this year. But we're always going to be focused on continuing to improve the paint shopping experience and inspiring people to create beautiful homes.