We wholeheartedly believe that your home surroundings can re-energize you for another day. It's not just about choosing trendy or aesthetically-pleasing objects — it's about adding items to your space that fuel that creative spark.
Thankfully, artist Jade Purple Brown has the book to do just that. _Words to Live By _features 50 quotes from 50 powerful women, all matched with vibrant illustrations by Brown. She tells Hunker it's all about giving readers "something you could just lean on when you're having that shitty day." Or maybe you want to keep it on your coffee table, she says, to create a moment when you can pick it up and "be within yourself." Put the phone down, close your laptop, and get lost in Brown's colorful work instead.
The NYC-based artist has worked on projects for brands like TikTok, Nike, Call it Spring, Sephora, and Zappos — just to name a few. Brown's saturated pieces are full of movement, playfulness, and style. She believes "color has a healing power," and the new book definitely emphasizes that.
Inside, readers can find quotes from Academy Award-winning costume designer Ruth E. Carter, activist and labor leader Dolores Huerta, novelist Mary Shelley, entrepreneur and first female self-made millionaire Madam C.J. Walker, and more.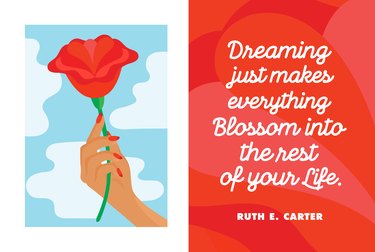 Brown's eye-catching illustrations let readers really take in the bold words of these iconic women. But while she works with lively hues on a daily basis, Brown actually prefers a more clean aesthetic in her own home. She often incorporates neutral hues and wood with a pop of color here and there.
"I'm definitely not the type of person who's going to have a bright mural in their house or anything like that," Brown says. "I like it balanced. My mind is so crazy and colorful already."
In her home office — set up in her living room — Brown likes to sit near a large window to get natural light and hear people passing by. She takes purposeful breaks from social media and whips up recipes from sites like The Minimalist Baker.
Brown hopes to create more in the interior design world. She recently collaborated with Sonya Winner Rug Studio to create the Wave rug. Winner and and Brown followed each other on Instagram for a few years before Winner reached out and asked if the artist would be interested in a collaboration. Brown got a crash course in the basics of rug design and after a few sketches and color tweaks with Winner, she landed on the final look.
In creating these colorful worlds, she creates joy for herself and hopes to do the same for others. Words to Live By is a reminder to go after your dreams — but Brown says that recently she's been thinking about enjoying all the work that goes into that journey, too. She's realized that it's all about "creating things within the moment." Flipping through the book can help you get started.