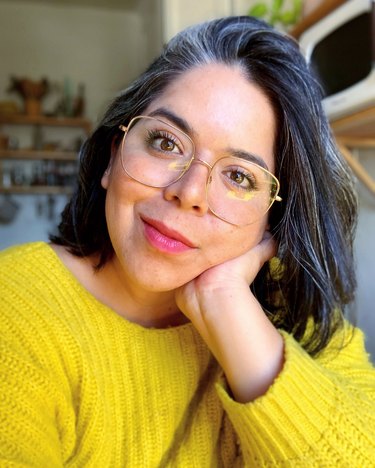 For Latinx Heritage Month, we're highlighting some of the people and brands you should know about all year long.
After years in the design world, Vanessa Hernandez cultivated a ceramics practice as a respite — a way to re-embody and fortify the roots of her Latinidad. What began as a desire for tactile creative expression and POC community gathering quickly evolved into a passion project that brings focus to a Mexican-American lineage of women makers.
Her brand, Okay Mija, weaves storytelling, heritage, and ancestral inspiration into a gorgeous collection of ceramics that carry this magic through their design. Hernandez's intuitive eye brings sun-soaked palettes to life through clay and color.
We spoke to Hernandez about the intimacy of throwing, what has kept her creative practice flowing, and the journey that led to her full catalogue selling out in less than 30 minutes.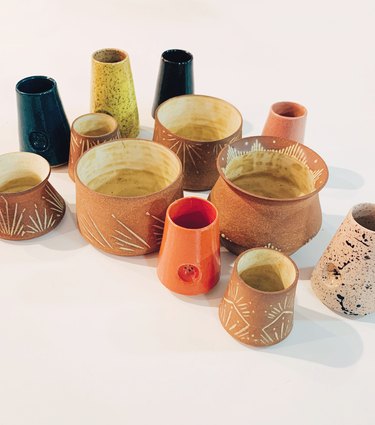 Hunker: What led you to ceramics?
Vanessa Hernandez: I'm a designer, so I've always had the creative pull. In 2018, I was wanting to do more things alone. I'd gone through a breakup, was living alone for the first time in years, and went to a workshop at POT LA. They're a community-based studio run by women of color whose primary mission is to create space for people that don't necessarily feel welcome in the ceramics space, [which] tends to be very white-washed. It was just a bunch of cool people having a good night while we got our hands into clay. And that's what anchored me into wanting to explore it more — that community. I started to reflect on my own story, and that has continuously inspired me to pull my ethnicity, heritage, and history into ceramics.
Hunker: How are your creations suffused with your cultural heritage and Latinidad?
VH: It just comes out. My family, we're Mexican, but I'm a third-generation American. My grandfather was born in Mexico, my grandmother was born here, so we've had history in Los Angeles, rooted in what is still predominantly a Mexican culture. Every time I go [to Mexico] I get answers to questions I didn't know I had and feel so at home and at peace.
I find those things reflected in the process of throwing on the wheel. There's times where I wonder [if] I have ancestors who did this. Even in the colors I choose or the carvings I do, people tell me that it feels reflective of this kind of modernized historical Mexican ware. It's nothing that I necessarily try to do, it's just what my body and soul are doing. It definitely makes me feel connected to my culture, learning about artifacts and the history of ceramics and how prevalent they were.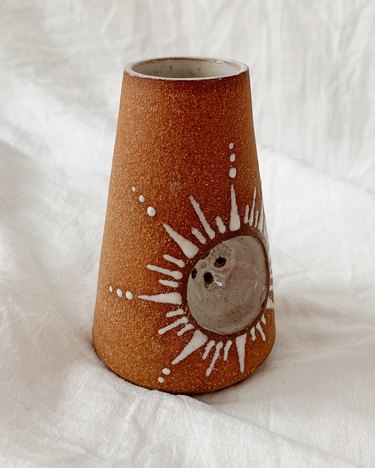 Hunker: What was the learning curve like in building your ceramics practice? Did you catch on quickly?
VH: Oh my gosh, no. It was terrible. It was a big learning curve for me and involved letting go — not being perfect, not being precise. Not only are you learning a new skill cognitively, but your body is learning and forming muscle memory. It was finally just, my body knowing what to do and how to apply pressure. [Throwing is] an intimate experience. For me that's reflected in how you touch and position the clay and how much pressure you're applying, and I find that to be really romantic and reflective of the way we go about our lives, forming community and forming work.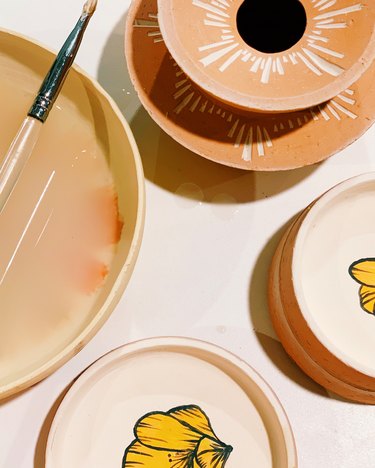 Hunker: Do you have a practice of gift-giving with the pieces you make?
VH: Yes, all day long. After being freelance in my career for about nine years, I felt like anything art-related I made had to be monetized, but after a while it just didn't feel good, and selling everything became a chore. With pottery, I was determined to let it be something I enjoyed, and didn't feel obligated to have to make a living off of it, but definitely went through the phases of [thinking it wasn't] even good enough to sell. Then Mandy, the owner of the POT LA studio, texted me, "we're going out to dinner and we're getting your business plan done." I was like, "okay, this is what I'm gonna do." I actually just launched [this summer], and I was so terrified. I thought maybe my mom would buy something. Then within 30 minutes, everything had sold out.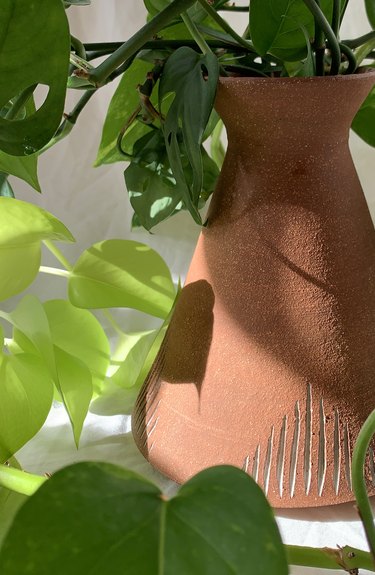 VH: It was definitely the push I needed to [realize] this can actually be something — that I can feel very fulfilled by ceramics as a creative practice, income, and gift-giving. Creating [a gift] with your own hands is the ultimate form of love to me.
Hunker: What do you envision for the future of Okay Mija?
VH: An all-encompassing place where I can house my art and marry my different skill sets and art practices. I want Okay Mija to [reflect] the history that brought me here. My mom and my grandmother are both incredibly skilled with their hands, and my grandma passed about five years ago. Okay Mija came from her love and guidance. Every night before bed we'd be sitting in the living room watching TV together, and she'd be crocheting or knitting or making bread or doing something that provided love to somebody else — always gift-giving. And I feel that, especially now that she's gone, come through in my hands, like her hands are always guiding mine.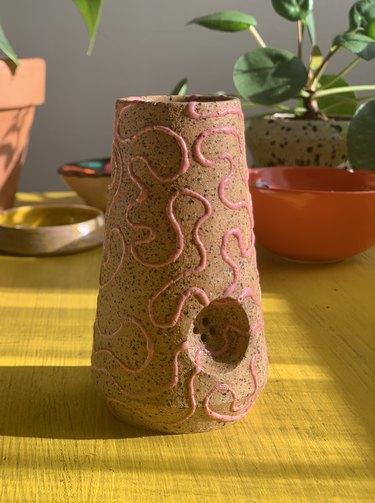 Hunker: What a beautiful legacy. So, the name Okay Mija pays homage to your grandmother?
VH: The name Okay Mija came from what we would say every day, "okay mija, be careful. Okay mija, I love you." The last text we had before she passed away was me asking her if she got where she was going. She said yes, and I said I love you, and she said I love you back, and I said something about being home later, and she said "okay mija." Losing her was very much a shock, but her passing was one of the most beautiful experiences I've ever had – I can't explain the peace I felt afterward, other than to say it was her. She showed me the purest love, and growing up I watched her give that to everyone else around her, too.
Hunker: Do you have any wisdom to share with fellow Latinx artists working towards a creative practice or a small business?
VH: Be consistent. As redundant as that is, just keep doing it, keep trying. I used to hear that growing up and would get so bored of it. Like, "that's stupid, just tell me what to do." But it's intimacy, like building a relationship with yourself. Don't be beholden to what you think you should or shouldn't be doing. Operating under a "should" mindset is completely limiting. And something I feel very tied to is continuing to find resources and ways to provide equitable spaces for POC and young artists to be able to discover what they're good at.
In terms of ceramics, specifically, I would say "keep showing up." And this is even true for potters that I know who have five, ten years of experience. Sometimes you're just going to have a bad day, but that's the learning curve, always striving to challenge yourself a little bit more and figure out what else you can do that you didn't think you could do a month prior to that. And the only way you can keep doing that is to keep showing up.