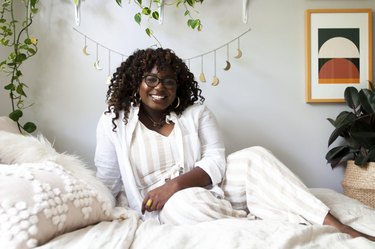 Who: Janea Brown
Where: Clinton Hill, Brooklyn, New York
Style: Southern California neutral bohemian
There are a few things that anyone who's ever lived in New York City in their 20s comes to understand. Square footage comes at a premium. Windows can be a luxury. Your apartment can be your haven — or it can be the place you assiduously avoid.
Janea Brown — better known as JNay Daily in the world of Instagram micro-influencers — learned those lessons early on, on her journey from her first foothold in Murray Hill, in Manhattan, back in 2015, to the cozy, light- and plant-filled new construction apartment she currently shares with a roommate in Brooklyn's Clinton Hill.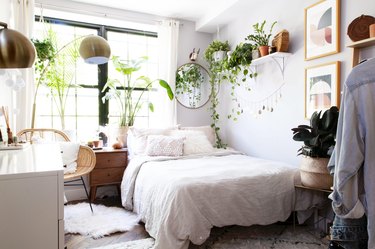 It's here, in Clinton Hill, that she is channeling a certain light-filled, happy, modern-bohemian lifestyle more associated with Southern California than the brownstone-lined streets of historic central Brooklyn. And she loves it. "It's the opposite of my older apartments," she says. "I didn't love going home before, I would try to stay out as much as possible." Now, Brown loves to be at home — it's her refuge.
Brown took the opportunity to be more deliberate about her style, since she was moving somewhere new. "Coming from university, I still had all my hand-me-downs from family and Goodwill," she explains. "I didn't know what I liked or had the opportunity to explore that." So she culled her own Pinterest boards to look for themes and paid more attention to spaces that made her feel at home — like Lively, a plant-filled cafe on 7th Avenue with whitewashed brick, blonde wood, natural materials and quirky, happiness-inducing accessories.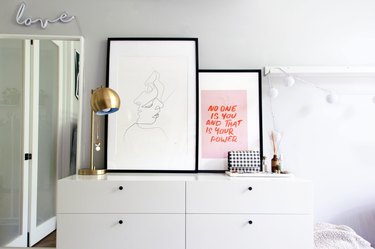 There wasn't one specific style she pursued. There's a bit of bohemian. There's a bit of midcentury modern ("but that gets expensive pretty quickly," she adds).
"It goes to show, you don't have to stay in one lane," she says. "People are afraid of doing that." As she has created this space under the spotlight of social media, her followers ask all sorts of questions about design and how to do the same. "Women are afraid to explore what they like — like it's not good enough," says Brown. "We got to own what we like."
And she gives joyous permission for people to do as she does — to mix, to match, to build a space you love regardless of style.
"I know for myself, personally, I'm constantly trying to find the light at every tunnel — and to channel that light," says Brown. "And I've tried to channel that in my room, it being the light in the gloomy New York City tunnel. It's very positive, warm place to come home to."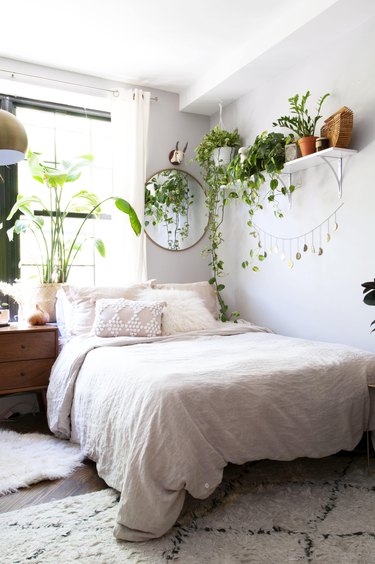 "It was such a big deal for me, buying my first rug," Brown says, of the hand-knotted wool rug from Mayfair. "It makes the home much more of a home."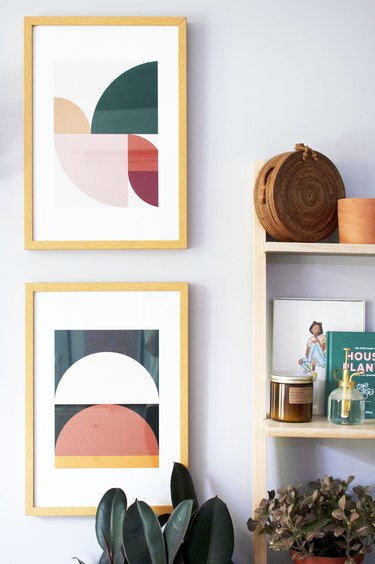 Two prints alongside the bookshelf capture the desert-esque palette that Brown really loves. Both are from The Old Art Studio, available at Society6.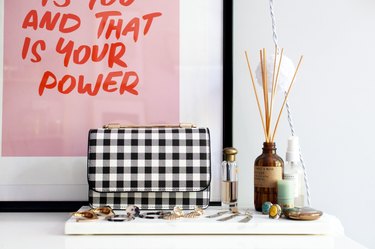 The inspirational print, which reads, appropriately, "No one is you and that is your power," is also available at Society6. The dresser is West Elm.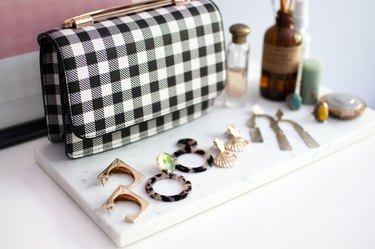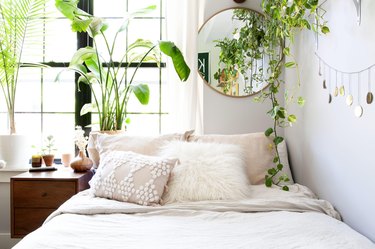 The linen duvet is from Parachute Home, and the nightstand is from Feather, a furniture subscription service. But the most prized possession is her marbled pothos. "She is just so beautiful," says Brown. "Her name is Giselle." And, of course, there's the sunlight. "I went so long not having natural light in my bedroom in New York," she says. "Waking up to natural light is a game changer."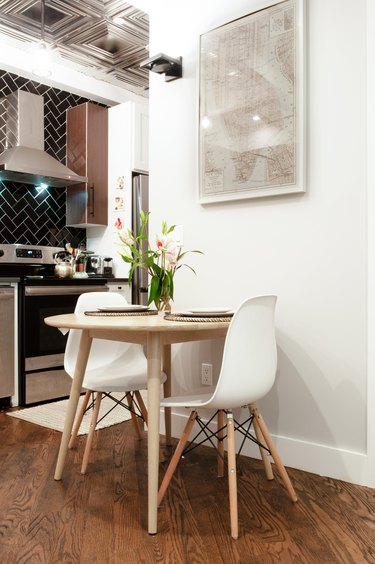 The shared space in the apartment has a simple, minimal feel that combines Brown and her roommate's individual aesthetics. The new construction references the building's past, with a pressed tin ceiling in the kitchen.
"It's so difficult to live in New York City," says Brown. "That's how important it is to make your home as much a refuge as possible — someplace you can recharge, regroup, and feel rested."
Locals Know Best
Favorite piece of design or architecture in your neighborhood, town, or city: "My whole M.O. is that I don't have a design background. You don't have to have that. You can take the time to curate what you like.
"But I do love the brownstones here, even better than the ones in Manhattan. I like to look in people's windows and see how they've designed their gorgeous entryways. Oh, and the Botanic Garden — the one in Brooklyn, with the way they style their domes full of cacti and tropical plants."
Best places for thrift store finds, antiques, or flea markets: "You know, I source Craigslist. People in New York City are always moving and need, desperately, to not carry something down their own stairs. So if you're willing to do that part, you can find some really great pieces."
Best farmers market:
"I like farmers markets for my plants and bread. There's one in Prospect Park, and there's a nice gentleman there — I should know his name by now! — who sells a lot of plants. I just started getting involved with succulents and cacti — and he has new ones every week."
Best happy hour: "Oh, I want to be more of a happy hour girl, but as a nanny with after-school hours it's hard.
"I do like a really nice beer garden. There's a chill spot called Berg'n on Bergen Street, moreso in Crown Heights. It's got open space, games. Another really cute bar is Doris, that's more in Bed-Stuy. And Sisters in Clinton Hill, which is very Instagram-able. It's all so close."
Best cheap and cheerful restaurant: "It's either my favorite Indian or my favorite place for burritos and tacos. I'll say both. The first one is B'klyn Burro, for burritos. And I don't even know the name of the Indian restaurant. It's right on Fulton Street [Kitchen Grill Indian Restaurant]."
Best place to experience art and culture: "Walking around Clinton Hill and Bed-Stuy. It's just so diverse."
Best coffee shop:
"I like this question, because I spend all my time at coffee shops. There's this one that has my heart and soul — Stone Fruit Espresso. I don't actually drink coffee, so there's that. But I do drink tea. They make a phenomenal Lavender London Fog. They are also a plant shop in the back. That's the treat — you can get tons of work done, there's plenty of space, then I can go spend my money on expensive plants."
If I were to have visitors, I would take them to:
"I would take them to Cheryl's, which is more Crown Heights, Prospect Heights. She has amazing pancakes and a phenomenal prix fixe brunch for $15. For New York, it's a deal.
"Then for midday, I'd take them to the park and we'd have charcuterie and treats and just chill and illegally drink wine or something.
"People don't like to go to the movies when they visit but I'd still take them to my favorite movie theater, the Alamo Drafthouse. It's really cozy. They have homemade popcorn that's not, like, yellow. And then we'd get a drink at Doris, probably.

"And then we'd end up at Speedy Romeo. I love their pizza. It's a crime not to talk about pizza in New York."