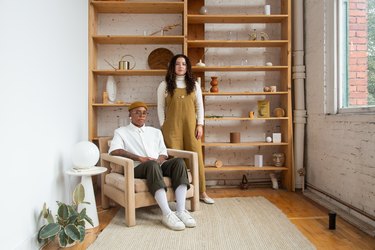 Who: DJ and Victoria
Where: Capitol Hill, Seattle
Style: Scandi-inspired minimalism with a side of California cool
Although Seattle often gets associated with dreary, overcast days, Victoria Dailey and DJ Shiflet named their home "The Sun Haus." That's because the 1,200-square-foot loft — with a balcony that overlooks Puget Sounds — often gets flooded with natural light. The couple's guests call it a "slice of California in Seattle."
Led by a minimalist-meets-functional mindset, the two thoughtfully laid out their space to bring them a dose of happiness — even on the most overcast day. The Sun Haus features natural materials, sculptural accents, and vintage pieces that lend an air homey sophistication. And it doesn't hurt that they add plenty of warm tones throughout their space.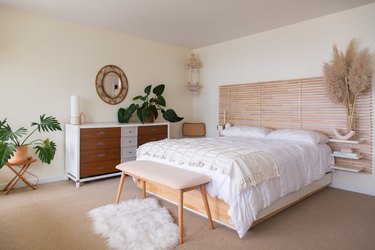 "Our palette has always landed on the core of natural elements found in nature in some of our most favorite destinations: Santa Fe, New Mexico; White Sands, Arizona; and Bangkok, Thailand," Shiflet tells Hunker. "We have been drawn to our palette because it feels natural and provokes a feeling of steady yet thought-out."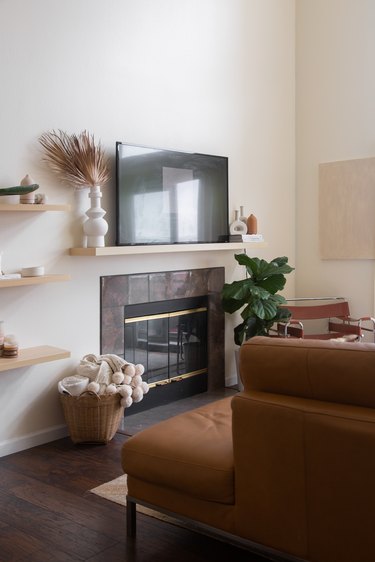 Their home functions as a space to stay inspired but also decompress after a busy day. Their cozy living room — with muted colors, natural light, and a comfortable couch — is perfect for unwinding.
"We see the best sunsets out of those windows," Dailey says. "It's a space that's evolved a lot, but the couple constants have been the Kasala sectional we got for a steal on Craigslist three years ago, and the vintage '70s mirrors that sit above it."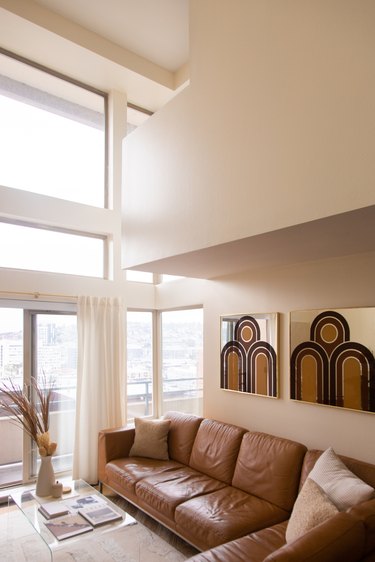 "All the items we choose to have in our home have to serve purpose, function, and add an additional touch of design," Shiflet says. "We find it to be inspiring for our personal and business growth to be in a space that inspires us and facilitates a space of creativity."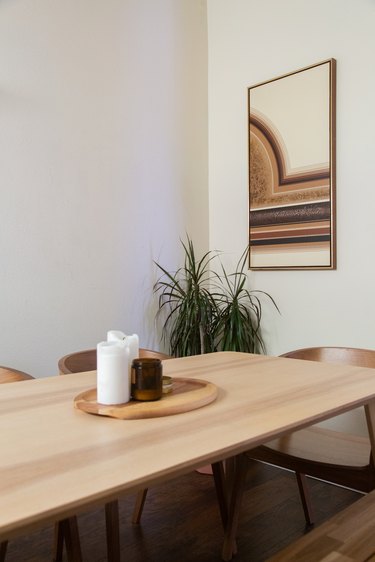 In 2017, Dailey and Shiflet founded Oak & Melanin, a full-service creative agency. They started the company "out of a love for creating for small businesses" and currently offer brand strategy, social media management, photography, interior design, and a number of other services.
The Oak & Melanin office embodies their Scandi-inspired decor style just as much as their home. The two got the keys to their 1,000-square foot studio space earlier this year. As with their home, they wanted to infuse the space with warmth, using light colors, cozy textures, and clean lines.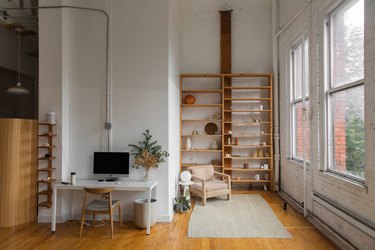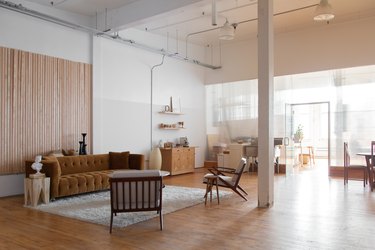 Some of their favorite signature items include the office's mustard velvet couch with glass legs, a vintage find from Ballard Consignment. The two often use Craigslist and OfferUp to find unique pieces, as well as local spaces like the Ballard Goodwill location, Kobo Seattle, and Tirto Furniture. As creative people themselves, Victoria and DJ enjoy supporting makers. Some of their favorite handmade ceramic pieces come from Illinois-based Daily Routines and California-based PKK Ceramics; another favorite is New York maker Hannah Candle.
The couple's "intentional design and soft minimalism" offers a comfortable and mellow retreat, no matter the weather outside.
Locals Know Best
Best cheap and cheerful restaurant: Casco Antiguo, Tacos Chukis on Broadway, Saigon Deli in the International District