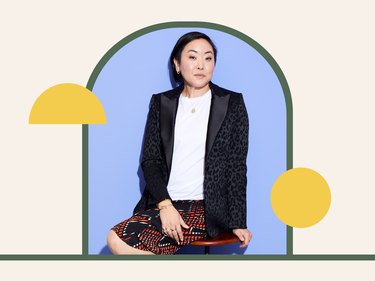 Aya has a passion for visual art and a robust editorial background in the fashion and beauty space within the magazine world (think: Cosmopolitan, Marie Claire, Nylon, Teen Vogue). If you follow her on Instagram, then you are familiar with her incredible style.
In this podcast conversation, Aya offers insight on Google's shopping experience, including Google's tools and filters that are built to help consumers. For those of you interested in home design and decor (which I'm imagining is most of you, dear Hunker readers), you're going to be very interested in hearing about the 3D and AR try-on experience at Google. Doesn't the idea of taking 3D imagery of furniture and putting it in your space to see how it looks in your home or backyard sound so clever and helpful?
We also talk about home decor trends for 2023, including products, accents, and seasonal ideas. You'll be interested to hear what people are searching for right now, in addition to their shopping habits. Much of shopping these days is based on how people align with brands and their values. We're seeing that what we put in our homes or on our bodies is a part of telling our stories and expressing our identities.
And Aya shares some personal thoughts on her own home, including her home design and decor style; what she can't live without; what brings her great joy when she's at home; and what she loves most about New York City.
Learn More About Aya Kanai
To learn more about Aya Kanai, visit her at:
Other Episodes You Might Like
‌Being Home With Hunker‌ ‌is a new podcast where we explore the idea of "home"‌ — ‌not just as a place where you live, but as an expression of your identity. Each week we talk with designers, creatives, and artists about who they are, how they create meaningful spaces, and what "being home" means to them.‌
‌If you like what you hear, please rate and review the podcast, hit subscribe/follow, and share with a friend. When it comes to podcasts word of mouth is how most people will find the show. It really does help. Visit‌ ‌Hunker.com/podcast‌ ‌where you can find, follow, and listen to our show.‌