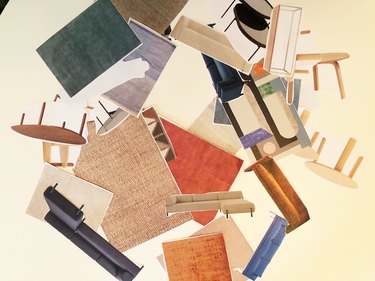 If you've ever decided to completely redo a room, you know the anxiety that can come with it. First off, you're about to spend a buttload of money, so you want to make sure it's absolutely being spent wisely. Second, there are just SO MANY OPTIONS! How do you choose one that you know you will love for years to come? Since I've been agonizing over a new living room setup, I decided to enlist my coworkers' help. I printed out a bunch of images of coffee tables, rugs, and couches, and asked them to figure out the perfect combination. Scroll on to see what they chose and what I came up with.
Laurie's Design: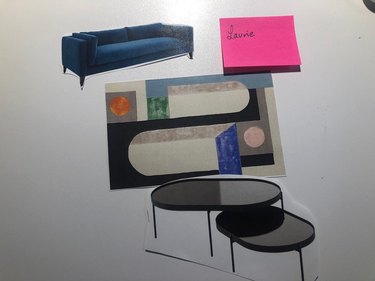 "OK, I feel like I nailed this design challenge … because I listen to you, Leo! Your obsession over blue couches is no secret, so the seating was a no-brainer. The rug is from the Small World Collection for Pottery Barn, and you're a big Disney fan, so of course. (Who cares that it's technically for kids?) And finally, I've seen you staring with heart eyes at that coffee table holding court in the Hunker House den, so that pick was a must-have. The moody, rich, eclectic vibe of these pieces together feels like it's ready for a 5 o'clock cocktail."
Ariane's Design: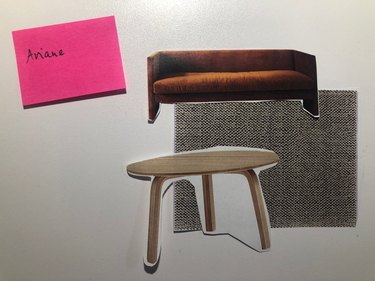 "These days I spend less time designing spaces, and more time writing or reading about them, so when Leo asked me to pull a few pieces for her dream living room I may have been a little overzealous. And by that, I mean I actually pulled three looks for her to choose from instead of one. After all, a girl has to have options, right? And a good designer always has an alternative or two in their back pocket. In the end, this design scheme was actually my favorite. The palette is warm and earthy, which is very on-trend at the moment. I mean, did you see the rust hue of that velvet sofa from TRNK? I wanted to let that piece take center stage, so I paired it with an understated coffee table in a light wood finish and a nubby wool rug for added texture. The result is a Scandi-inspired vibe that feels both sophisticated and inviting."
Lowe's Design: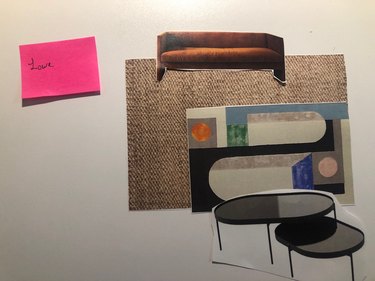 "When my boss asked me to pick my favorite pieces for a potential living room redesign in her space, I thought, Yes. Finally, I can choose decor without worrying about a budget. What even is a budget? Affordable prices be damned! I was, however, quickly reigned in. It seems everyone has a budget, not just me? Still, though, I felt like the space absolutely needed a two-rug splurge (for a layering moment, of course). And the colors in the Pottery Barn Kids Small World Rug speak to that warm rust tone of the TRNK Angle Sofa. Those sleek Menu Nono coffee tables? Why have one when you can have two?"
Paul's Design: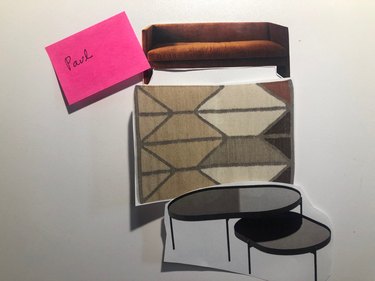 "Leo has impeccable taste so I wanted to make sure I chose a combination that was sophisticated and a bit unexpected. I know she's been eyeing these Menu tables for a while, so I figured those would end up in her design. After that, I wanted to bring in some softer textures to soften the stark, modern look of the tables."
Gina's Design: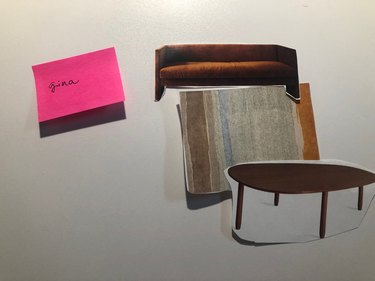 "I tend to start with the area rug when I'm decorating a room, and I was immediately drawn to this abstract rug because it has a lot of visual interest while still being very neutral. And since Leo is constantly browsing real estate listings, it seemed important to choose something that could work in a future home too. The velvet sofa in a rich, caramel hue and the walnut coffee table are also classic pieces that will look great in a variety of spaces, and I liked the juxtaposition of the clean-lined sofa arms with the soft, natural shape of the tabletop."
Eva's Design: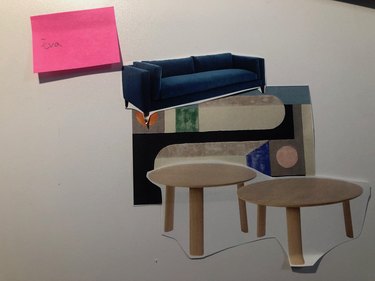 "I'm naturally drawn to geometric shapes so I immediately chose that rug. I thought about which pieces made the most sense and I suspected you were into jewel tones, so that's my reasoning behind the couch. The coffee tables have a cool Scandi vibe, which is also in line with your aesthetic. Together, the pieces make for an eclectic and classy look!"
So, Which Look Did I Like Best???
Welp. I loved my coworkers looks, but I think the issue is, when you're not designing for yourself, you're uninhibited by fears of being too loud. I do love the Disney rug, but probably wouldn't commit to it. And while I'm definitely a fan of the TRNK sofa, I worry that its high arms don't really make it the most comfortable. As for what my colleagues chose, I think I loved Paul's and Ariane's designs the best (but they were all cute!). Here's what I ended up with: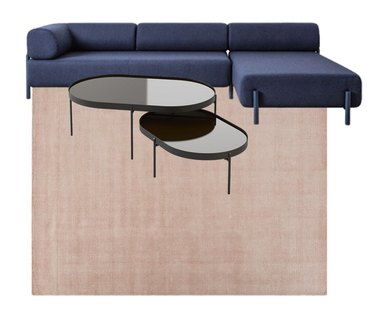 Laurie, Lowe, and Paul were spot-on with the coffee tables, but I must say that price-wise, those are a reach. I'd need to wait for a sale. The Hem couch is one I've been thinking about for almost two years and finally feel like that's a long enough time to truly commit — just waiting for the sale on that one as well. As for the CB2 rug, that surprised me! But the price point is pretty affordable, so I wouldn't feel so bad about replacing it after a few years. Overall, I feel like this look is clean and modern and has room for fun and flexibility.