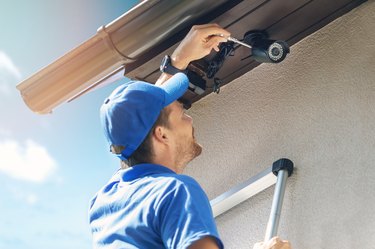 You can protect your home in many ways from shrubs that provide home security to security systems, but the use of home security cameras has grown tremendously over the past few years. There are a number of reasons for this: easy-to-use and relatively inexpensive products, and wi-fi capability that lets smartphones monitor the systems rather than paying for a monitoring service. Cameras once used only for security now also serve other uses, such as letting you know that your kids are home from school, notifying you that a package was delivered and letting you see and talk to someone at the front door without getting up from the couch.
Tip
Wireless security cameras relay video images over wi-fi instead of through wires. They have many different features, including completely wireless models that use batteries for power.
When you hear the term ​wireless security camera,​ it may not mean what you think it means. The term ​wireless​ refers to the method the camera transmits the video images. A wireless system is one in which the images are transmitted by wi-fi rather than through cables. Some wireless systems need to be connected to electrical power, while others are completely wireless, operating with battery power.
Here are the main security camera categories:
​Wired systems.​ The cameras must be plugged into a power source and the images travel through cables to a recording or monitoring device. This is the setup for a traditional home security system—the only system possible until just a few years ago.

​Wireless systems that need electrical power.​ These require an electrical power source, but the images captured by the cameras are transmitted through your wi-fi network or by cellular signal. The images are usually stored on video cards or in the cloud.

​Totally wireless systems.​ These security cameras operate by batteries and have wi-fi capability. Batteries keep the systems running during a power outage, but the batteries will need to be changed or recharged. Some rechargeable batteries can last months. Videos are stored on video cards or in the cloud.

​Video doorbells.​ This is a camera that looks like a doorbell. A video doorbell can be attached to the doorbell wiring, although battery-operated versions are also available. A video doorbell usually has both video and audio capability.

​PoE Systems.​ This stands for ​power over ethernet​. In these systems, both images and electrical power are transmitted over network cables such as Cat5 and Cat6 cables—the kind that might connect your modem to your computer. The cables connect the cameras to a recording device that can be hooked up to a home router. PoE systems require the running of cable, but the cables are simply plugged into the camera and the recording device. There are no electrical connections as there are with a traditional wired system, and the cables eliminate the possibility of Wi-Fi interference or signals that fade in and out. This type of setup works best with systems using six to eight cameras.

For most homeowners, the wireless systems and video doorbells provide home security and ease of installation. Most of these systems work in similar ways. You set up the camera and download the company app. The system communicates with your smartphone, tablet or laptop, and the systems can send you alerts even when you are away from home. Images can be stored locally or on the cloud for your review.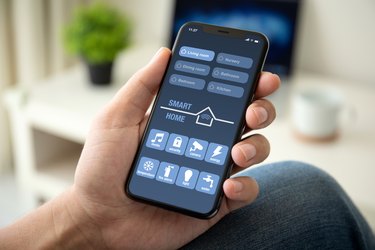 Here are some things to consider when selecting a camera:
​Inside or outside​. Many interior cameras are mounted to a base that can be set on any flat surface. For outdoor surveillance, make sure the camera is waterproof.
​Cords or batteries.​ This decision comes down to personal preference and the availability of electrical receptacles. Some battery-operated cameras feature quick-release battery packs for recharging.
​Smart home systems​. Some cameras are part of a smart home system, where a number of different smart devices, such as thermostats, interior lighting, and entertainment devices, are connected to a central controller. Others are able to work with a variety of smart home systems, such as Samsung Smart Home and Wink. Some can work with smart speakers, such as Alexa and Google Assistant. If you plan to connect your security cameras to a smart home system, make sure it is compatible.
​Storage costs​. Some systems charge a fee for cloud storage. Programs vary but some offer free storage for short periods of time, say seven days, but charge a monthly fee for longer periods.
​Night​ ​vision​. Cameras vary in the distance they can see in low-light situations.
​Motion detection​. Some cameras record continuously, but others only switch on when they detect motion. Motion detection can save battery life.
​Camera movement​. The ability to control the tilt and make the camera pan from side to side allows the system to cover a larger area.
​Resolution​. Some cameras offer high-definition images.
​Field of vision​. This is the area the camera can view. It varies from camera to camera. Most range from about 50 to 130 degrees.
​Audio​. Some cameras have video and audio capability. Video doorbells usually offer both.
​Extras​. There are cameras that can switch on floodlights or a siren when they detect motion.
Ethics of Security Cameras
You have every right to install security cameras to protect your home and property. But common sense, ethics and legality come into play. You can set up a camera to record the area around the entrances to your home, but you can't record what goes on in your neighbor's yard. Inside, you can set up a nanny cam in the nursery, but you cannot record in an area where a person would expect privacy, such as a bathroom.