Purchasing a home security system is a bit like purchasing a cellphone — because the equipment has to be connected to a service in order to work properly. Therefore, choosing a home security system isn't just about selecting high-tech gadgets; it's also about partnering with a security company that meets your expectations.
There are dozens and dozens of such companies in existence, each with a slightly different offering. You can narrow the playing field by asking yourself some key questions about how you expect the system to perform, how much money you want to invest in a system and the unique needs of your family.
Before you go any further in the process, talk to your home insurance provider. Some offer discounts on premiums if you install particular equipment. Others can give you a deal on an equipment bundle. Compare its offer to your own research to make sure you're getting the best home security system for your needs.
Professional Monitoring vs. Self-Monitoring
You can remove a significant number of security companies from your master list by deciding whether you want to monitor the system yourself or leave that job to the pros. If you purchase professional security monitoring, someone at a monitoring center checks on the situation if an alarm goes off in your home. They may talk to you through two-way audio on the control panel, view the live camera footage or call your cellphone for further assessment. Then, they dispatch the police, fire department and/or EMTs to the scene.
With professional monitoring, you know every alarm will be dealt with swiftly day or night, which offers an extra layer of protection and peace of mind. However, this service tends to be pricey. Self-monitoring is an affordable alternative, but it places all the responsibility of handling an alarm on your shoulders. You'll receive notifications via your cellphone, which you may or may not see right away.
Home security providers with monthly monitoring plans include ADT, Brinks, Frontpoint, SimpliSafe, Vivint and numerous local companies. Some of the best home security systems for self-monitoring include SimpliSafe, Vivint, Blue by ADT, Abode, Ring, Nest, Arlo and Scout.
Wired vs. Wireless Equipment
The next big-ticket consideration is whether you have a preference for wired or wireless equipment. Wireless equipment allows for free DIY installation, whereas a professional usually needs to install hard-wired equipment. Some companies offer free professional installation, but most tack this on as an extra fee.
With a wired system, you can monitor a large, remote area where you don't have a Wi-Fi connection and where cell service is spotty. However, you lose some flexibility with a wired system because the equipment has to stay put once it's installed. Power outages or cut wires shouldn't be a problem since modern wired equipment typically includes backup batteries.
Wireless equipment works best for a small area where the Wi-Fi or cellular signal is strong. It's also an ideal option if you only purchase one camera and plan to move it around to test different locations. Renters will have an easier time installing wireless equipment and taking it with them when they move. The main downfall of wireless equipment is a cellular outage, which will prevent it from transmitting alarm system notifications.
As our society increasingly turns to wireless connections, a few companies continue to offer wired systems. Try ADT, Brinks, Xfinity or Link Interactive for a wired home security system.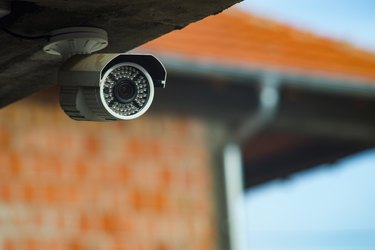 Choosing the Right Security Equipment
Next comes the fun part: choosing the right equipment. Burglary is most likely your number-one concern, so learn about the different equipment available and how it helps during a burglary attempt. If you can only afford a limited amount of equipment, consider scaring prowlers and intruders to be your top priority.
​Scaring daytime prowlers.​ Equip your home with a video doorbell featuring two-way audio. You'll be able to talk to a prowler and potentially scare him off or find out if a visitor has a legitimate reason for being there.


​Scaring nighttime prowlers.​ Purchase an outdoor motion-sensing camera that will turn on a bright light and blare a loud siren when it detects prolonged activity within a certain distance. Choose a programmable one so it only activates at night to avoid spooking delivery people and friends.


​Scaring intruders.​ Count every ground-floor window and door (including the garage door). They all need sensors that will set off an alarm when opened. Glass-break sensors and motion sensors complement these door and window alarms, as do extra-loud sirens.


​Collecting evidence for the police.​ Choose indoor security cameras with two-way audio and place it in the area of your home that contains the most valuables. If a burglar continues past all the other alarms, you or your professional monitoring team can talk to the burglar and let him know the police are on their way, scaring him away before he takes anything. The camera can also collect evidence to help the police identify the intruder and make an arrest.
Additional Security Equipment to Consider
Modern home security systems do more than just sound the alarm during a break-in. Depending on your situation, add-ons, like environmental sensors or panic buttons, can give you extra peace of mind. There's even equipment designed especially for pet owners.
​Environmental sensors​ alert you to water leaks, excessive heat and carbon monoxide so you can nip household problems in the bud before they become full-blown disasters.


​Medical alerts or panic buttons​ instantly connect the wearer to a professional monitoring center, 911 or a loved one for assistance depending on how they are programmed.


​Nanny cams​ are indoor surveillance cameras that allow you to check in on your children or pets, whether you're away from home or in the next room. Cameras equipped with two-way audio are best for these situations.


​Door locks ​that can be opened with a traditional key, a number code or even via a smartphone app reduce accidental lock-outs.


​Pet-friendly motion detectors​ only detect motion at specific heights throughout the room. Dogs and cats won't cause a false alarm when they walk around.
Choosing a Smart Home Security System
You also have the option of choosing smart home security equipment, which can be controlled or monitored via a smartphone app or, in some cases, through a voice-controlled smart home hub like Amazon Echo or Google Assistant. If this level of sophistication appeals to you, look for a home security system that features Z-wave technology, which is one of the most common ways to link smart home devices to your phone.
For example, if you get to work and realize you forgot to arm the system, you can do so via the smartphone app. If you have a smart door lock, you can let your dog walker in if she forgets her key. You can also add other layers of security by automating your home's lights to turn on or the blinds to open and close at specific times, giving the impression that someone's home even if you're on vacation or working late.
Brands compatible with Amazon Alexa, Google Assistant and Apple HomePod include ADT, Frontpoint and Vivint. SimpliSafe and Cove offer numerous smart home connections as well but have yet to roll out full Apple integrations.
Payment Considerations: Upfront and Monthly Costs
Home security companies offer their equipment three different ways:
You pay for the equipment up front.


You pay for the equipment through financing.


You borrow the equipment for the length of your contract.
The upfront cost of equipment can range from just a couple hundred dollars (for door and window sensors and a control panel) to more than a thousand dollars (for a full suite of equipment). While borrowing the equipment may sound ideal, you'll typically pay higher monthly costs and sign at least a 36-month contract. However, this is a great solution if you can make those monthly payments but don't have enough savings built up to purchase equipment up front.
If this sounds like the route you want to take, try ADT. However, you won't own the equipment, so if you decide to switch providers, you'll need to return the entire system. If you choose to finance your home security equipment instead, you'll own the equipment once you finish making the extra monthly payments. Try Brinks, Frontpoint, Cove, Ring or Abode for financing options.
Some home security companies require long-term contracts. Thirty-six months is a common contract length. Generally speaking, the longer the contract, the lower the monthly fee will be. However, you may have to pay a termination or cancellation fee if you want to stop the service before the contract ends. Other companies offer a no-contract option, which allows you to pay on a monthly basis without a termination fee. Such no-contract companies include SimpliSafe, Vivint, Abode, Cove and Scout.
Note that some home security companies will require a contract if you need to finance the equipment. Others allow month-to-month plans for self-monitoring but require a contract for professional monitoring services. It can get confusing, so proceed with caution.
Regardless of whether you agree to a long-term plan, you'll still be expected to sign a contract outlining the terms of service. Read this carefully, as it may discuss fees that will surprise you later. For example, you might be charged for installation, moving or false alarms.
Extra Perks and Considerations
Once you've narrowed your initial list of security companies to a few candidates, you can start looking into the relatively minor details to find the right one for you. Start by looking up ratings and reviews on sites like Better Business Bureau, TrustPilot, Consumer Affairs and more. You'll never find an established company with a full five stars, but at least a four-star rating from thousands of reviewers is a reasonable expectation.
Carefully read the most recent reviews. Does the company seem to have good customer service and equipment? Look for the most consistent complaints. Could you handle it if the same issue happens to you? Watch out for serious red flags, like billing or cancellation issues. For smart home security systems, look up the associated app on the App Store or Google Play. Read the reviews to ensure the app works well, especially if you plan to self-monitor. You don't want a glitch to prevent you from being notified about a problem at home.
If you're still on the fence about one system versus another, choose the one with the most generous warranty or a money-back guarantee. This will give you plenty of time to test the system and decide if it's right for you while knowing your investment is protected. If you're not happy with the system, return it and try your second choice.