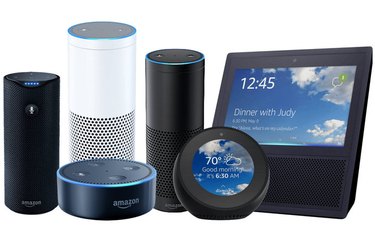 Alexa is Amazon's voice-activated and interactive virtual assistant, designed to provide an interface between you and thousands of functional applications. It gives you a way to connect conversationally through the cloud to a vast repository of useful information and entertainment and provides voice command over a growing variety of "smart home" devices. In the Amazon universe, Alexa works through one of several Echo products which combine multiple high-sensitivity noise-cancelling microphones with advanced voice-recognition capability, a creditable set of speakers for room-filling sound, and a connection to the internet.
You can check out the entire family of Echo and Alexa products here.
Sophisticated Voice Recognition in a Game-Changing Platform
When first introduced in 2014, Amazon Echo established the category of "smart speaker," and the Alexa Voice System provided the voice recognition and knowledge base that gave Echo its versatility. That first generation Echo has been updated with a second generation one that offers better sound quality and comes at a lower price. In addition, Amazon has expanded the line with other Echo products, like the entry-level Echo Dot, a puck-shaped unit that compensates for its diminutive speakers with Bluetooth connectivity and an audio output jack that makes it easy to connect to better external speakers. Some Echo models, like the Echo Spot, the Echo Look, and the Echo Show, incorporate video capability, letting Alexa see as well as listen.
High-end electronics manufacturers including Pioneer and Onkyo have also brought to market their own smart speakers. Configured to employ the Alexa Voice Service, they are fully capable of interacting with Alexa-responsive devices and accessing all but a few Amazon-specific services. Alexa capability can also be downloaded to your smart phone or tablet, giving you access to those cloud-based services and voice control over smart home devices when you are away from your home-bound Echo device.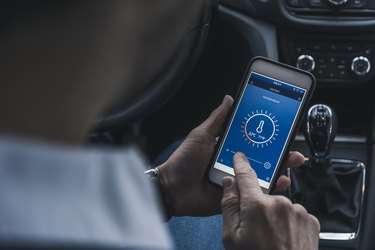 When the Echo is first powered up, Alexa wakes and talks you through the setup process, getting you connected to your home's Wi-Fi network and establishing your preferences. You do this through the Alexa app downloaded to your smartphone, tablet, or computer. You'll choose a wake-up word, "​Alexa​," "​Amazon​," "​Echo​," or "​Computer​." This is the word you'll use to let Alexa know you are addressing it—the word that will precede your requests or commands.
With core Alexa capabilities, you can stream music and podcasts from services such as Pandora and Spotify, and get news and sports briefings from the media sources of your choice. Upon request, Alexa can answer questions, look up facts, make calculations, or tell you a joke. You can use Alexa to create and keep track of to-do lists and shopping list and even make purchases (on Amazon, of course) from those lists.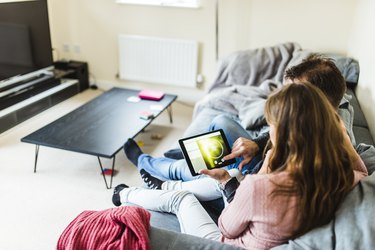 Skills Add to Alexa's Many Talents
As versatile as Alexa's abilities are, they can be multiplied a thousand-fold by the acquisition of ​​skills​​. Available through the Alexa app, skills enable the Alexa system to perform a specific task, make a specific connection, or demonstrate a particular ability. Some of these skills have been developed by Amazon itself and many more come from independent sources.
Skills provide the vital link between your voice command and one of myriad smart home products. The range of products that Alexa controls is ever-increasing. Manufacturers already offer smart lamps and light bulbs that not only turn on and off on command, but that also can dim and change ambient color; smart thermostats that manage your home's comfort level; and door locks and garage door openers linked to Alexa. Security monitors for both exterior and interior applications are also popular. Televisions with Amazon Fire TV setups can be controlled with requests to Alexa and some smart TVs are being offered with Alexa control built in.
GE has introduced a line of major appliances—refrigerator, oven, washer and dryer—that respond to Alexa commands and provide progress updates. Other major appliance makers are following suit. Alexa can send messages to other Alexa applications and to any of the Echo device owners that correlate with the sender's contact list. In addition, if you have a traditional land telephone line, Alexa can be configured to make and receive telephone calls. There are even products that enable Alexa to water your lawn and ones that monitor your car's vital signs, keep track of its maintenance schedule, alert you to signs of trouble, and find your car in the parking lot.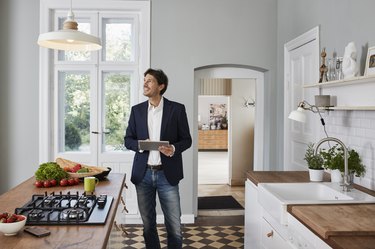 The More Developers, the Merrier
Since the introduction of the Amazon Echo with Alexa, thousands of third-party Alexa-controlled switches, devices, and appliances have come to market. Amazon has not only allowed this but encouraged it by offering developers an Alexa Skills Kit to facilitate their innovations. Alexa's special skills are not limited to controlling devices. Many of the more than 10,000 skills you'll find through the Alexa app give Alexa specialized knowledge or particular abilities, such as talking you through complicated recipes, telling a bedtime story, or calling one of a growing list of restaurants to order take-out. Alexa's abilities are limited only by the imagination of the skills developers and the products Alexa Voice System can command. For just about any special interest you might have, Alexa is likely to have a capability you would find useful, even essential.