Things You'll Need
Utility knife

Pry bar

¾ inch plywood

Circular saw

Drill

3-inch deck screws

Construction adhesive

Caulk gun

Vanity top

C-clamps
Tip
Countertops can be ordered from a home improvement store in granite, solid surface or wooden butcher block. Give the associate the exact measurements when ordering the countertop.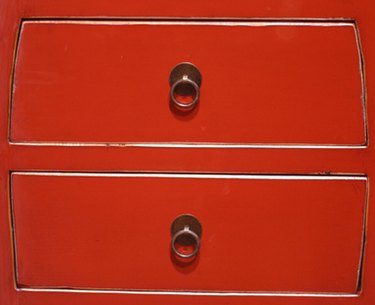 An old dresser has a ton of potential. Refinish it with new paint and add a granite top to give it a whole new purpose. You can also add a vanity top to a dresser to create a custom piece of furniture for your bathroom. You may want to change out the top of your dresser for any number of reasons. The old dresser may be damaged or you might want to use the old dresser as a vanity. Add a brand new top to any dresser with a few simple steps.
Step 1
Open the cabinet doors or remove the drawers. Find the brackets and screws that attach the top to the dresser. Remove the screws.
Step 2
Slide a utility knife between the top and the rest of the dresser. Run the knife around the dresser to loosen any adhesive or paint. Slip a small pry bar under the dresser top. Apply pressure to lift the top from the rest of the dresser.
Step 3
Measure the dresser top's width and length. Trim a piece of ¾-inch plywood to these dimensions with a circular saw. You can also ask an associate at a hardware store to cut the plywood for you before purchasing.
Step 4
Set the plywood on top of the dresser. Drive 3-inch deck screws through the top of the plywood, into the dresser frame. Place a screw at each of the dresser's four corners, where the frame is solid wood and sturdy.
Step 5
Put construction adhesive in a caulk gun. Dispense a line of adhesive along the top edge of the plywood. Set the new top in place. Clamp the top to the plywood with C-clamps. Let the adhesive dry overnight and remove the clamps.
---
Lisa East Hunter is a consultant and freelance writer in Phoenix. Her background in marketing and technology led her to explore all avenues of writing. She is currently dividing her time between freelance writing and her consulting business. Hunter has a Bachelor of Science in management information systems and marketing.