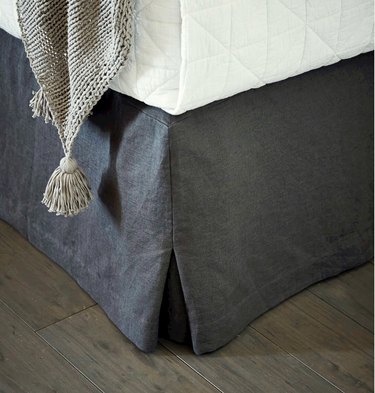 A bed skirt, which looks similar to an oversized sheet, is layered between a mattress and box spring with the fabric extending to the floor. The skirt covers a box spring, bed frame, and anything stored under the bed. In the past, a bed skirt was also referred to as a dust ruffle because it served to prevent dust bunnies from forming underneath the bed.
Traditionally, high-end bed frames were designed with wood side rails and a footboard that covered the box spring. If someone chose to include a bed skirt, it was for the purpose of keeping out dust or concealing under-bed storage. In fact, a bed skirt is often associated with traditional home decor, serving to complete a bedding set of sheets, comforter, pillows, and pillowcases. If a bed frame does not include decorative side rails and a footboard, the bed skirt conceals the plain metal framework.
Most new mattresses don't require a box spring but rather rest on top of a platform-style bed. Therefore, it's not necessary to use a bed skirt to cover a box spring. Also, many people today prefer a more casual approach to making the bed, using only a fitted sheet, duvet, and an assortment of pillows. The space under a bed more likely showcases a pretty rug rather than serving as additional storage space.
If you want to use under-bed storage or have a bed frame that doesn't align with your style, a fitted bed skirt is a stylish, inexpensive bedding option. In colder climates, a bed skirt provides another layer of texture, adding visual warmth to a room.