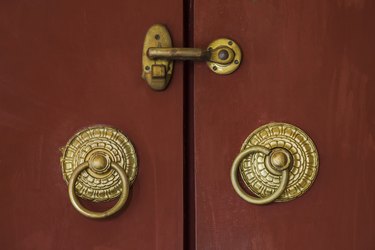 They may seem neutral, and mainly they are, but bronze fixtures clash with certain colors. Oil-rubbed bronze denotes classic style, while satin bronze adds modern day elegance or eclecticism, depending on the surrounding paint color. Highlight or play down your bronze faucets, lighting, cabinetry, or hardware and pulls with a neutral, warm or cool shade, or something bolder than the "usual suspects." Color is personal, however, so the best one is always the shade that suits your taste.
Noteworthy Neutrals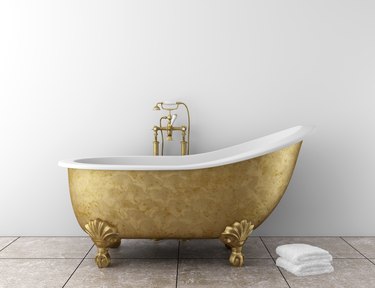 When you want your bronze fixtures to be a prominent part of the decor, give them a neutral backdrop. Neutrals set off both dark coppery oil-rubbed bronze and the lighter satin-brushed finish. White may be the obvious go-to neutral, but in the world of paint, it's a fickle creature. Off-white with just a hint of rusty red or brown marries well with bronze thanks to the color connection. If you're having difficulty telling one white swatch from another, hold them next to a pure white object for clarification. The underlying tone will jump out. Hint: Typically, paint-swatch backs are white.
Cool, Calm and Bronze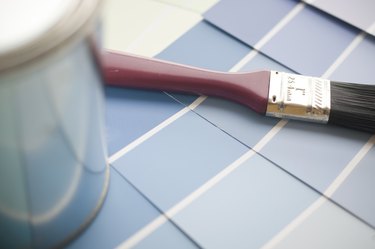 Cool down warm bronze elements in a bathroom or bedroom with colors that relax rather than rev your senses. Avoid overly cloying hues, such as mint green or jellybean blue, which practically rot your teeth at a glance and tend to clash with bronze's earthiness, defying the "relaxation" quality. For ideas, look to the outdoors at early morning, hazy-day or approaching-storm sky tones, or something like misty mountain green. The gray undertone of these -- and other such cool colors -- visually quiets bronze.
Warming Up to Color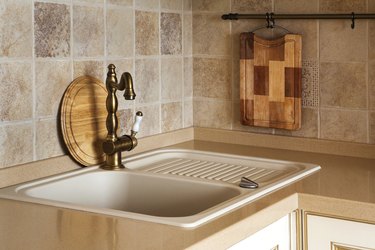 If you think dark coffee or raspberry wine seem better in a cup or glass than as a paint color on your walls, opt for subtler warmth behind bronze elements. Delicately stimulating colors that almost mimic the visually warm metal include iced frappe, caramel, and even coral or faded rust. Take your favorite hue up the walls and onto the ceiling to make the room appear endless, and to wrap it around any bronze light fixtures. Pairing subtly monochromatic warm colors with oil-rubbed bronze especially suits Tuscan, Mediterranean and country settings.
Bold, Dark and Handsome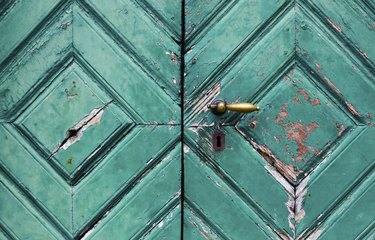 If your inner designer gives you the thumbs-up to brush a few bold, bright or dark paint samples on the wall for comparison under the room's lighting, honor the consent. Daring bronze-compatible shades aren't limited to chili-pepper red. They extend to flat black or charcoal that complements the metal's glint, sunset orange for visual punch, or vibrant aquamarine from across the color wheel for contrast. If you doubt a bold paint color choice, use it modestly on a feature wall, on a piece of furniture or cabinetry, or to pump new life into old doors with or without bronze knobs.
---

Lorna Hordos
Lorna Hordos is a home-flipping business owner and freelance writer. She writes friendly, conversational business, home and lifestyle articles for Bizfluent, azcentral, Daltile, Marazzi, Lowes, Philips Lighting, WordPress.com and numerous other publications.