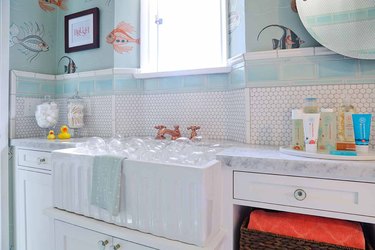 Flip through any design magazine for homeowners, and you'll be sure to see a recurring theme pop up over and over in bathroom designs: rose gold fixtures. Yes, chrome, matte black, stainless steel, brushed nickel, and solid brass faucet sets are nice. But a copper bathroom faucet is timeless.
In fact, antique copper spouts are warm and bold as well as classic and contemporary. Whether you go for a single-handle look with a matching pop-up drain or a two-handle option that's wall-mounted, it will blend in beautifully with all sorts of design styles, from rustic to traditional. This metal is also incredibly unique, constantly reacting with the air and gradually changing color to develop a patina.
If you don't like the natural tarnishing, however, it takes some maintenance to retain the shine. Another thing to consider: Copper is a soft material, so it scratches easily. But over time those scratches can blend into the patina or be buffed out.
Don't let those attributes deter you, though. These copper faucet ideas will blow your mind.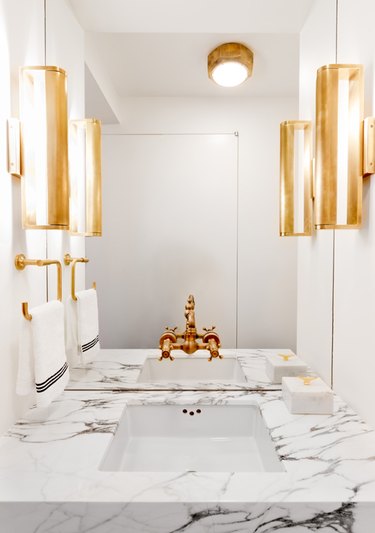 What's better than a copper faucet? A wall mount copper faucet combined with ultra-glam marble countertops and coordinating gold light fixtures, of course. Tamara Magel designed this super sleek bathroom that's fit for royalty — or for you. Get a similar vibe with multiple copper features, from faucets (with a vintage design) to a towel ring and wall sconce. You'll feel like you're getting ready for the day in a five-star hotel.
2. Add one to the kids' bathroom, too.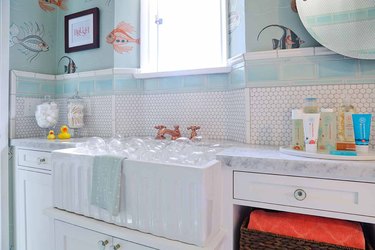 A kiddo bathroom doesn't have to be all rubber duckies and sweet wallpaper — though those are nice, too. If you go the copper faucet route in your little one's washroom, the fixture will mature with them and stay in style long into their teenage years and beyond.
3. Don't stop at the faucet.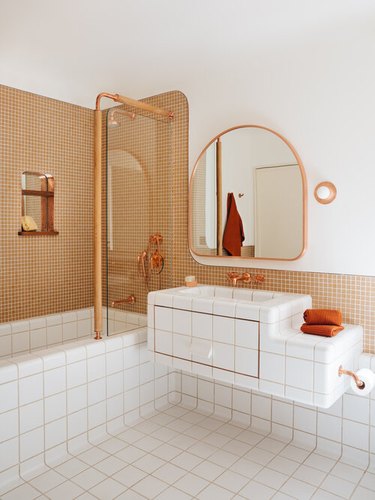 Copper is so pretty, you may even want to make it a prominent design feature throughout the entire bathroom like Home Studios NYC did here. In this modern art deco washroom, the centerset copper faucet is paired with a matching showerhead and exposed copper pipework. It really pops against the white tile and feels right at home amongst the golden tile, too. (And once we're done gawking at all the copper, can we talk about that mirror shape? Gorgeous!)
4. Double the faucets for double the fun.
Why stop at one copper faucet? Two of them, especially when paired with a beveled farmhouse sink, will brighten any bathroom. Exhibit A: This elegant basin situation. It features double copper spouts — which means no more fighting over who gets to brush their teeth first — and classic accessories.
5. Lean in with a copper sink.
Proving its versatility, copper also works as the whole sink situation, not ​just​ the faucet. This copper vessel makes a statement that will survive design trends for years to come. Copper is a transformative neutral, blending beautifully with a gamut of colors and materials, like the marble backsplash and navy vanity.
6. Deck out the tub, too.
If you're going for "fit for a queen" vibes with your bathroom, let us introduce you to your new inspiration — this lavish freestanding copper tub that we could get lost in. The deep-as-can-be soaker would be a standout no matter what, but it's particularly stunning in an otherwise simple washroom. Plus, the copper faucet has a slightly aged look we love.