Bathroom and kitchen faucets come in assorted styles and finishes to suit every decor. A faucet can add character, charm and a design-savvy touch to any kitchen or bath. Metal finishes are available in cool, metallic silvers to warm, antiqued bronzes, with bronze being a favorite. Color variations of oil-rubbed bronze finishes range from dark, chocolate brown to almost black, and have a smooth texture. Brushed bronze finishes are characterized by a deep golden color that is enhanced with a richly brushed texture.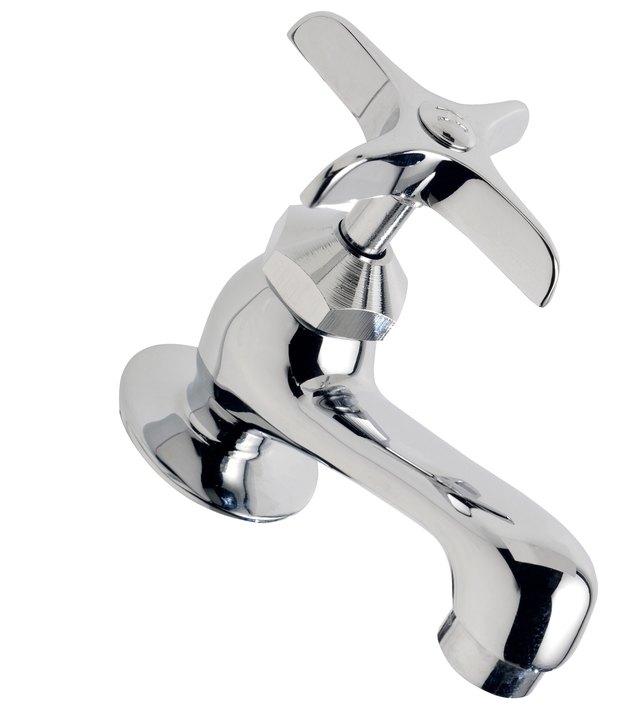 credit:
Brand X Pictures/Brand X Pictures/Getty Images
The most visible aspect of a faucet's finish is the color. However, other than color, a finish may provide protection to the faucet's base material. Some oil-rubbed bronze faucets have a "living finish." This type of finish doesn't typically have a protective sealer or warranty. The finish is designed to age and develop a patina over time. Conversely, some brushed bronze finishes have lifetime warranties, which guarantee that the finishes won't corrode, tarnish or flake.
Aesthetic and functional design determine the style of a faucet. The oil-rubbed bronze finish imparts a romantic ambiance that is often associated with the reigning King George of the Gregorian era. Oil-rubbed bronze can also enhance a rustic, Old World, country or traditional decor. Burnished bronze finishes are well-suited in a modern, contemporary style. With an urban chic feel, burnished bronze faucets add a designer-savvy flair to any kitchen or bathroom sink.
Both oil-rubbed and brushed bronze faucets often have assorted coordinating items available for separate purchase to complete the look. Towel rings and bars, shower heads, soap dispensers and dishes, sink sprayers and toilet paper holders are often available in matching bronze finishes. Some manufacturers have a larger assortment of complementary bronze items available than others. Before deciding on a bronze faucet from a particular company, check the availability of coordinating items.
Oil-rubbed bronze faucets might not be the best choice for a family with young children. Kids typically make a mess with toothpaste, which may not mix well with an oil-rubbed bronze finish. A brushed bronze faucet coated with a protective seal might be a better option for families with children. Also, consider whether one or two faucet handles meets your needs. Single levers are typically more delicate than handles. Both styles are commonly available in an oil-rubbed or brushed bronze finish.