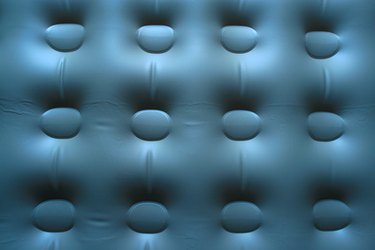 Aero beds are convenient, inflatable beds which offer a comfortable nights sleep while traveling. If you own an Aero Bed, it is advisable to keep it deflated when not in use. Aero Beds are generally used and inflated for overnight guests, camping trips etc.Deflating the Aero Bed and storing it in its carry bag can be tricky, but is manageable if you follow these simple steps.
Step 1
Unplug the bed from the electric outlet. Deflate the bed. Open the Quick Air Release Valve at the foot of the bed to release the air.
Step 2
Wrap up the AC cord with One Touch Comfort Control to secure it. Fold the deflated bed in thirds, the outer edges folding into the middle. Roll the Aero Bed tightly towards the Quick Release Valve end.
Step 3
Roll the bed so the air is completely forced out of the Aero Bed. Close and lock the Quick Release Valve.
Step 4
Put the folded Aero Bed into the carry bag. Pull the drawstrings on the bag to close. Store it at room temperature.
---
Jane McDonaugh has been a professional writer and editor since 2010, with expertise in literature, television, film and humor. She is a freelance reader for Author Solutions Film and has held many other positions in television and film production. McDonaugh holds a Bachelor of Arts in television production and English from Emerson College.