If you're in the market for new furniture but are under budget contraints, consider repurposing pieces you already have. In addition to refinishing techniques that can change the surface aesthetic of a piece, you can also adjust structural aspects to create something entirely new. For example, a pair of twin headboards or a twin bed frame can easily be turned into a day bed.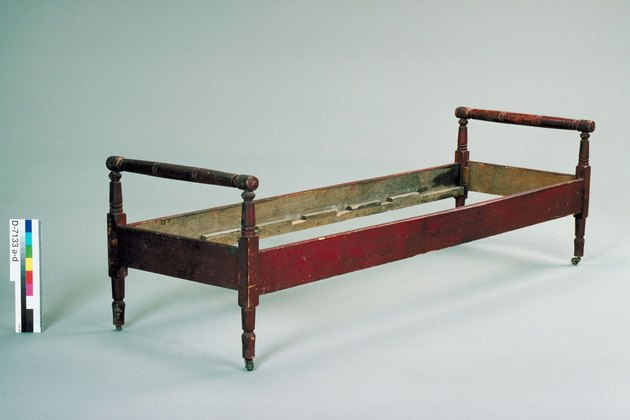 Step 1
Examine the wooden twin bed frame to see if it is sturdy and in good shape. The frame should not wobble; if it does, try tightening the bolts with a wrench. If part of the frame is damaged, purchase a piece of 2-by-4 inch hardwood and cut it to size to act as a replacement.
Step 2
Measure the length of your twin bed frame as well as the height from the top of the mattress to the top edge of the headboard. Record these measurements.
Step 3
Cut several pieces of 1-by-4 or 1-by-3-inch wood to the length measurement you just took. The number of wood pieces you need will be determined by the height measurement. Divide the height measurement by the width of the boards, accounting for a 1/2-inch gap between each board, to determine how many boards you need.
Step 4
Paint or stain the twin bed frame and the boards you just cut. If the frame is already stained or painted, you will need to sand it down either by hand or with an electric sander before applying the new color. If you are going to paint it, apply a coat of primer and allow it to dry before applying a coat of latex paint. Allow the frame and the boards to dry for six to 12 hours before assembling the daybed.
Step 5
Affix the 1-by-4 or 1-by-3-inch boards to what will become the back of the day bed. Align the edges of the board with the edges of the headboards and secure them in place with a nail gun. Position the first board a 1/2 inch above the top of the mattress and attach the rest with a 1/2-inch gap between.
Step 6
Place your daybed in the desired position in your home. By placing the daybed flush with the wall, you can avoid having to attach the boards for the back, if you desire.
Step 7
Make the bed by covering the mattress with a mattress pad and fitted sheet. Lay a flat sheet or decorative duvet over the mattress, tucking it in at the sides and arrange several matching pillows against the back and sides of the daybed.