Things You'll Need
Measuring tape

3 eye hooks

Screwdriver

Plastic zip locks

Tailored bedspread

6 18-inch square throw pillows

7 15-inch or 8 12-inch square throw pillows
Tip
Secure the bedspread against the mattress with double-sided tape. Remove the tape when guests use the bed.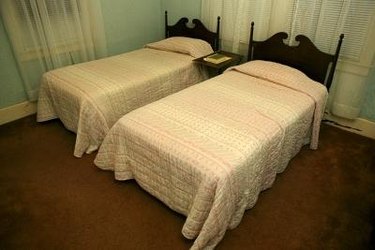 Limited space and a limited budget call for your furniture to do double duty. Converting a twin bed into a couch saves room and is easier on your wallet than buying a convertible sofa. Twin beds are usually more comfortable for overnight guests than throwing a sheet and a few blankets on a sofa. Turn a twin bed into a couch to save room in a studio or efficiency apartment or office. The space under the twin bed will be useful as an extra storage area.
Step 1
Move the twin bed into the corner of the room so it is against two walls. The bed should not have a headboard or footboard.The side of the bed should be against one wall and the foot or head of the bed against another. The walls will support the pillows and keep them from sliding off.
Step 2
Measure the position of the bed frame against the wall at the back of the bed and the side of the bed. Mark the wall behind the bed where the back right leg and left legs are. Mark the side wall where the right front leg is. Attach an eye hook to the wall. You may have to use a butterfly screw for stability if you're not screwing the eye hook into a wood stud. Run a plastic zip lock around each leg and through the eye hook so the bed doesn't shift when people sit on it.
Step 3
Make the bed with a twin-size tailored bedspread that reaches the floor. Cover the exposed head -- or foot -- of the bed so the bedspread reaches to the floor.
Step 4
Line up the 18-inch square throw pillows on the bed against the walls. Line up the 15- or 12-inch square pillows in front of the larger pillows. Twin beds are wider than couches. The double row of pillows will narrow the seating area of the bed and make it look and feel more like a couch.
Step 5
Place a coffee table in front of the twin bed if there is room. If not, place a side table beside the exposed end of the bed.
---
Katie Jensen's first book was published in 2000. Since then she has written additional books as well as screenplays, website content and e-books. Rosehill holds a Master of Business Administration from Arizona State University. Her articles specialize in business and personal finance. Her passion includes cooking, eating and writing about food.