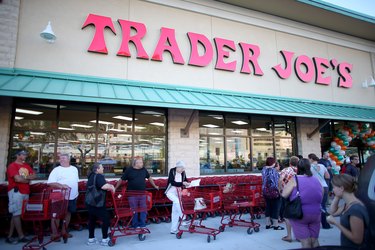 We love a good pull apart bread, as proven by our original cranberry brie monkey bread recipe. This is especially true when it's made by Trader Joe's, one of our favorite retailers.
Per Reddit users, the grocery store is currently offering a ready-to-bake cheddar jalapeño pull apart bread. It's made of focaccia-like dough studded with shredded cheddar and sliced jalapeño peppers, according to Trader Joe's website.
At first glance, the product sounds amazing — but it looks like shoppers are divided on whether or not it's actually good.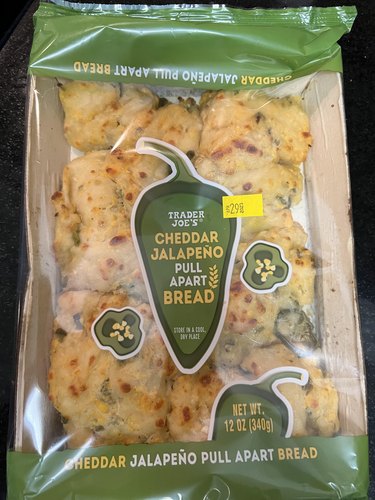 Some folks loved the bread, including the original Reddit poster. They described the item as "quite possibly the best bread [Trader Joe's] has ever come out with." (Talk about high praise.) Another person said: "I can't stop buying this and eating it straight for lunch."
However, others thought the bread was too doughy, tasteless, or didn't have enough cheese or jalapeño peppers. Another shopper described the bread's texture as "rubbery."
Luckily, the cheddar jalapeño pull apart bread is only $4.99, so it still might be worth checking out if you typically enjoy Trader Joe's breads. Personally, we'll definitely be picking one up to try it for ourselves.
Ways to eat the Trader Joe's cheddar jalapeño pull apart bread:
On Reddit, people who enjoyed the bread shared their favorite ways to eat it. Here are a few of their ideas:
Hetedand dipped in marinara sauce
Paired with chili
Topped with refried beans, shredded carnitas, and Mexican-blend cheese and baked like a pizza
Dipped in ranch dressing
Sliced and used to make grilled cheese
Cooked in a skillet and drizzled with olive oil
Topped with honey butter or hot honey
Honey seems to be a fan-favorite pairing for this item, as the sweetness allegedly balances the spiciness of the peppers. Yum!