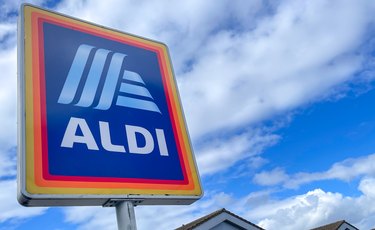 Aldi is no stranger to creating deliciously unique sweet dips. For example, last year, the retailer released dessert hummus in two mouthwatering flavors: cookie butter and snickerdoodle. More recently, Aldi dropped two new dessert dips, this time made of Neufchâtel cheese.
The flavors include lemon bar and carrot cake, according to an Instagram post by Aldi Made Me Do It. The lemon bar version contains lemon and brown sugar crumbles, while the carrot cake flavor has carrots, walnuts, brown sugar, and spices.
In other words, these dips are perfect for spring. And according to Aldi shoppers, both varieties are super tasty.
"I've only tried the lemon one, it is delicious. [I] definitely recommend [it] for lemon lovers," said one Aldi shopper. "The carrot cake dip is delicious," commented another Instagram user. "It tastes exactly like carrot cake with cream cheese frosting."
On that note, it looks like the carrot cake flavor contains chunks of walnuts and carrots. This aspect of the dip got mixed reviews from shoppers; some people loved the big pieces, while others found it off-putting.
If you're interested in the dessert dips, be sure to swing by Aldi soon. As with all seasonal items, they won't be around for long. Check the retailer's store directory to find the closest Aldi near you.
How to eat Aldi dessert dips:
Although it can be tempting to eat the dessert dips by the spoonful, here are some tasty ways to eat them:
With fruits, like strawberries or apple slices
As a dip for graham crackers or pretzels
Spread on toast, bagels, or waffles
Mixed into yogurt
Stuffed between layers of French toast
With cookies or baked pie crust scraps
Blended into a milkshake or smoothie
Spread on top of cupcakes
Used as a filling for finger sandwiches
Time to stock up on dessert dips from Aldi!